Residential DIY Soundproofing

Part of the beauty of a home is its ever-evolving nature. As your life changes, your home adapts to fit. Families with newborns lay down rugs to create soft and quiet spaces. Those with toddlers child-proof cabinets and rearrange furniture to accommodate unwieldy crawlers and walkers. In the teen years, families adapt to give kids more space and autonomy.
In addition to all the changing colors and room layouts in your home, your noise needs change. Whether you're blocking out loud music or creating a peaceful nursery, DIY soundproofing can be a great way to address necessary changes in your home. Though soundproofing may seem like something only recording studios need, it provides a variety of ways to make your home a more functional space. If you — like every other family — are experiencing noise issues, rest assured that there are some easy DIY soundproofing solutions.
Spaces to DIY Soundproof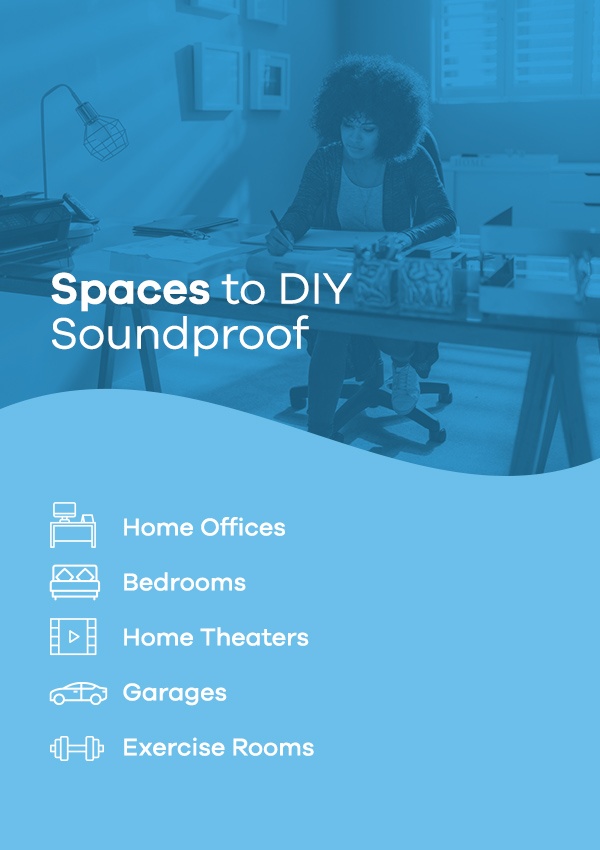 Even with doors, walls and ceilings, noise permeates your home. That's because sound travels as a wave and can pass through solid objects. As sound moves through the air, it is impacted by the objects it meets. In a room with lots of hard surfaces, a sound wave will bounce and continue to move until it has lost its energy. Soundproofing can help deprive sounds of their energy by introducing materials that absorb the waves, rather than bounce them around.
Odds are, you already know which areas of your home need some soundproofing help. The spaces or equipment that present noise problems likely get on your nerves or cause ongoing issues in your home. Here are some of the common culprits that may make ideal DIY soundproof room candidates:
Benefits of Soundproofing Your Space
Even if you haven't noticed a glaring noise issue, soundproofing your space provides a host of different benefits, including:
Increased Privacy
A home or backyard with poor sound control can feel like one large communal space. This disrupts your family members' privacy, which can have negative effects. Privacy and a sense of personal space contribute to several important factors, including:
Relationship building and intimacy
Protection of personal information
Autonomy and personal freedom
Individual dignity
Soundproofing prevents family members from bothering one another with noise and fosters a sense of privacy. This privacy can provide a safe environment for all family members to thrive and grow.
Comfort and Convenience
Your home should be your number one source of comfort and convenience. No matter how much you tweak your space to your preference, you'll still have to coexist with other family members. Whether the garage door is opening early in the morning, the kids are practicing instruments late at night, the teens are blasting music or you're trying to watch television after the kids are asleep, it can be hard to accommodate everyone's schedules. This can leave you making uncomfortable and inconvenient compromises to prevent noise.
Soundproofing provides a simple solution. By implementing DIY sound dampening measures and fine-tuning your home's acoustics, everyone can do their own thing without getting in each other's way.
Health and Well-Being
A noisy home isn't just bothersome — it can have detrimental health effects. Exposure to prolonged and excessive noise may cause some of the following issues:
Stress
Lack of concentration
Loss of productivity
Communication issues
Poor sleep and fatigue
The American Institute of Stress reports that 55 percent of Americans are already stressed during the day. After a long day of work, mental attempts to block out noise pollution at home cannot protect you from these risks. A quiet home addresses these health issues directly. Consider your soundproofing project as an investment in your health and well-being.
Energy Savings
One quantifiable benefit to soundproofing is increased energy savings. Air leaks around your doors and windows let in noise and outside air. In the summer, this may make your air conditioner work harder, and the same is true for your heater in the winter.
DIY soundproofing projects that focus on air sealing your home can address both noise and energy issues. For example, to air seal your home, you can use:
According to the EPA, implementing these projects may save you an average of 15 percent on heating and cooling costs and 11 percent on total energy costs.

Types of DIY Soundproofing Materials
Because sound is unique, how you choose to DIY soundproof a room will vary throughout the house. There is a wide variety of available products based on your sound needs, installation capabilities and budget. Be sure to keep these factors in mind to ensure your solution works the best for your situation.
The following are a selection of the DIY soundproofing materials Soundproof Cow offers.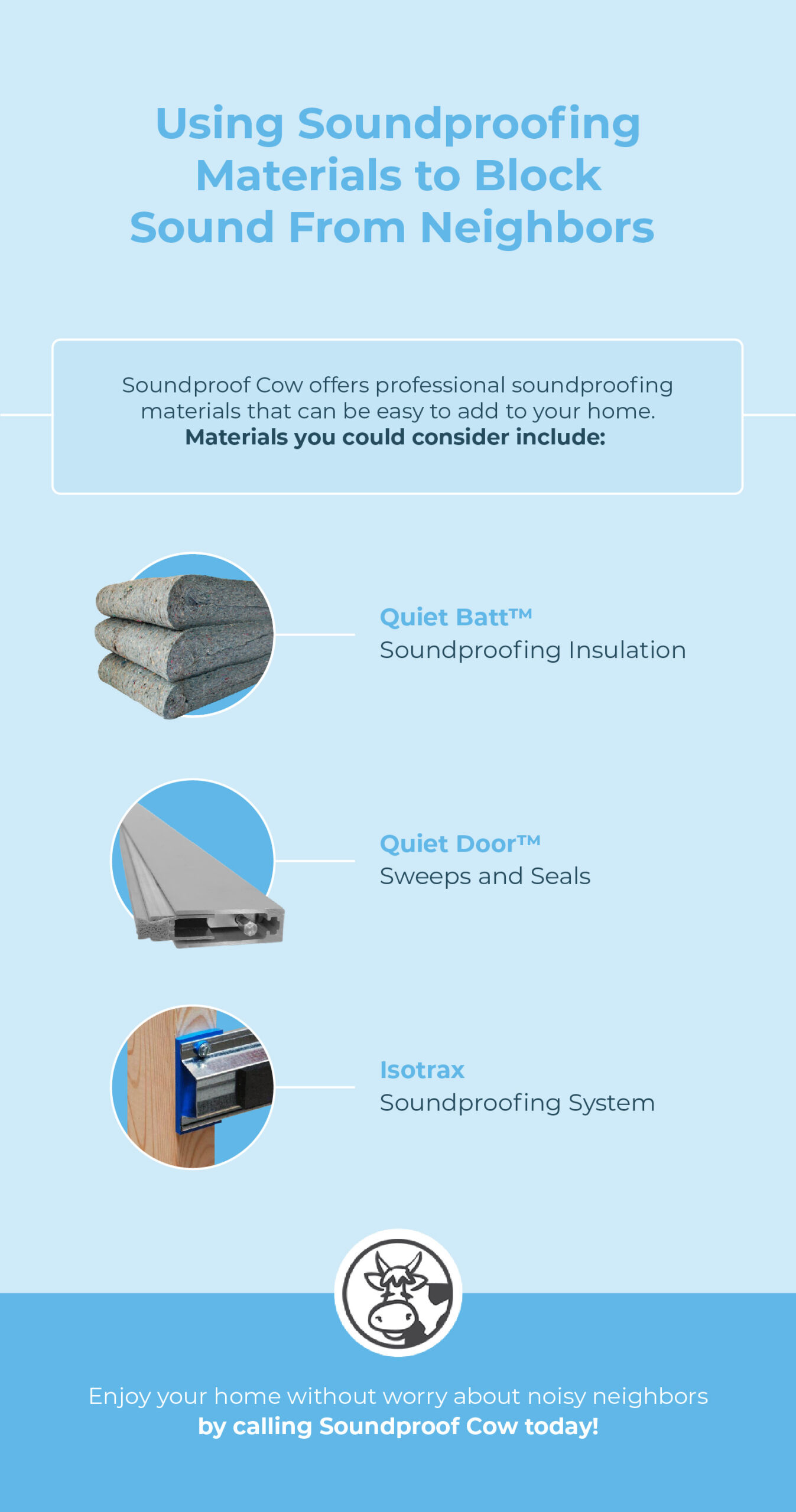 Acoustic Foam
Acoustic foam absorbs sound waves and prevents them from bouncing off of hard surfaces. Adding acoustic foam to a room can help prevent outside noises from infiltrating. Compared to other methods, this is one of the most cost-effective soundproofing materials with a quick and easy installation process.
Depending on your needs, you may opt for acoustic foam panels or fabric wrapped foam:
Acoustic foam panels: These panels range in price and come in a variety of configurations. They work well as ceiling tiles or when surface-mounted to walls.
Fabric wrapped foam: These panels combine foam with flame-resistant fabric to create effective and stylish soundproofing solutions. Fabric wrapped foam can be surface mounted in offices or home theaters to keep inside noise in and outside noise out.
If you need a quick and simple solution for your noise concern, acoustic foam might be the perfect DIY fix.
Acoustic Fiberglass
Acoustic fiberglass is light-weight and rigid paneling made from glass mineral wool. This material has some of the best soundproofing properties to absorb echoes and vibration-related sounds. Perhaps its greatest asset is its versatility. Use acoustic fiberglass as paneling, in ceilings, as hanging baffles and more to trap sound and improve the quality of your room.
Soundproof Cow offers both a one-inch and two-inch panel option to accommodate a variety of projects and budgets. When you choose this material for your DIY project, you may also experience added energy savings from its insulation properties.
Echo Absorber™ Acoustic Cotton
Soundproof Cow's Echo Absorber™ acoustic cotton panels and baffles are made from 80 percent recycled cotton. This material helps to dampen all types of sound frequencies just as well, or better, than man-made substances. As the name suggests, Echo Absorber™ tackles loud echoing in addition to its soundproofing properties.
Much like foam, acoustic cotton is an extremely cost-effective soundproofing material. It's eco-friendly, VOC-free and light-weight, which makes it perfect for a variety of applications. Though acoustic cotton is typically surface-mounted, it can also be used in wall build-ups to prevent noise transfer. Installing Echo Absorber™ is simple with just a utility knife, straight edge, tape measure, caulking gun and pencil.
With a variety of available sizes and configurations, you can choose a product that fits your budget and project specifications.
Acoustic Partition

An acoustic partition serves as a portable, four-foot-by-five-foot sound-absorbing wall. You can place a partition anywhere you have space and need some extra soundproofing assistance.
At Soundproof Cow, our partitions are made from three main components:
Core: 60 percent recycled fiberglass
Frame: 30 percent recycled aluminum
Covering fabric: 100 percent recycled acoustic fabric
Instead of bouncing sounds into your room, these components soak up sound waves and turn them into small amounts of heat energy. What results is a quieter, organized and distraction-free space. Though acoustic partitions alone do not fully soundproof a room, they are a flexible solution that make a noticeable difference.
When you order an Udderly Quiet™ partition from Soundproof Cow, you can choose the dimensions you need for your space. You can also choose from a variety of fabric types to ensure your partition complements the intended room. Partitions could be a great DIY solution for shared home offices, musical practice rooms, home theaters and more.
Acoustic Panel
Acoustic panels help to deaden and dampen the sound in a room. Installing soundproofing panels in your home can help "clean" the noise from certain areas, much like a partition. Acoustic panels are made from compressed mineral wool or foam, which absorbs and traps sound waves. If you're looking for a DIY soundproofing option that balances functionality with aesthetic beauty, this is one of the best choices.
Soundproof Cow offers three different acoustic panel types to fit any project:
Art acoustic panels: These panels combine the soundproofing power of mineral wool or foam with a gorgeous art-piece exterior. With high-quality, UV resistant dye, your art won't fade for up to 25 years. Add these panels to your office, living room, bedroom, nursery and more to experience win-win noise and aesthetic improvement.
Fabric wrapped acoustic panels: Fabric wrapped panels offer sleek and effective sound-absorbing power. These panels have an Udderly Quiet™ soundproof interior and can be mounted to a wall or ceiling. Choose your preferred fabric color and size to customize the panels in your space.
Perforated acoustic wood panels: These patterned wooden panels reduce noise levels and reverberation with small surface dents. Much like art panels, perforated wood panels can contribute to your home's decor while providing valuable soundproofing benefits.
Quiet Wrap™
Quiet Wrap™ is a soundproofing material specifically designed for noisy pipes. This industrial-grade foam composite wraps around the offending pipes to get rid of unwanted clanking and sloshing noises. Installation involves a simple peel and stick application, making it an excellent product for DIY soundproofing.
Quiet Wrap™ is most effective when wrapped around the noisy pipe itself. If you are building a home or completing renovations, you'll have full access to pipes you need. If not, you can still apply Quiet Wrap™ to exposed pipe sections to help mitigate noise.
Quiet Batt™
Quiet Batt™ soundproofing insulation is made from tightly-packed cotton fibers. Whether you're looking to insulate your interior or exterior walls, ceilings or attic, Quiet Batt™ is up for the job. In addition to minimizing sound transfer, the 80 percent recycled cotton helps regulate your home's internal temperature.
Unlike other insulation, Quiet Batt™ doesn't have irritating chemicals or tricky installation requirements. Quiet Batt™ makes a perfect DIY soundproofing material within drywall, drop-down ceilings, and framed walls or ceilings. If you're looking for a heavy-duty home soundproofing solution that's easy to install, this soundproofing insulation is worth your while.
Reliable DIY Soundproofing Products for Your Next Project
You may not be an acoustic expert, but you know when something in your home needs improvement. At Soundproof Cow, we want to partner with you to find DIY soundproofing solutions that fit your needs. When you work with us, we'll provide a free acoustic analysis to give you a project estimate and soundproofing recommendations.
We're confident you'll love the superior soundproofing materials you find at Soundproof Cow. That's why every product you purchase is backed by our satisfaction guarantee. If you're not completely satisfied with a product, we'll do everything we can to provide a solution.
If you're ready to tackle a DIY soundproofing project, purchase your supplies today!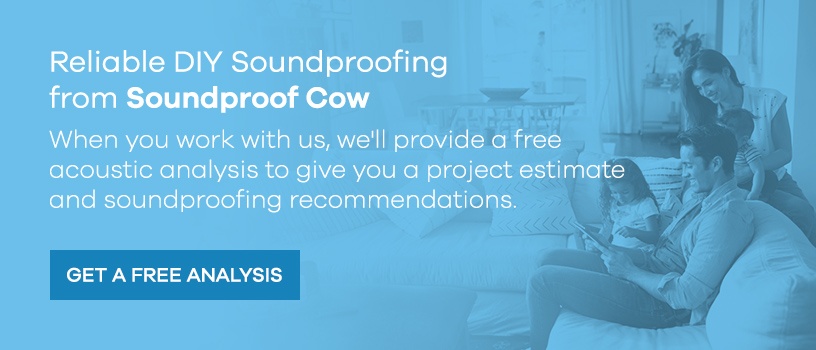 NEWSLETTER SIGNUP
Join the Herd
Get soundproofing tid bits and be the first to know about our special sales.
Subscribe Form - (Full Version)