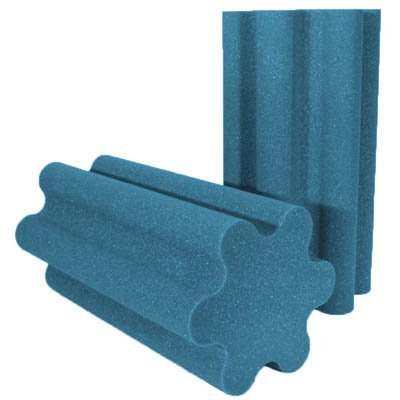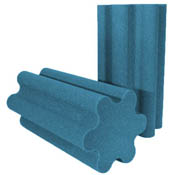 Udderly Quiet™ Spiral Trap Acoustic Foam 24″ Aqua (Case of 6)
Udderly Quiet™ Studio Spiral Traps are designed to improve sound quality within a studio or recording environment by reducing reverberation (echo). They are professional grade sound improvement products for use in commercial or home recording / listening settings. Udderly Quiet™ Studio Spiral Traps are designed to absorb sound from low to high frequencies and will improve the sound quality of any environment that suffers from poor acoustics. They are also available with a Class A™ flammability rating that will pass most building code requirements for exposed materials. All of our Acoustic Foam products are made with the highest grades of acoustic foam.
$462.26
999998 in stock
For Availability and Pricing Please Call Soundproof Cow at 1-866-949-9269
Do you have questions about this product?
Call Us
| Specifications | |
| --- | --- |
| Weight | 20 lbs |
| Dimensions | 2 ft. |
| Thickness | 10 in. round |
| Quantity | Case of 6 |
| Color | Aqua |
| Availability | Usually ships in 7-14 business days |
This product is no longer available in the State of California. Please contact us for approved solutions. 1-866-949-9269
UDDERLY QUIET™ SPIRAL TRAP ACOUSTIC FOAM 24" AQUA (CASE OF 6)
If you've ever set up a recording studio or a home theater, you already know that quality soundproofing is crucial. Unwanted bass reverberations and surface reflections can wreak havoc on your ability to record or hear clear, clean sound. Even if you have standard soundproofing in your studio, theater, auditorium or other noise-sensitive area, it may not be enough.
Soundproof Cow's 24-inch aqua spiral trap acoustic foam could be the perfect solution to your problem. At only 2 feet long, these spiral foam pieces can easily fit almost anywhere, quietly absorbing echo as well as both high-frequency and low-frequency sounds that your existing soundproof walls, bass wedges or other solutions let through.
About Our Aqua 24" Spiral Trap Acoustic Foam
Our 24-inch, 10-inch in diameter, 4-foot-thick spiral traps come in a soothing aqua color that blends easily in with a wide range of environments and contributes to the feeling of tranquility provided by the sound absorption.
Just drop them anywhere — in the middle of a child's room, along the walls of a conference room or gym or in strategic areas around your recording studio — for easy and efficient reverberation dampening and sound absorption. With six traps to a case, you should be able to fully cover whichever room is giving you problems with acoustics the most.
Whether you just want a little boost to your room's acoustics or you need to clean up the last few echoes in an already soundproofed area, these spiral trap acoustic foam pieces can really do the trick. Try them out and be amazed at how easy and effective they can be.
Product Availability
Aqua: 24 in. x 10 in. round (Case of 6)
Enjoy Cleaner, Clearer Sound With Aqua Spiral Trap Acoustic Foam Today
If you're having acoustic issues, there's no time to waste. Fortunately, you can start using our spiral trap acoustic foam right away. We have Class A™ flammability rating foam if you need it. Please verify that the foam you choose is appropriate according to your local building code regulations on exposed materials. Then, order yours!
Customer Reviews
The times I talked with you on the telephone and corresponded through email you have been very helpful and efficient. I would highly recommend Soundproofcow.com to anyone!
– S. Cimino, PA
I have emailed a lot of different manufactures and I have to say your customer service is head and shoulders above all of them. I emailed your company at about 9pm my time and when I woke up the next morning you had already answered my question and then the follow up was a few hours later. I am impressed. Thanks a lot for the quick turn around!
– E. Gustafson, NV
I just wanted to send a quick thank you for your rapid response and helpfulness. I very much appreciated it. You have been responsive in every way all through the process. It has been a pleasure doing business with you and your company.
– T. Alexander, CA
I just wanted to let you know that in the end, sealing the air spaces on this door worked just fine and took care of the problem.
I really appreciate you taking so much time to share your expertise with me, and in particular recommending I try the simpler solution before investing in more expensive noise barriers. That is a big credit to you and your business.
– Mike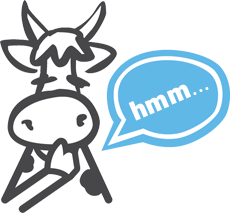 Need a Quote Quickly?
If you need a quote quickly and would rather talk to a warm body, then dial 1-866-949-9269. No pushy sales guys…promise.
Call Us: 1-866-949-9269
Contact Us