There's Something About the Cow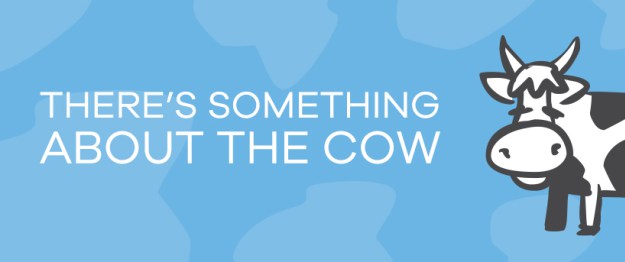 If you think your life is insanely intense dealing with noisy next-door neighbors, try being a cow. It has been proven that cows can hear at higher and lower frequencies than any human can. And yet they still live a mellow existence.
Here are some other absurd cow facts:
A cow's spots are theirs and theirs alone. No two cows have identical spots.
Cows are good mothers; they have been known to walk for miles to find lost calves.
Cows have almost 360-degree panoramic vision.
Cows eat on average 40 lbs. of food each day and between 30-35 gallons of water, the equivalent of a bathtub full.
A cow can climb stairs but not back down them. Their knees do not bend properly to do the latter. (Or should we say ladder?)
 Cows do not lap up water like a cat or dog but use a sucking motion to drink.
And for the grand finale – a rather gross tidbit – a cow weighing 1,000 lbs. can annually produce 10 tons of manure. No bull.
Why do we share this? Because we are Soundproof Cow, and this is the No Bull Bulletin.
I'm sure you are wondering why we went with a cow, well I can tell you it's not because we are full of crap. Cows are very unassuming, calm, docile – welcoming. We want to treat everyone who comes to our site or calls in to ask questions in the same way; with a very welcoming approach. I can assure you there are no questions too odd or a request too eccentric. If we have a solution, we will recommend it. If not, we will not steer you the wrong product. Even if we can't help you this time, we want you to feel comfortable enough to contact us again if another problem comes up.
Those noisy next-door neighbors? We want to help you resolve your soundproof issues so you can live life at the volume you like. And it all starts today.
Welcome to the life of the Cow. It is time to soundproof your home, work and play. Tell them you heard it from the herd.