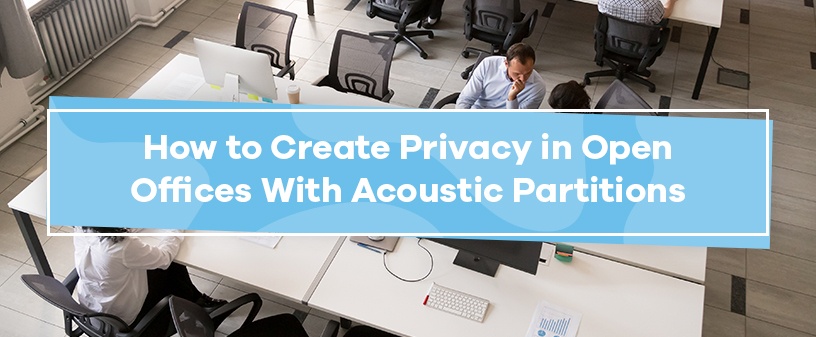 August 14, 2020
As more companies switch from the traditional, stuffy design of cubicles to open-concept offices, the question of privacy comes to the forefront. How do you marry the modern open office with the traditional private space to work? The answer is as simple as using office partitions.
Modern office partitions are customizable dividers that can help reduce the chaos of a large office, allowing your employees to focus on their work better without feeling like they're cut off from their co-workers. Partitions essentially provide employees a room of their own so they can spread out enough to work comfortably without infringing on their colleagues' space — all of which culminates in comfortable and satisfied employees.
Why You May Need Acoustic Partitions in an Open Office
Privacy is the most obvious reason you may be considering acoustic partitions, but there are other advantages to having workspace partitions in your open office. The other two reasons are acoustics and productivity.
1. Privacy
Open office spaces have their benefits, but when it comes to employee productivity and satisfaction, some privacy is much needed. One study revealed that, of people who work in an open office space, 85% are dissatisfied with their workspace and 95% admitted having some privacy was crucial to their productivity. While interactions with co-workers are important, the need for a personal workspace without prying eyes or hovering managers increases employee morale and improves overall productivity.

It's not just individual employees who need their own space to work in. With modern office partitions, businesses can easily create private group spaces to hold meetings or make sensitive phone calls away from the crowds. Modern office dividers and partitions can quickly section off conference rooms, meeting rooms or other spaces that need to be separate from the main area.
2. Acoustics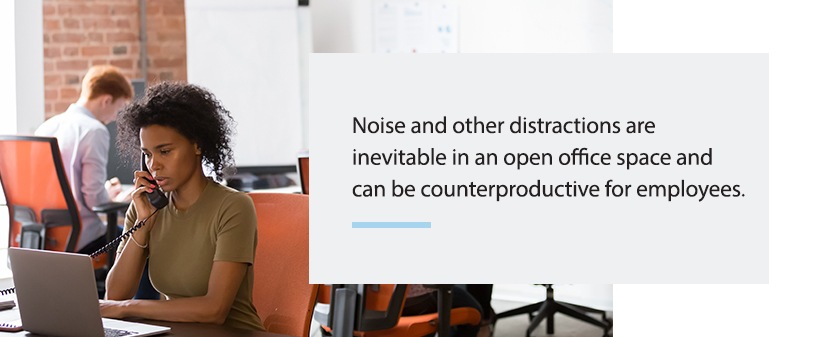 Noise and other distractions are inevitable in an open office space and can be counterproductive for employees. While some people are able to work with distractions and background noise, others require absolute silence. Most employees can handle some level of noise but can become distracted if it's too much.
The layout of an open office space can invite bad acoustics. In addition to increased noise — with people more likely to yell across the office space — visual distractions can become more prominent without a partition to block them out. The potential chaos of an open office space can end up negatively affecting employees' physical and mental health. Increased stress can become a major factor if they're unable to complete their work or perform it up to expectations.
In places like call centers where staff members are constantly on the phone and the noise is more difficult to control, proper workspace partitions can provide a level of soundproofing and reduce distractions for employees.
3. Productivity
An excess of noise is detrimental to employee productivity, with research showing employees are 66% less productive when there is noise or other distractions in their workspace. That equates to wasted time throughout the day due to distractions that could be prevented.
Sometimes a sprawling open space can seem disorganized and cluttered. Workspace partitions are an easy way to organize your space and the employees using it, making it easier for them to improve productivity even more.
Benefits of Adding Acoustic Partitions to Your Open Office Space
The increased privacy, reduced distractions and higher potential for productivity are some of the standout benefits of utilizing open office privacy solutions. After all, when you've got employees who feel comfortable, are organized and have space to focus, they're much more likely to succeed. But there are several other reasons to opt for workspace partitions in your open office space, including:
Standardization: Instead of a large sprawling space or dozens of cubicles crammed into one space, office partitions create some organization in your open space without cluttering it up and making it feel dreary. The partitions are often lightweight enough to be moved as needed so you can keep your space dynamic and adaptable according to employee needs and desires.
Customizability: The lack of permanence is yet another way office partitions can help employees feel more motivated since it offers the opportunity to adapt the space rather than forcing employees to accommodate a traditional office layout. With customization options available, you can experiment with the size, color and number of partitions to find the combination that suits your team best.
Cost-effectiveness: Instead of a major renovation, modern office partitions give employees the power to create the space that works best for them without worrying about the cost. This makes partitions great for leased offices where permanent changes aren't possible. It's also a cost-effective way to renovate an existing office when the layout starts to feel stale.
Maintainability: The partitions themselves are easy to maintain, and they make the office easier to maintain too. With established work areas, there may be less of a chance of tall stacks of books piling up, paper threatening to topple over and tangles of wires and cords that could trip someone. Instead, you can easily organize the entire space, bringing to life the adage, "A place for everything, and everything in its place."
Features of Our Udderly Quiet™ Acoustic Partitions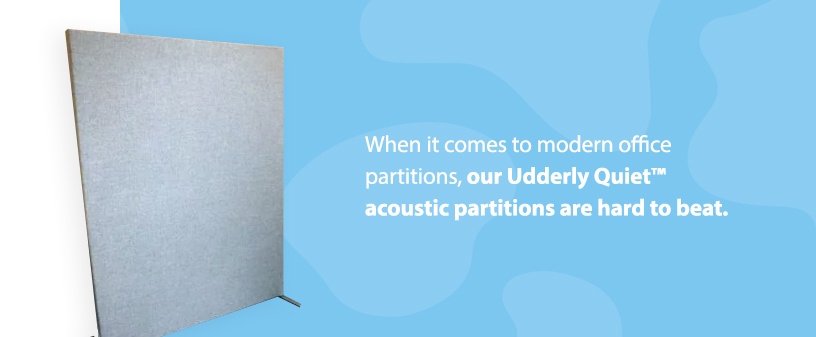 When it comes to modern office partitions, our Udderly Quiet™ acoustic partitions are hard to beat. With a noise-absorbing fiberglass center, our partitions can be customized by texture, color, images or even artwork to really make your office space a unique reflection of your team's personality. We can custom-design the partitions to suit your needs, whether that's the usual four-by-five-foot partitions or something completely different.
Our partitions are great for any space that needs a little more privacy. They help reduce echos and background noise, building a type of soundproof room within a room. And with minimal assembly needed, they can be installed and moved as needed whenever you need to change your space.
As a bonus, our partitions are made using 65% recycled materials — 100% recycled fabrics, 60% recycled fiberglass and 30% recycled frame — so you can rest assured you're getting a high-quality product that's both durable and sustainable. The Class A flammability rating provides an added peace of mind for any home or business environment.
Purchase Trusted Acoustic Partitions From Soundproof Cow
If you're ready to improve your office with simple and effective acoustic partitions, trust Soundproof Cow to deliver the quality and cost efficiency you need. For additional commercial soundproofing measures, browse our products for a full range of options.
Take advantage of our ongoing sales today, and call 1-866-949-9269 or submit a contact form for more information.
Learn More About Office Soundproofing