Find Soundproofing Products for Your Flooring
At Soundproof Cow, we carry a variety of flooring underlayment and materials to soundproof flooring in your home, office, or business. Shop soundproofing options for a variety of flooring types:
Floor Soundproofing Products
Carpet
Hardwood
Ceramic Tile
Laminate
Soundproofing Existing Floors vs. New Construction Floors
Is your soundproofing project for existing floors or new construction? These two scenarios are quite different from each other, so preparation is essential. Depending on your situation and desired outcomes, one of these solutions will be better for you. Let's take a closer look at how to soundproof your floors in these two distinct situations.
How to Soundproof Existing Floors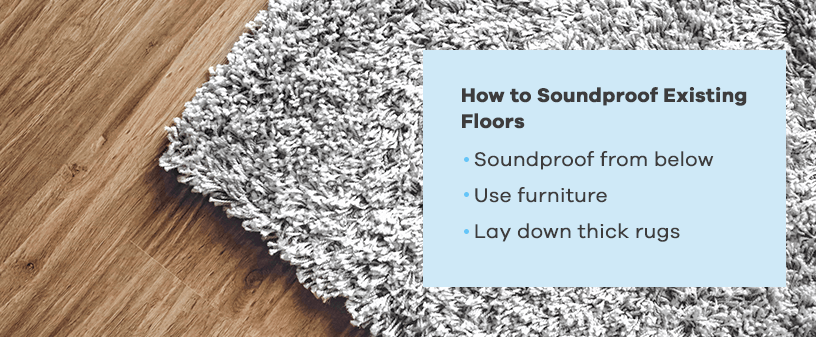 Existing floors are those you're unable to build or remodel yourself. Common examples include apartment buildings or rental homes where the building's subfloor will stay the way it is. Luckily, you have plenty of options at your disposal for soundproofing these floors, including the following.
Soundproof from below: If you have access to the basement or rooms below your floor, you can add Quiet Batt™ Sound Insulation above those rooms' ceiling tiles. Fit it in the space below your floor and above the tiles to absorb plenty of sound from both directions.
Use furniture: An empty room will always be noisier than a room full of furniture. Use items like cushioned chairs and couches to fill some space and absorb sounds in the room to give you a quieter experience.
Lay down thick rugs: Bare floors — especially hardwood — do little to stop sound transfer in your floors. Place a plush carpet on your floors to decrease vibrations and dampen sounds. Remember, thicker carpets are best for floor sound insulation.
How to Soundproof New Construction Floors
New construction is the best time to take measures to soundproof your floors. You get to build in soundproofing characteristics, which will lead to the best results. Here are some of the ways you can soundproof a floor during the building or renovation process.
Use soundproofing installation products: Many steps in the new construction process can benefit from soundproofing installation products. From sealants and primers to adhesives, tapes and mounts, every extra bit of soundproofing you do will go a long way toward having a quieter floor and quieter rooms in your building.
Install soundproof underlay: Soundproof Cow's flooring underlayments are one of the most effective ways to reduce sound from traveling through your new floors. During construction, place it under any carpet, tile, hardwood, stone or laminate flooring to enjoy fantastic soundproofing benefits.
Seal flooring panels with Green Glue: Green Glue Noiseproofing Compound is a secret weapon for contractors looking to build a soundproof floor. Use a generous amount between layers of flooring panels to bond them together. The Green Glue deadens sounds and vibrations as they pass through the flooring panels. It helps create much quieter footfalls within the room, as well.
When installing hardwood floorboards, you can use nails, glue or both. Nails transmit noise to the subfloor, so if possible, gluing is a better option. No matter the type of application, a flooring underlayment will treat your room's noise issues.
For glue-down or nail-down hardwood floors, we recommend PROFLEX™ 90. Constructed of a rubberized membrane laminated to high strength, reinforcing fabric on the face and a siliconized release sheet on the adhesive side, this product is perfect for finished hardwood floors. It's waterproof, has a vapor-protected membrane and eliminates cracks.
For floating hardwood flooring, Impact Barrier® Flooring Underlayment is the most effective floor soundproofing material. As the most technologically advanced sound blocker available for hardwood, it will not only efficiently reduce footfall impact noise, but it also has a membrane that resists moisture, mold and mildew.
Laminate or composite floating floors cause two major noise issues — impact noise transmission and echoing within a room. You can significantly reduce both these problems by using Impact Barrier® Flooring Underlayment. An added benefit is the vapor barrier that helps protect the floor from moisture. Like other underlayments, you can apply it to the subfloor below the finished layer.
Ceramic tile and stone can be the most challenging to soundproof because you must install the floor at an even level. We created our products with this in mind.
We specially engineered our PROFLEX 90 MSC Flooring Underlayment product for use under thin-set and mud-set mortar, making it an ideal floor soundproofing solution for tile and stone. Also, it prevents cracking, a common problem with this type of flooring material.
PROFLEX 90 MSC Flooring Underlayment will remain flush with the subfloor when installed correctly. After the underlayment is in place, you can lay the ceramics or stone. You won't see it's there, but you'll hear the difference — improved sound quality and reduced sound transmission. Carpeting alone helps reduce footfall noise, but it can't compete with airborne noise transmission through the floor. Some rooms, such as music practice rooms, home theaters or recording studios, have considerable airborne noise problems.
Using a thick barrier fiber composite will reduce noise leakage through the floor. It will also prevent unwanted sounds from entering from the rooms below.
We recommend Impact Barrier® Flooring Underlayments, made from the best, most consistent materials available.
Shop flooring underlayment and other soundproofing materials for your carpet, hardwood, ceramic tile and laminate floors today.
Soundproofing Your Floor Is Easier Than You Think
Unless you've got a college student living in your basement who has the sleeping habits of a bat and likes to party at midnight, the necessity for soundproof flooring usually stems from unwanted vibrational noise that comes from the house itself rather than exterior noise. For instance, soundproofing materials for floors tend to focus on reducing structural and vibration sound transmissions such as creaks, squeaks, rattles and odd noises sometimes attributed to a house "settling."
Soundproof Cow offers various effective and affordable soundproof flooring products, including thermoplastic floor joist isolators specifically for improving your flooring assembly's Sound Transmission and Impact Insulation Classes. Floor joist isolators decouple flooring from structural supports to reduce sound transmission, particularly lower-frequency sounds that are challenging to control.
Another easy way to soundproof your flooring (and keep the peace in your home) is with our popular PROFLEX™ 90 underlayment designed for use under hardwood, stone and tile floors. PROFLEX™ 90 reduces not only the intensity of footfall noises but also voice, TV and stereo noise. In addition, you can use this special soundproofing material in areas where moisture is a concern.
Outperforming plastics and roofing membranes with regard to noise-proofing and sound reduction, Impact Barrier QT provides some of the highest IIC rating improvements while offering excellent, anti-fracture crack bridging qualities. Many of our customers have rated it as the perfect soundproof flooring product for hotels, high-rises, condos, family homes, apartment and office buildings. Impact Barrier QT is ideal for use under marble, stone, ceramic tile, brick, carpet and laminate/hardwood/engineered wood.
If you have questions about how to soundproof floors, we have the answers you'll be happy to hear. Call us today at 866-949-9269 or contact us online.