Custom Art Acoustic Panels for Any Space
Art Acoustic Panels allow you to soundproof a room and make it look stylish at the same time. Our selection of art acoustic panels are made with the same sound deadening and sound absorption materials – and they are completely custom and made to order. Soundproof Cow takes your images and puts them on a fabric-wrapped acoustic panel in rich, true-to-life colors using patented DyeFusion™ technology. We guarantee the longevity of each art acoustic panel because they are fade-resistant for up to 25 years. You'll be able to keep noise to a minimum while giving the room some artistic flare. For a more standard sound absorption solution, check out our entire selection of acoustic panels.
Art Acoustic Panels are perfect for homes, offices, conference rooms, restaurants/bars, coffee shops, educational buildings, auditoriums, gymnasiums, libraries, museums, music halls, theaters, studios, hotels, and more.

The artistic part of art acoustic panels comes in when we print your image on the fabric using high-quality, UV-resistant dye. Your vibrant image is guaranteed to be fade-resistant for up to 25 years, ensuring colorful and long-lasting soundproofing for your home or business.
Art acoustic panels are a perfect soundproofing solution when you're seeking to block or absorb sound without intruding on existing building structures. You can hang art panels in a variety of ways and select the precise size you need for any space. Custom acoustic panels have the added bonus of providing stylish décor without sacrificing any of their soundproofing power.
Best Uses for Art Acoustic Panels
Because of their flexibility of size, shape and design, art acoustic panels are extremely versatile. Custom soundproof panels can be used to reduce noise inside your home or prevent noise outside a building from seeping in. They can help to clarify speech or music in a classroom or theater or make an office quieter to promote focus. Read on for specific ways that these panels can help soundproof a variety of spaces.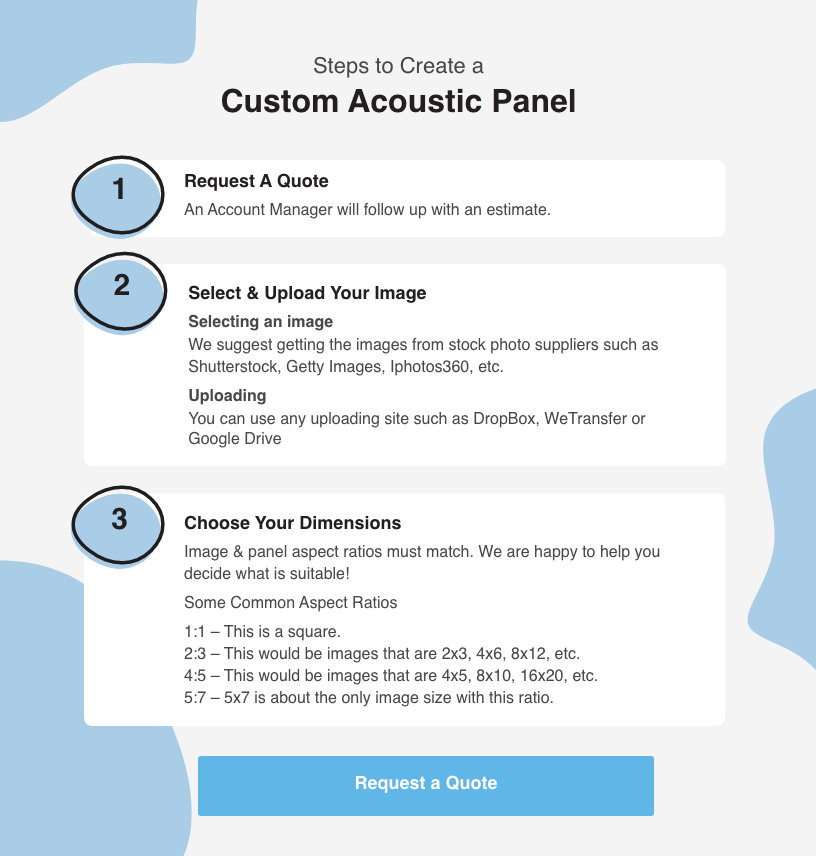 Decorative Acoustic Panels for Home Soundproofing
From cars driving outside to kids playing downstairs, your home can be a noisy place. Sound can be a problem in your home when it enters from the outside or when it travels between rooms without being absorbed. If you live in a townhouse or condo, noise may be transmitted easily through the walls, making your home feel less private.
If your space doesn't have many soft materials, sound waves will bounce around and echo, causing noises to be louder and less clear. An open floor plan may help noise to dissipate as the sound waves travel longer distances, but not everyone has the luxury of designing a home with larger rooms. Large rooms in your home can still be prone to echo and create noise debris without proper sound dampening.
Soundproofing your home can be easy if you add art panels. These acoustic panels provide a soft and dense material that absorbs sound before it travels out of a room or into your home. Art panels can be incorporated unobtrusively and are as simple to install as hanging up a painting.
Our custom acoustic panels allow you to add family portraits or any image of your choosing, so the panels perfectly complement the design of your home. Available in a variety of sizes, art panels can fill any space and be used to dampen or deaden any amount of noise. Here are a few examples of great ways to incorporate soundproofing art panels in your home:

Children's playroom: Allow your kids to laugh and play freely while you relax in quiet in the living room.
Nursery: Your child will nap soundly when art panels are used to prevent noise from entering their nursery. This change means you can go about your day without worrying about disturbing your napping baby.
Home office: Hang art panels in your home office to improve the quietness of your workspace, making it easier to focus.
Bedroom: Foam acoustic panels can work wonders to prevent outside noise from seeping into your bedroom and disrupting your peaceful sleep. With art panels, you can select a design that's perfect for your bedroom's style.
Living room or home theater: Art panels absorb noise debris, meaning a clearer listening experience when you're watching TV or movies. Complement your state-of-the-art home theater equipment with soundproofing art for the highest-quality sound.
Soundproofing Office Spaces With Art Acoustic Panels
Our modern workplaces often involve more open spaces, where some employees work collaboratively while others work silently. However, when team members are talking to clients on the phone or communicating with each other, it generates excess noise that can be a major distraction for employees who are working in quiet.
In fact, a study by Oxford Economics of 600 executives and 600 employees across industries revealed that the ability to focus without interruptions was considered the most important factor in the work environment. Noise in the office is one of the biggest distractions, especially as workplaces become more open. This distraction inevitably leads to a drop in productivity, and as an employer, you know that losses in productivity directly impact your bottom line.
Sound absorption materials can help create the right working environment for everyone, as acoustic panels can be added to existing partitions or cubicle walls to prevent sound from traveling while also clarifying sound within a partitioned space. In an open floor plan, art panels can be hung on the walls or ceilings to absorb sound waves. The results are that employees will be able to hear their clients or coworkers better without distracting those around them.
Soundproofing can also become important in an office setting when sensitive or confidential information is being discussed. Hanging soundproofing art in an office will help keep conversations private so that sensitive information is protected. This strategy is particularly important in places like doctor's offices or law offices where your client's personal data must be kept confidential.
Incorporating art acoustic panels in your office space is simple and can be done in a variety of ways to best suit your office's needs. Here are a few places to consider hanging art acoustic panels in your office space:
Between cubicles where employees require a quiet environment or clear communication
On walls or ceilings to reduce the general sound debris in the office
In a private office to prevent sound from leaking out
In the waiting room in your office so that clients cannot hear confidential information inside the office and instead experience a quiet, peaceful waiting room
For more ideas on how to incorporate acoustic art panels into your workplace, view our photo gallery of art acoustic panels in offices.
Soundproofing your office can often pay for itself with the increase in productivity that will result in a better bottom line for your company. Hanging stylish art acoustic panels means you don't have to sacrifice the professional and sleek look of your office to get the best soundproofing results.
Soundproofing Art Panels for Restaurants and Bars
According to Zagat and Consumer Reports, a restaurant being too noisy is a diner's biggest complaint, beating both bad service and bad food. Excessive noise in a restaurant can ruin a customer's experience when they can't hold conversations, hear their server or enjoy the ambiance of the restaurant that you've worked hard to create.

Too much noise can even alter the way diners taste their food, making it seem drier, less sweet and generally less enjoyable. When employees are unable to hear customer orders or cannot focus due to a loud environment, they're more likely to make mistakes, which also leads to a poor experience for your guests. All of these factors influence how much a customer will buy and if they'll decide to come back to your restaurant in the future.
Noise in restaurants has become such a problem in recent years that the IHearU app was released in January 2018 to allow diners to report how loud a restaurant was at different times of the day. IHearU can record the decibel levels of a space and also allow users to report their perception of the noise in a restaurant. If your restaurant receives poor reviews on sound quality, customers are likely to choose a different restaurant where they can enjoy conversations with friends.
Luckily, art acoustic panels can reduce the noise levels of your restaurant to improve diners' experience and increase your profits. Here are some ideas for places to incorporate art acoustic panels in your restaurant:
Between the bar and dining area: Often, the bar will be more crowded and thus noisier than your dining area. Allow guests who are sitting down for dinner to enjoy their meal by blocking ambient noise with hanging art acoustic panels. Place them on the wall or divider between the bar and the rest of the restaurant.
In booths and between tables: In intimate restaurants, when tables and booths are close together, conversations tend to carry. Prevent romantic conversations from being overheard by the next table or business conversations from being interrupted by a crying baby across the room by incorporating art panels around tables and in booths.
Hanging from the ceiling: Many restaurants have tended toward industrial and sleek designs in recent years, which means fewer tablecloths, carpets and tapestries that used to help dampen sound. Hanging art panels from the ceiling can be a perfect solution to fit the modern style of your restaurant while still absorbing excess noise.
While some noise can help create ambiance in your restaurant, sound-absorbing wall art can ensure that it's the right kind of noise. Reduce noise debris to allow your diners to hear their own conversations and the background music you have selected. Art panels can be custom-designed to fit any restaurant and look so stylish that customers think they're simply artwork.
Sound Absorbing Art for Classrooms
Providing a quiet environment in a classroom is an essential part of student learning. Several studies have shown that noise from traffic, airports and trains outside of schools can lead to lowered attention and poorer test scores. Noise from outside of the educational center is the largest contributor to excess sound in the classroom and can lead to noise levels of 70.5 dB(A), which is much higher than the World Health Organization recommendation.

Students are also more easily distracted by background noises than adults, meaning they lose focus more quickly from the sound of kids playing on the playground or people walking down the hallway. Because classrooms often contain a lot of hard surfaces like desks, cabinets, whiteboards and tile floors, sound in a classroom has nowhere to go and tends to bounce around.
Reducing noise in a classroom by hanging sound-absorbing art panels allows students to focus better, which leads to improved learning and performance. Because art acoustic panels also clarify sound quality, they further improve the student experience by ensuring that students can hear what teachers or lecturers are saying.
Sound absorption in a classroom makes students less likely to miss important information and more likely to stay focused during lessons. Soundproofing in schools can also be a huge benefit when students are taking tests or exams. Noise from the outside or nearby classrooms can disrupt students' focus, keeping them from performing as well on tests.
Acoustic art panels can be a great solution to noise problems in the classroom, as they can easily be added without intrusion. Customized acoustic panels can double as educational features if you select an image that provides information or inspiration for your students.
Soundproof Wall Art for Performers
Music halls, theaters and studios are places where high-quality sound is extremely important. Whether you're a professional musician or a high school student in a school play, you've worked hard on your art and want to provide the best performance possible. However, when a theater or music hall is not soundproofed, sound will reverberate around the lofty auditorium and echo from the tile floors, leading to poor sound quality.
Even the most talented singer will be perceived poorly if audience members cannot understand the words or are listening through sound debris. When an auditorium or music hall is properly soundproofed, even patrons in the very back rows will be able to cling to every word of the star's monologue and hear each note of the soloist crystal clear.
In a music studio, effective soundproofing is as important as having good recording equipment. If your home recording studio is not soundproof, your tracks are likely to pick up sound interference and will not have the professional sound quality you strive to produce. Soundproofing your music studio will also allow you to perform as loudly as you want without disturbing your neighbors.
Acoustic art panels can clarify and improve sound quality in your music hall or studio while enhancing its aesthetic. For large auditoriums, acoustic panels can be ordered as large as 10 feet by 150 feet to effectively absorb sound waves.

Features and Benefits of Art Acoustic Panels
Because Soundproof Cow's acoustic art panels are made-to-order, you can select the precise size, shape and style for your soundproofing needs. These custom sound-absorbing art panels are the perfect combination of form and function, tying industry-leading soundproofing power to beautiful, colorful artwork of your choice.
Soundproof Cow takes your images and puts them on a fabric-wrapped acoustic panel in true-to-life, rich colors using patented DyeFusion™ technology. We guarantee the longevity of each art acoustic panel because they are fade-resistant for up to 25 years. The lightweight brushed aluminum frame is warp-resistant, and we can even adjust its color to match the design of any space.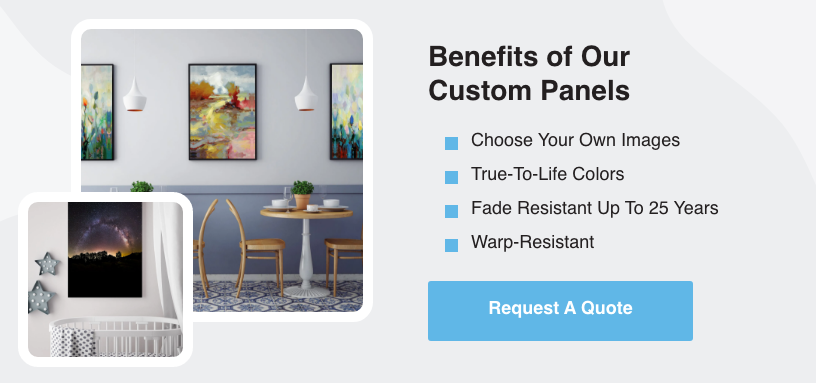 Our art acoustic panels can be mounted in a variety of ways to match the décor of the room while providing the sound blocking you need. Mounting hardware can also be adjusted for minimal damage to your walls or ceilings. These panels can accommodate:
Wall-mounting
Hanging baffle
Hanging cloud
Freestanding partition
Keeping your vibrant art panels looking like new is simple, as the fabric skin can be removed and washed in a washing machine. If you want to change the design of your home or business, ADAPT™ Acoustical Treatments allow you to swap in a different skin for a totally new look. This process is as easy as removing the fabric wrapped around your panel and replacing it with a new skin.
Soundproof Cow's acoustic art panels are one-of-a-kind because you get to design them. These soundproofing art panels will control the acoustics in your home or business while adding an artistic flair.

Ordering Your Custom Acoustic Art Panels
It couldn't be easier to order custom acoustic art panels from Soundproof Cow. If you know the dimensions and quantity you want, start by requesting a quote online. If you're still unsure of how art acoustic panels can help manage sound in your space, request a free acoustic analysis from the professionals at Soundproof Cow, or simply give us a call at 1-866-949-9269.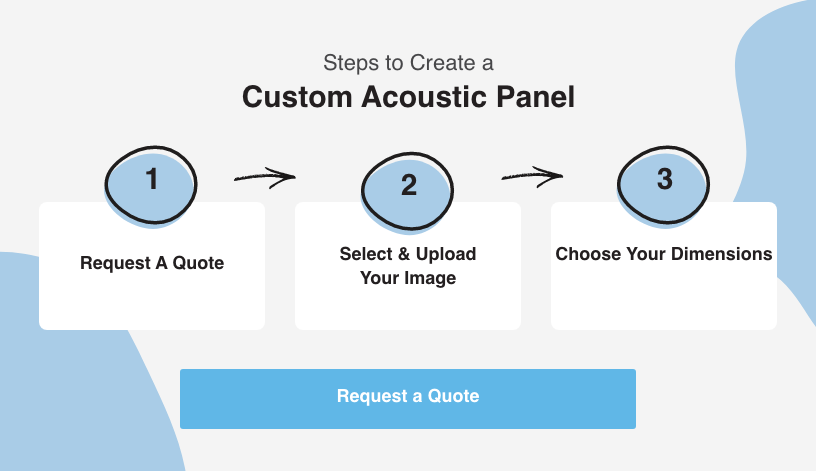 After you request a quote, an Account Manager will quickly follow up with an estimate. Once you know which art acoustic panels you want, you can begin the ordering process.
Create an account over the phone, and then log in to upload the image you've chosen for your custom acoustic panel. If you're not sure of the image you want, our design team can help you select one that will look great with your space. Once you've chosen the dimensions and uploaded your art, you're all done! Simply wait three to four weeks for delivery, and you'll be enjoying high-quality sound control and beautiful artwork in your home, office, business or wherever you need superior acoustic solutions!
Frequently Asked Questions
Here are some of the most common questions we receive regarding our acoustic art panels.
Do Acoustic Art Panels Work?
Acoustic art panels take the edge off of echoing and reverberation in any indoor space. These panels feature the same glass mineral wool as many of our other acoustic panels. As a result, art acoustic panels are highly absorbent.
We assess our art acoustic panels to assign a noise reduction coefficient (NRC) rating describing how much sound they reduce. The NRC rating equals the decibels the panel absorbs divided by the decibels reflected back into the room.
A 1-inch art acoustic panel holds a .80 NRC rating, meaning it absorbs 80% of the sound energy it encounters. Our 2-inch panels earn a 1.00 NRC rating, eliminating reflections.
Does Canvas Art Reduce Noise?
Canvas art offers minimal sound reduction. Canvas is a tightly woven material with few pores to entrap sound energy. As a result, nearly all sound energy will reflect off of a canvas painting.
For a material to absorb sound, it must have a way to trap sound energy rather than allow it to reflect. Porous materials are excellent sound absorbers because the pores serve as air-filled alcoves for sound to enter. The air molecules and sound energy interact, causing friction and thermal loss. The sound energy dissipates within the pores before it can reflect back into the room.
Art acoustic panels offer an effective alternative. You can customize an acoustic art panel to feature a design of your choice, allowing you to control your space's aesthetics and acoustics.
Does Framed Wall Art Reduce Noise?
Framed wall art does not reduce noise. Materials that minimize noise feature absorptive properties, meaning they are porous and soft. When sound interacts with framed artwork, it reflects back into the room. A picture frame's hard, flat surface is ideal for reflection. You can offset your wall art's reflective properties by installing absorptive materials like acoustic panels.
Do Paintings Block Sound?
Paintings do not block much sound at all. Soundproofing, which is the process of preventing noise from transmitting between spaces, requires materials with greater density than a canvas painting or framed portrait. Paintings are thin, so they add an inconsequential amount of mass to any surface where you hang them. A sturdier soundproofing material increases the surface's density and makes it more difficult for noise to move through a surface.
A regular painting also offers little to no sound absorption. Addressing noise that reverberates and echoes within a room is a separate process from soundproofing. Installing soft, porous materials over a hard surface will reduce interior noise through absorption. A canvas painting is too flat and taut to absorb much sound energy. Glass frames offer even less absorption and, depending on the surface material, may even reflect more noise than the wall where you installed it.
While paintings are ineffective for soundproofing and sound absorption, you can use them to cover soundproofing materials for aesthetic purposes. Art Acoustic Panels consolidate your spending by offering acoustic and aesthetic value in one.
How Do You Soundproof a Room With Art?
Get aesthetics and acoustics with the right soundproofing products. There are a couple of ways to soundproof a room with art. One way is to cover soundproofing materials with artwork. Another is to choose acoustic materials that serve as works of art themselves.
Mass loaded vinyl (MLV) can install over an existing wall to increase its density and prevent noise transfer. Rather than leaving the MLV exposed, cover it with a painting or other artwork. The art will not interfere with the soundproofing performance achieved by increasing the wall's mass. However, the painting will still reflect noise, resulting in echoes and reverberations inside the room.
Using artistic acoustic materials allows you to control reflections while customizing your space's decor. Our Art Acoustic Panels absorb noise at an NRC rating ranging from .65-1.00. You can customize these panels by uploading a design of your choice.
Does Wall Art Reduce Noise?
Normal wall art does not reduce noise to any notable degree. Noise reduction inside a room requires carefully placed absorbent materials that will soak up sound before it can reflect. Paintings and glass frames are ineffective at best and extra reflective at worst.
If you want to reduce noise while filling your space with art, try Art Acoustic Panels instead. We make these panels with absorbent materials like cotton, glass mineral wool or acoustic foam, then cover them with fabric featuring a design of your choice. Send us an image when requesting a quote or placing your order to receive custom acoustic panels that speak to your style.

I just wanted to send a quick thank you for your rapid response and helpfulness. I very much appreciated it. You have been responsive in every way all through the process. It has been a pleasure doing business with you and your company.
- T. Alexander
NEWSLETTER SIGNUP
Join the Herd
Get soundproofing tid bits and be the first to know about our special sales.
Subscribe Form - (Full Version)