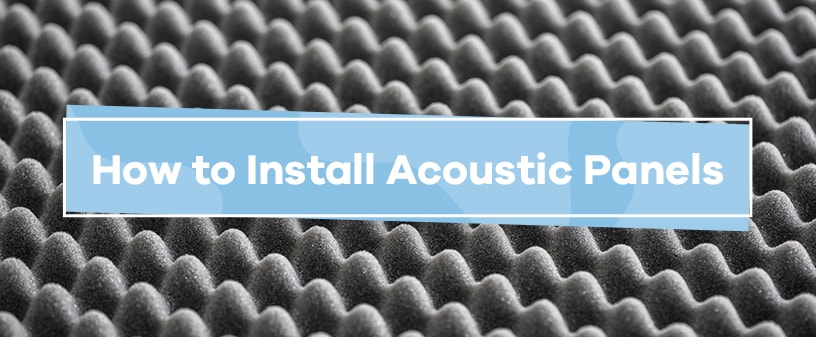 November 02, 2018
Acoustic panels are a great way to get amazing soundproofing anywhere, and Soundproof Cow has a variety of attractive and highly effective acoustic panels for you to choose from. However, it's possible that you have some concern about how to install these panels. Fortunately, installing most acoustic panels is usually quite easy, and you can often have them up and in place the same day you receive them, without the need for any professional assistance.
Methods for Installing Acoustic Panels
The best way to install your acoustic panels is through the use of a soundproofing adhesive. We recommend PL®Premium Polyurethane Construction Adhesive. To use this adhesive for installing your acoustic panels, all you need to do is first prepare the mounting surface by sanding it down and cleaning off any debris. Use a level to lay out where you will be installing the panels and draw reference lines. Screw your leveling brackets into the mounting surface.
Then, apply the adhesive around the perimeter of the panel (about two inches from the edge) in an X pattern across the back as well as in 2 or 4-inch circles in the fields created by your "X." Apply the panel to the mounting surface and allow 24 hours to cure.
If you aren't keen on adhesive, you might prefer a Z-clip system. If you have Z-clips, you can use a screw gun and screws to attach the Z-clips to the panel and the mounting surface. Then, simply clip them in.
Tools Needed for Acoustic Panel Installation
The nice thing about these products is that you can mount acoustic panels with a minimum of tools. You can just squeeze the adhesive on the panel or screw in the Z-clips with basic tools you already have in your house.
Furthermore, because most of the fabric we wrap the acoustic panels with is made of recycled materials, you will find them easy to handle, even without gloves, making installation even simpler.

Get Your Acoustic Panels and Installation Tips from Soundproof Cow Today
If you need help with your acoustic panel setup, Soundproof Cow is only a click away. We don't think you'll need any assistance getting these panels in place but if you do, one of our experts will be happy to talk you through the process. We'll figure out the best method for attaching your acoustic panels and make sure you have the technique down.
Our team is also happy to advise you on how to soundproof any room or area. If acoustic panels are the best option for you, that's great. But maybe there's another soundproofing solution that will work better or work well in conjunction with your acoustic panels. We'll help you figure all that out.