September 04, 2020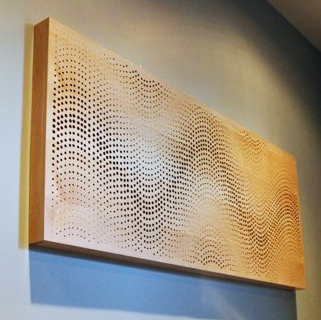 If you're looking to improve the sound acoustics in your home or business, acoustic panels are an excellent solution.
Acoustic panels are typically made of compressed mineral wool or foam wrapped in fabric, and they absorb sound waves to limit reverberation, clarify speech and reduce general noise. They effectively dampen and deaden sound in offices, restaurants, homes and other enclosed spaces. For effective soundproofing, however, it's crucial to understand where to place acoustic panels in a room.
Acoustic Panel Placement
Here are a few basic guidelines to follow when you install your acoustic panels:
Achieve symmetry: Your acoustic panels should be as balanced and symmetrically spaced as possible. Use the current room patterns and wall length to determine the best spacing. In areas with obstructions such as lights or signs, if the pattern must be broken, try to minimize the change in spacing.
Spread them out: Acoustic panels are less effective when they're clumped together in one section of a room, so spread them evenly throughout the space for the most effective treatment.
Avoid placing them too high: If you hang acoustic panels above eye level, you'll increase the amount of time it takes for sound to reach them, making them less effective.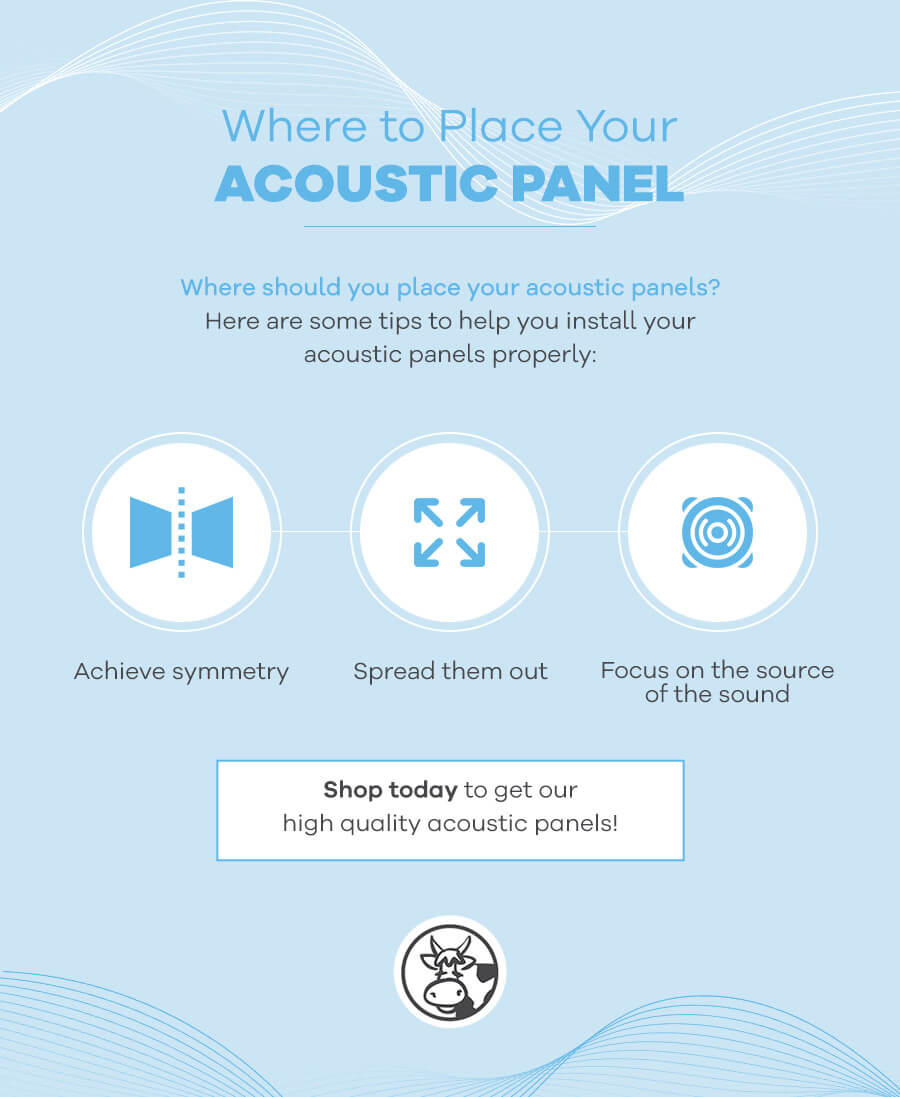 The success of acoustic panel placement also depends on the specifics of your room and what you're using it for. For example, if you're soundproofing for a home theater, the goal is to create a funnel-like, surround-sound environment like the one you'd experience in a regular movie theater. In a recording studio, on the other hoof, you would ideally place an emphasis on the microphone area to diffuse sound near it and absorb sound everywhere else.
You'll also want to be aware of how the walls of your room interact with sound and acoustic panels. For example, the floor and ceiling are responsible for the "height" of sound in the room, meaning its downward or upward movement, while the front and back walls dictate the "length" of the sound, meaning how far and well it carries across a room. When placing acoustic panels, you'll want to put them where the sound waves will hit the walls. This could be level with a set of speakers, or placed at sitting or standing height to help with noise from individuals.
Contact Soundproof Cow for Your Acoustic Panels
At Soundproof Cow, we have several different types of acoustic panels for you to choose from, including:
Art acoustic panels: Our art acoustic panels are a personalized and stylish option. You'll provide us with the right images, and we'll put them on a fabric-wrapped acoustic panel using our patented DyeFusion™ technology, which will reproduce the image in true-to-life colors on a highly effective acoustic panel.
Fabric-wrapped acoustic panels: Our Udderly Quiet™ acoustic panels are available in a wide range of fabric wrap sizes, colors and configurations and can be customized to your exact specifications.
Perforated acoustic wood panels: Our EccoTone™ acoustic panels come in a variety of patterns, sizes, veneers and finishes for an elegant touch to your decor. They're typically ceiling- or wall-mounted and can also be suspended from the ceiling as a baffle or cloud.
All of our acoustic panels are expertly made right here in the U.S., with soundproofing features that will improve listening quality, speech intelligibility and recording quality.
For more information about our acoustic panel solutions or how to place acoustic panels, reach out to us today.
Learn More About Acoustic Panels