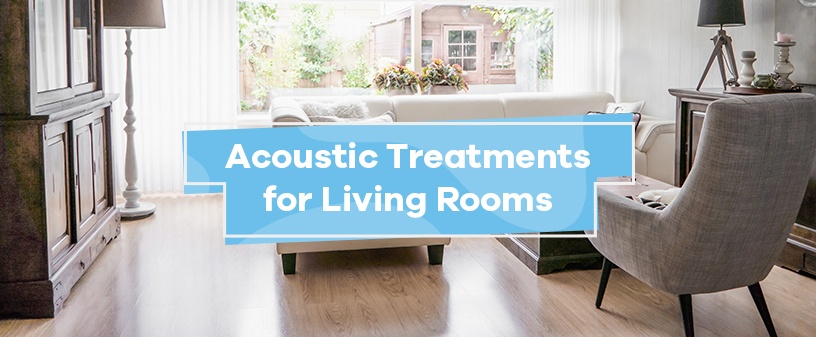 September 28, 2020
The living room is the heart of your home, and the place you go to unwind after a long day, watch your favorite sports and host memorable movie nights. One thing you don't want in your living room is the booming sounds of your neighbor's band practice, or the sounds of your kids' noisy slumber party in the room upstairs.
If you're looking for a way to cut down distracting noises or trying to step up your hosting game, look into the option of improving your living room acoustics. It's easier than you might think! Here, we'll outline everything you need to know about the right acoustic treatments for living rooms, and soon you'll be a DIY-acoustic treatment pro.
---
Table of Contents:
Benefits of Adding Acoustic Treatment to Living Rooms
Areas in Your Living Room to Add Acoustic Treatment
– Floors
– Ceilings
– Walls
– Doors
Best Acoustic Treatment Products for Living Rooms
– Proflex™ 90 Flooring Underlayment
– Quiet Batt™ 30 Soundproofing Insulation
– Quiet Door™ Perimeter Seal
---
Benefits of Adding Acoustic Treatment to Your Living Room
Acoustic treatment for large rooms, like a living room, comes with a handful of benefits — more privacy, an added comfort level and higher entertainment value, to name a few. But, before we dive any deeper into these advantages, let's talk about the science behind acoustic treatments.
Imagine your living room completely empty. Jumping into your childhood memories, next picture what would happen if you hurled a bouncy ball at one of your walls. The bouncy ball would continue bouncing off the walls, doors, floors and even ceilings until it finally uses up all its energy and rests dormant.
Sound waves act similarly. Like water ripples, they make their way through your living room, bouncing off surfaces — even transferring through untreated surfaces into other rooms of your house, and vice versa.
The goal of adding acoustic treatments to your living room is to restore a neutral sound balance, meaning they don't eliminate sound. Instead, they control and absorb sound waves so the right mix can reach your and your guests' ears. That way, you can experience benefits like these.
1. More Privacy
Acoustic treatments, paired with other soundproofing materials, keep outside noises away from your home and inside sounds from reaching outside ears. You'll no longer have to listen to passersby's conversations or your neighbor's less-than-perfect guitar practice. And, your neighbors won't hear you watching your favorite movie for the hundredth time!
The same goes for inside your house. The sounds from your — probably very "amooosing" — favorite movie won't travel into other rooms and affect your child's homework time or your guests' quick power nap in the spare room.
2. Added Comfort
You can enjoy peace of mind knowing that you're not disrupting anyone in the house. This benefit will be especially helpful when you're hosting a game night, and you and your guests get a little too excited about your team's win. Or, when you're settling down from a challenging day in blissful silence, you won't need to worry about harsh noise interrupting your relaxation.
3. Higher Entertainment Value
We're not saying your sound system is lacking. However, we are giving you the secret to make it even better. Your movies, TV shows, podcasts, music or any other audio will feel crisper when you use acoustic treatments in your living room. No noisy distractions and crisper audio is the magic formula for quality entertainment.
Areas in Your Living Room to Add Acoustic Treatment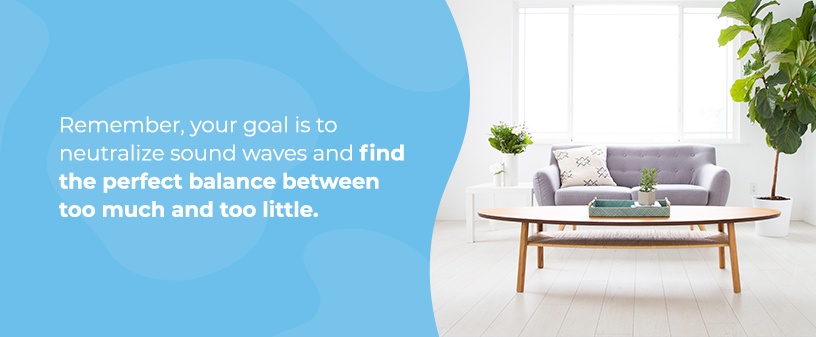 You don't need to add acoustic treatment to every inch of your living room. Remember, your goal is to neutralize sound waves and find the perfect balance between too much and too little. The four main channels of noise pollution, and where you'll want to focus your soundproofing efforts, are as follows.
1. Floors
Going back to our bouncy ball analogy, think of what happens when you bounce a ball off a hardwood floor versus a carpet. Big difference, right? Sound waves love these hard surfaces, too, especially hardwood, ceramic tiles and laminate.
You can add household decor, such as carpets, to absorb sound waves. Or, opt for professional acoustic treatment products for higher-quality coverage. These treatments will limit the echoes, lessen the distance and strength of sound waves' as they travel around your living room.
2. Ceilings
Sound waves bounce off ceilings like they do floors. Ceilings are also conductors for upstairs noise. If your little ones are upstairs jumping and having fun with their toys, it will sound like they're in the room with you unless you take the right soundproofing measures. Luckily, we have ceiling treatments for the living room!
3. Walls
Walls are the primary surface for Acoustic treatments.  Acoustic panels can increase comfort levels and the overall ambience of a space.
Décor is a concern in most homes. We recommend opting for visually appealing acoustic panels for your living room or one of the in-wall soundproofing materials we'll mention later. That way, you don't have to sacrifice visual appeal for better sound quality.
4. Doors
Your living room may not have doors directly attached, but sounds that escape from other doors in your house can travel and end up in the living room. Doors have an open perimeter that sound waves travel through, and a hollow core amplifies them, making them one of the largest noise pollution culprits. When soundproofing, never overlook your doors.
The Best Acoustic Treatment Products for Living Rooms
Not sure where to start? Soundproof Cow is here to help! We have a wide assortment of high-quality sound absorbing products, including our top three products for your living room.
1. Proflex™ 90 Flooring Underlayment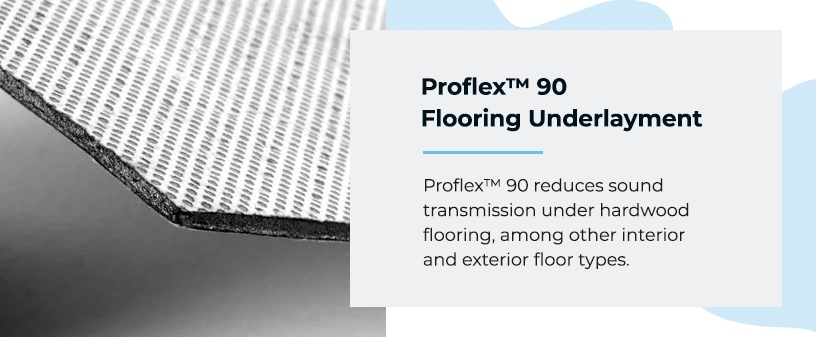 Proflex™ 90 reduces sound transmission under hardwood flooring, among other interior and exterior floor types. The flooring underlayment consists of a rubberized membrane, laminated to a high-strength fabric on one side and a siliconized adhesive on the other.
You don't have to worry about tricky installation. Proflex™ 90 comes to your door in a roll, where you unroll, measure and cut a strip to place under your hardwood flooring. Its peel-and-place application makes installation a breeze, saving you the expense of hiring an acoustic professional to do the job for you.
2. Quiet Batt™ 30 Soundproofing Insulation
A two-in-one solution, Quiet Batt™ 30 is a popular choice among homeowners looking for an environmentally friendly solution to controlling noise in their homes. You can use this soundproofing treatment for both your living room ceilings and walls, so you won't have to worry about spending more money on additional soundproofing or sound absorbing products.
Quiet Batt™ 30 helps reduce echoes and vibrations, eliminating airborne and impact noises to improve your living room's acoustics. Like Proflex™ 90, this soundproofing insulation is easy to install. All you need is a utility knife and tape measure, and unlike other insulation, you can install Quiet Batt™ 30 without using gloves.
3. Quiet Door™ Perimeter Seal
The best way to cover up your door's gaping perimeter is by using Quiet Door™ Perimeter Seal. Our perimeter seals are durable, made up of a heavy-duty aluminum frame, long-lasting silicone seals that form a tight fit to your door and stainless steel hardware.
You can easily install Quiet Door™ Perimeter Seals to any wood or metal doors, both old and new. As a bonus, our Quiet Door™ Perimeter Seals enhance thermal performance, saving you money on energy costs!
Visit Soundproof Cow Online for More Tips, Tricks and Acoustic Treatment Products!
We get that the world of soundproofing and acoustic treatments can feel complicated. At Soundproof Cow, we put our customers first, aiming to provide the highest-quality products with the clearest, user-friendly installation process.
Visit us online to explore more acoustic treatment products, and visit our blog for more tips and tricks on ways you can soundproof your home. Want to talk to a real, live soundproofing professional? Give us a call at 866-949-9269 for immediate solutions!
Learn More About Soundproofing Areas of Your Home
Multipurpose Room Soundproofing