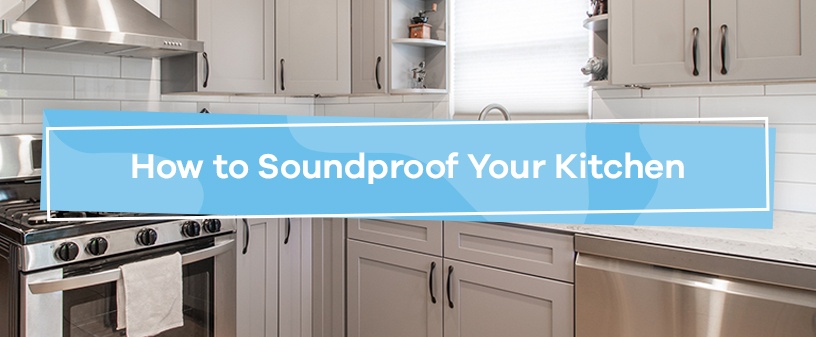 January 13, 2021
Can you hear everything that's happening in your kitchen? Like when someone opens the fridge, washes the dishes or starts the dishwasher? Then, you might want to consider adding soundproofing in the kitchen.
Kitchens are bound to make some level of noise. But, that doesn't mean you have to be a victim of noise pollution. Here, we'll walk through the places in your kitchen that produce the most noise, as well as how to soundproof each area to restore peace in your home.
---
Table of Contents:
Why You May Need to Soundproof Your Kitchen
– Loud Appliances
– Noisy Pipes
– Audible Sound Travel Between Rooms
Areas You May Need to Soundproof in Your Kitchen
– Pipes
– Walls
– Fridge
---
Why You May Need to Soundproof Your Kitchen
If noises from your kitchen are disrupting your daily routine, you may need to soundproof your kitchen. The two types of sounds you want to soundproof are:
Impact noises: These noises include anything that makes an impact with a solid material. In your kitchen, common examples are dishes clanging together or your fridge's ice maker depositing ice.
Airborne noises: Comparatively, airborne noises are sounds that transmit through the air, with common kitchen examples like dishwasher cycles and running water.
Kitchen culprits of both impact and airborne noises are:
1. Loud Appliances
Kitchen appliances will always make some sort of noise. The noise becomes a problem, however, when it disrupts your daily routine. Some of the noisiest kitchen appliances include:
Exhaust fans: 50 to 60 dB
Refrigerators: 50 dB
Dishwashers: 55 to 70 dB
Coffee grinders: 75 dB
Garbage disposals: 80 dB
Food processors: 80 to 90 dB
For comparison, a busy restaurant sits at around 60 dB, and a freight train from 15 meters is 80 dB. To dampen these sounds, you'll want to use kitchen soundproofing tools, which we'll explain in detail later in this post.
Kitchen soundproofing usually entails applying insulation or some sort of soundproofing material to the areas around the noisy appliance. The process is easy and doesn't require any previous experience or specialized equipment, which can make soundproofing your cabinets and appliances a simple weekend project.
2. Noisy Pipes
Pipes are the hidden lifelines of your kitchen. But, without proper soundproofing, they can generate a lot of noise. Depending on their functionality and environment, you can hear pipe sounds like:
Hammering or banging: If you hear a banging sound coming from your kitchen, there's a good chance it's your pipes. Hammering or banging occurs when too much pressure builds up in your pipes, even when the water is turned off.
Whistling: Whistling usually indicates your pipes are worn, have excessive buildup or have loose components. You can also hear whistling specifically around your kitchen sink, resolved by using deadening and dampening soundproofing tools.
Vibrating: Vibrating pipes usually means there's a buildup of water pressure. Check your water pressure to ensure it isn't exceeding 80 pounds per square inch (psi). If it's not, then use an adhesive soundproofing wrap to absorb those vibrations.
If you hear excessive noise coming from your pipes, you may benefit from a visit from a plumber. Once you've cleared any possibility of faulty pipes, order DIY kitchen soundproofing tools to resolve the noise pollution.
3. Audible Sound Travel Between Rooms
Noise from your kitchen can travel anywhere within the house, potentially disrupting you when you're working, sleeping or relaxing. For room-to-room noise transfer, your best bet is soundproofing insulation. Place soundproofing insulation behind your kitchen cabinets, walls and appliances for the best results.
Areas You May Need to Soundproof in Your Kitchen
At Soundproof Cow, we carry many soundproofing tools that can resolve your noisy kitchen problem areas. We strive to make soundproofing easy for you, which is why we've created DIY soundproofing solutions almost anyone can use.

To start soundproofing, determine which solutions you need depending on the problem area, like your:
1. Pipes
If you hear extraneous noise from your pipes, use our Quiet Wrap™ Pipe Soundproofing Wrap. This acoustic wrap works well with any size polyvinyl chloride (PVC) and cast iron wastewater pipes, so you don't have to stress about buying different widths for various noisy pipes.
Our Quiet Wrap™ Pipe Soundproofing wrap has three layers — a quarter-inch acoustic foam layer that blocks noise, a high-density sound barrier that traps noise and a peel-and-place adhesive backing. The adhesive backing reduces any vibrations that rushing water may cause, and it makes application a breeze.
2. Walls
Uninsulated walls are one of the top contributors to sound transfer in commercial and residential buildings. You'll want to properly insulate your walls using reliable insulation, such as our Quiet Batt™ Soundproofing Insulation.
Our Quiet Batt™ Soundproofing Insulation consists of 80% recycled cotton fibers. Because our insulation is so eco-friendly, you can apply it with your bare hands. Application is easy, too, because the insulation fits snugly in the spaces between wood and metal studs. The tight fit ensures that any sound must travel through — and be absorbed by — the insulation. No sound can make it past our Quiet Batt™ Soundproofing Insulation!
Sound insulation works by reducing any vibrations that impact noises cause and absorbing any airborne noises. It also doubles as a weatherproofing solution, keeping your kitchen warmer in the winter and cooler during the summer.
3. Fridge
The areas around your fridge require soundproofing solutions that can mold into oddly shaped spaces. Our Echo Absorber™ Acoustic Cotton can do just that! It consists of 80% recycled material that dampens low-, middle- and high-frequency sounds. Fridges are also prone to moisture buildup. Our Echo Absorber™ Acoustic Cotton can withstand the pressure, as it's fungi-, mold- and mildew-resistant, as well as flammable-resistant.
Searching for Ways to Soundproof Your Kitchen? Soundproof Cow Has the Tools You Need
Are you looking to soundproof your kitchen but aren't quite sure where to start? Soundproof Cow can help! Visit us online and contact one of our soundproofing experts by filling out our contact form. Or, for immediate guidance, call us at 1-866-949-9269. We'd love to learn how we can restore some peace and quiet in your home.

Learn More About Soundproofing Areas of Your Home
Multipurpose Room Soundproofing