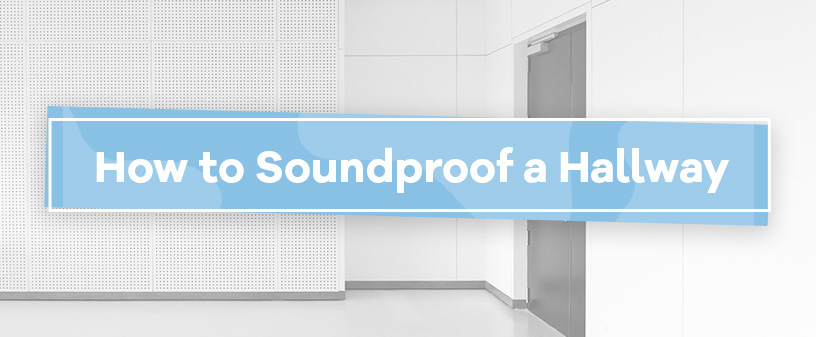 March 18, 2021
When it comes to soundproofing commercial or residential buildings, hallways are often overlooked. Hallways connect rooms together, generating high foot traffic and creating a central source for noise.
Benefits of soundproofing your hallway include more privacy, lower energy bills, improved quality of life and higher real estate value. Here, you'll learn what tools you need when soundproofing a hallway to receive these benefits.
---
Table of Contents:
What are Sound Waves
How Do Sound Waves Travel in Hallways?
Why Should You Soundproof Your Hallway?
Benefits of Soundproofing Hallways
How Do Soundproofing Materials Work?
How to Soundproof a Hallway
– Doors
– Walls
– Ceilings
– Floors
Tips for Soundproofing Rooms Leading to a Hallway
---
What Are Sound Waves?
Sound is energy caused by:
Airborne noises: When sound transmits through the air, like people's voices, they're called airborne noises.
Impact noises: Sounds from some sort of impact, like knocking on a door, are called impact noises. The impacted object vibrates, causing sound wave generation.
From its source, sound travels via sound waves. Sound waves travel similar to water ripples, like dropping a pebble into a pond. As sound waves travel, they exert energy and eventually become less intense. You can speed up this energy exertion by adding absorption materials, such as professional soundproofing equipment or household items like curtains or rugs.

How Do Sound Waves Travel in Hallways?
The best way to explain how sound waves travel in hallways is by using an example. Say you're holding the bounciest bouncy ball. Consider what would happen if you chucked the bouncy ball as hard as you could at a wall in an empty hallway — it would bounce rapidly off the ceilings, walls, floors and doors until it ran out of energy.
Now, imagine the same scenario, but in a hallway outfitted with absorption materials, like foam or carpeting. The bouncy ball would bounce off the same surfaces but have a less intense travel time.
Sound waves work in the same way. Sound waves travel every which way in your hallway, bouncing off and traveling through surfaces, potentially disturbing anyone close by. Reduce noise in your hallway by soundproofing.
Why Should You Soundproof Your Hallway?
Soundproofing your hallway better controls the way sound travels in your house. Consider how much time is spent in your hallway. Hallways connect other bedrooms, closets, laundry units, shared spaces, offices — they generate a lot of foot traffic and become the center point for noise.
When people think of soundproofing, their first thoughts often turn to home theaters or acoustic booths. Homeowners tend to overlook soundproofing their hallways. Just as you'd soundproof other rooms in your home, like your living room or bedroom, soundproof your hallway, too.
Benefits of Soundproofing Hallways

Soundproofing your hallway is worth the investment. Some benefits you can expect from soundproofing are:
More privacy: Soundproofing prevents noises from traveling in or out of your hallway. That means sounds within the hallway stay there, and sounds from adjacent rooms don't escape into the hallway. So, while you're in your room or office, people in the hallway won't disrupt you with their conversation or be disrupted with your activities.
Lower energy bills: Soundproofing works well at blocking out unwanted sound and doubles as an insulation tool. In-wall solutions, like the Quiet Batt™ 30 Soundproofing Insulation, are especially effective. Soundproofing forms a solid barrier with a tight seal to keep out sound, hot air during the summer and cold air during the winter. After installing soundproofing tools, you'll notice less noise pollution and lower energy bills.
Improved quality of life: It's frustrating to work around unwanted noise. When you're trying to sleep, the sounds of footsteps or closing doors can keep you awake. Or, if you're working in an office, workplace chatter can travel down the hall and leave you distracted. Soundproofing improves your quality of life by limiting these disruptions and other unwanted noises.
Higher real estate value: Investing in soundproofing will increase your home's value. Buyers will appreciate your efforts because it's something they won't have to do. Although soundproofing isn't something buyers will openly see, the benefits are clear — lower utility costs, improved quality of life and added privacy.
View this post on Instagram
How Do Soundproofing Materials Work?
Soundproofing materials vary depending on your goals. Different materials have different effects. For example, some keep sound in or out, and others aim to improve sound acoustics.
The type of soundproofing materials that best fit your hallway are:
Dampening and deadening: These soundproofing materials work well in small spaces, like hallways. Dampening and deadening materials work by reducing sound vibrations.
Door seals and sweeps: Think about how many doors connect to your hallway. Sound transfers from these doors. Door seals and sweeps limit the amount of noise that passes under doors.
Flooring underlayment: Hallways generate a lot of foot traffic. Use flooring underlayments for your hallway to reduce impact noises from people walking on your floor.
Soundproofing insulation: This soundproofing material works well for floors and ceilings. Soundproofing insulation is an easy-to-apply sound-deadening material that reduces sound vibrations.
Sound isolation systems: These soundproofing materials isolate and limit airborne and impact noises. Place sound isolation systems in your walls or ceilings.
Let's look more closely at these soundproofing materials.
How to Soundproof a Hallway
There are a few elements to consider when soundproofing your hallway — your doors, walls, ceilings and floors. For the best results, we recommend using professional soundproofing equipment, like those from Soundproof Cow. The best way to soundproof a hallway is by installing these materials:
Doors
Soundproof the doors in your hallway with:
1. Door Seals and Sweeps
Turn off the lights in your room and close the door. From inside the room, look at the light coming in from the hallway. The open space around the perimeter of your door is a major culprit of sound pollution. For these spaces, we recommend:
Quiet Door™ Perimeter Seal: This creates a tight seal that fits around the upper perimeter of your door, preventing noises from traveling through.
Quiet Door™ Door Sweep: For the gap under the door, this door sweep forms a tight seal that keeps sounds out without sacrificing functionality.
Both Quiet Door™ Perimeter Seal and Quiet Door™ Door Sweep use aluminum- and silicone-based designs. Silicone forms a tight seal that blocks out sound waves, supported by a long-lasting aluminum frame. Both designs complement most doors, including old or new and metal or wood doors.
Walls
Soundproof the walls in your hallway using:
2. Wall Art
If your hallway is bare, consider adding some decor to your walls. Adding decor, like wall art, creates more surface opportunities for sound waves to get absorbed. Wall art can include paintings, family photos, tapestries, curtains or anything else that adds texture to your walls.
3. Acoustic Panels
A form of wall art you may consider adding to your walls is acoustic panels. Not all acoustic panels look like you're stepping into an audio booth — but, those do exist if you're soundproofing a home theater in the future.
Acoustic panels are sound deading and dampening materials that control excess noise, like echoes and reverberation. They're lightweight and easy to hang on your hallway's walls. At Soundproof Cow, we offer a few hallway-friendly acoustic panels:
Art acoustic panels: Soundproof Cow can completely customize your acoustic panels, transforming your personal photos into a soundproofing work of art. Art acoustic panels are printed on fabric and wrapped around an acoustic panel. They're long-lasting and fade-resistant for up to 25 years.
Fabric-wrapped acoustic panels: Similar to art acoustic panels, fabric-wrapped acoustic panels are fully customized. You can pick from a number of fabrics and design elements. Our team will hand-make them with our high-quality recycled materials and send them directly to your home.
Perforated acoustic panels: If you're interested in a wooden appearance, then you may favor Soundproof Cow's perforated acoustic panels. These wooden acoustic panels are available in many patterns, veneers, sizes and finishes to complement your hallway's other decor.
4. Quiet Batt™ 30 Soundproofing Insulation
If you're looking for a wall soundproofing tool that stays hidden, consider Quiet Batt™ 30 Soundproofing Insulation. This soundproofing insulation is a high-density, 80% recycled cotton insulation that tucks into your drywall or framed walls. The Quiet Batt™ 30 Soundproofing Insulation has zero harmful chemicals, is itch-free and has a Class A flammability rating.
Apply Quiet Batt™ 30 Soundproofing Insulation into your drywall by tucking it right into place between the wood and metal studs.
This soundproofing insulation absorbs 95% of sound in a space and reflects the remaining 5%. It works great by itself and is even more effective when paired with additional wall soundproofing tools like acoustic panels or other wall art.
Ceilings
Soundproof your hallway's ceiling with:
5. Quiet Barrier™ LD Soundproofing Composite
The Quiet Barrier™ LD Soundproofing Composite is one of our many Quiet Barrier™ Soundproofing Composite options. This soundproofing composite is comparatively thinner than our other options, making it a great fit for ultimately any space, including your hallway ceiling.
The Quiet Barrier™ Soundproofing Composite has three layers — a sound-blocking membrane in between two sound-dampening polyurethane acoustic foam layers. It's flexible, easy to manipulate and has a flammability rating of UL94 HF-1. Before applying this soundproofing composite, ensure it meets your building's code for exposed materials.
Installation is simple, requiring common household tools, PL® Construction Adhesives and Quiet Barrier™ Tape for the seams. All you need to do is cut the composite to size, apply it to your ceiling and secure it using soundproofing adhesive and tape.
6. isoTRAX™ Soundproofing System
There are two ways to suppress sound — with a dense mass that absorbs low-frequency impact noises or a tight seal that closes any gaps so airborne noises can't pass. Soundproof Cow designed a one-of-a-kind soundproofing solution that does both: the isoTRAX™ Soundproof System.
The isoTRAX™ Soundproofing System prevents sounds from traveling through ceilings or walls by separating dense mass materials from their supports.
The isoTRAX™ Soundproof System is fit for ceilings and walls of any size. Apply it to new walls and drywall or tile ceilings.
Floors
Soundproof your hallway's flooring using:
7. Carpets or Rugs
If your hallway flooring is bare, add carpet or a rug to limit noise transfer. Bare floors, like hardwood or tile flooring, are more prone to sound transfer than carpets or rugs. Going back to our bouncy ball example, consider the difference between the bouncy ball on a rug and on hardwood flooring. Like the bouncy ball, sound waves work don't bounce as well on carpet as on hard surfaces.
Carpets and rugs have long, looped fibers that are great at trapping sound waves and absorbing their energy. Carpets or rugs with long fibers are ideal. When paired with other professional soundproofing tools, carpets and rugs will make a big difference in your hallway.
8. Impact Barrier QT Flooring Underlayment
Flooring underlayment is a sound-deadening material suited for tile, carpet, laminate, hardwood and other floorings. Other lesser alternatives — like plastics, felt, roofing membranes and cork — don't provide the same level of protection as Soundproof Cow's Impact Barrier QT Flooring Underlayment.
The Impact Barrier QT Flooring Underlayment adds less than 1/2 inch of floor height. It's made of environmentally friendly materials, including 92% recycled tire rubber. The flooring underlayment is safe, too, earning two Leadership in Energy and Environmental Design (LEED) categories. And, it passes most indoor air quality tests.
Tips for Soundproofing Rooms Leading to a Hallway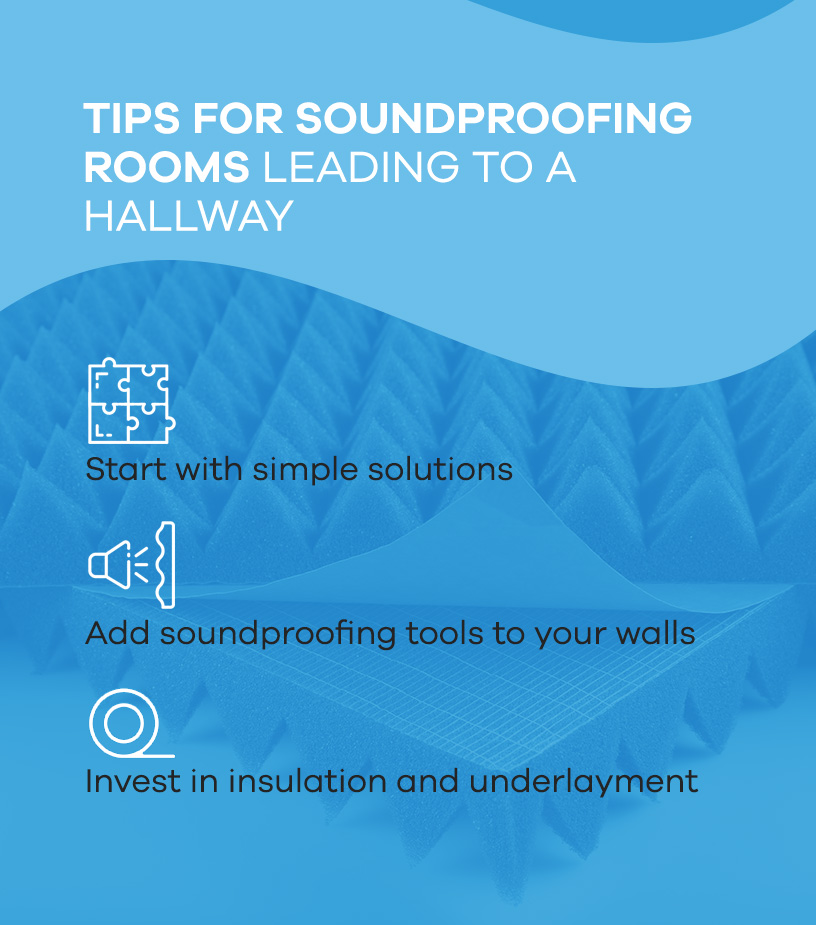 Ideally, you can follow these same soundproofing strategies to the rooms connecting to your hallway. Doing this strengthens your soundproofing efforts. Your soundproofing goals depend on the space you're trying to soundproof and how much noise transfers in or out.
Some tips to consider when soundproofing your hallway's connected rooms are:
Start with simple solutions: If you don't experience much sound transfer, start with simple solutions. Simple solutions include adding carpets to your floors, larger furniture like accent chairs and wall decors like paintings or tapestries.
Add soundproofing tools to your walls: Once you add simple solutions to your room, and if they still don't filter enough sound waves, add soundproofing tools to your walls. Soundproofing tools to consider adding are surface-level equipment like acoustic panels or door sweeps and seals.
Invest in insulation and underlayment: Go a step further by continuing soundproofing insulation and underlayment into other rooms in your house. Soundproofing insulation and underlayment, like Soundproof Cow's Quiet Batt™ 30 Soundproofing Insulation and Impact Barrier QT Flooring Underlayment, controls airborne and impact noises at a higher level than surface-level equipment.
Purchase Soundproofing Materials at Soundproof Cow or Contact Us Today
Soundproof Cow learned a lot in the past two decades — like the importance of soundproofing every room in your house, including your hallways. When looking for DIY soundproofing materials, consider purchasing from Soundproof Cow today. You don't have to be an acoustic professional to install our products!
Have any questions? Our professionals would love to answer them! Contact us online or by phone at 1-866-949-9269.

Learn More About Soundproofing Areas of Your Home
Multipurpose Room Soundproofing