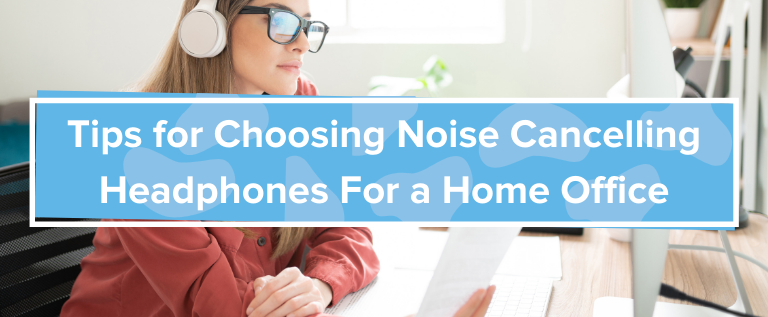 November 18, 2020
Noise-canceling headphones are great for musicians and listeners who want to block outside noise from derailing their sessions, but they are also home office necessities that can be a lifesaver for remote workers. With so many options online, it's important to understand the ins and outs of the market so you can pick the right headphones for your needs.
How to Choose the Right Noise-Canceling Headphones
Before you buy, consider these helpful tips from Soundproof Cow for choosing noise-canceling headphones:
Learn how noise-cancelation works: Noise-canceling headphones function by either passively or actively blocking sound. Active technology uses mechanisms such as microphones and speakers to counter and offset incoming noise. Passive sets are more accurately described as noise-isolating headphones. They rely solely on the headphones' structure and absorbing materials to lessen the amount of noise that reaches your ear.
Consider the pros and cons: Are noise-canceling headphones right for you? Consider that they are more expensive than typical headphones and will have shorter battery life. They can also be dangerous to wear when traveling on foot near busy roads because of how well they block noise from the outside world. While they're incredibly effective, they don't block all sound, so users risk damaging their ears by turning up their volume to compensate for leaks.
However, if you're already considering how you'll benefit from noise-canceling headphones for home office sound reduction or industrial work, the pros will likely outweigh the cons. Noise-canceling and -isolating headphones provide invaluable relief for workers looking to block out distractions at work or protect their ears when operating loud machinery.
Investigate different fits: Different types of noise-canceling headphones offer different perks. For the best performance, consider over-ear headphones that cover your entire ear. Over-ear is generally the most expensive option, but it will provide the best coverage. On-ear headphones offer partial coverage and decent performance, but they don't fit as snug and could make your ears sore. In-ear buds are a compact and portable option, but they don't sound as full as their over- and on-ear counterparts.
Check out various makes and models: Browse offerings from different companies to compare features and perks like battery life, comfort or wired versus wireless connectivity. Consider if you would prefer headphones or a headset with a microphone attachment to make calls from your home office. Compare the differences between high- and low-priced pairs and check which companies offer warranty and maintenance programs so you know which selection will give you the most for your money.
Determine what you need out of your headphones: With a thorough understanding of the market, consider the way you work and the distractions you experience in your home office. Determining how frequently and in what settings you'll use them will help you choose the best home office noise-canceling headphones for you.
Set a budget: Now that you know what's out there and how you'll put them to use, decide how much you're willing to spend on noise-canceling headphones. If you consider the amount of work you'll be able to accomplish when you cut down on distractions, you may find that sound-reduction solutions are a worthwhile investment.
View this post on Instagram
Reliable Soundproofing Solutions From Soundproof Cow
Before you hoof it to your favorite electronics dealer, consider that you can also amplify the effects of your noise-canceling headphones by soundproofing your home office. Soundproof Cow has affordable rates on soundproofing solutions for any room or application. To learn more about our noise reduction products and techniques, check out our blog or contact the Soundproof Cow team today!
Learn More About Headphones
How Do Noise Cancelling Headphones Work