Description
The 200 Series Acoustic Panel is our General All-Around, All-Purpose Acoustic Panel. This Acoustic Panel Model is our Most Popular and Best Selling panel due to Excellent Acoustic Performance, Limitless Design Options and Affordability.
Perfect for: Any and All Applications where Noise and Reverberation (Echo) is an issue. Common applications for these Acoustic Panels include: Offices, Restaurants, Schools, Worship Centers, Churches, Hotels, Home Theaters, Recording Studios and Homes.
Tech Specs
Here is some Technical Info you probably don't want to read, but should know!
Size Availability: Up to 4 ft. x 10 ft., Large format panels are available.
See 250 Series
Thickness: 1 inch and 2 inch
Tolerance: +/- 1/4 inch
Core: 6 lb. Acoustical Glass Mineral Wool
Covering: Acoustic Fabric
Edge Detail: Resin Hardened
Edge Profile: Square, Bevel, Rounded, Miter
Mounting: Adhesive, Z-clip, Hook and Loop, Magnet
General Application: Walls and Ceilings
Mounting Surfaces: All Surfaces including Drywall, Brick & Concrete
Flammability: Class A™ – Does not exceed 25 Flame Spread, 50 Smoke Developed when tested in accordance with ASTM E84, UL 723 and NFPA 255.
Indoor Air Quality: Certified as a low emitting product by the GREENGUARD Environmental Institute to both the GREENGUARD Certification Program and the more stringent GREENGUARD Children and Schools standard.
Green Information:
Our Acoustic Glass Mineral Wool is made with 50% Recycled Post-Consumer materials. In other words, the same bottles you recycle every week!
The other 50% of our Acoustical Glass Mineral Wool is made from one of the most abundant renewable resources on the planet- sand.
The Binder used in our Acoustical Glass Mineral Wool reduces embodied energy by 70%, which means there is 70% less binder agent needed when compared to other glass wools and acoustic fiberglass products.
All of our Acoustic Fabrics are 100% Recycled Polyester.
Acoustic Data
| thickness | covering | density | 125 | 250 | 500 | 1000 | 2000 | 4000 | NRC* |
| --- | --- | --- | --- | --- | --- | --- | --- | --- | --- |
| 1 inch | fabric | 6 lbs | .05 | .26 | .77 | 1.04 | 1.04 | 1.03 | 0.80 |
| 1 inch | vinyl | 6 lbs | .19 | .36 | .82 | 1.12 | 1.00 | .80 | 0.85 |
| 2 inch | fabric | 6 lbs | .25 | .89 | 1.17 | 1.16 | 1.10 | 1.08 | 1.10 |
| 2 inch | vinyl | 6 lbs | .32 | .81 | 1.08 | 1.06 | 1.03 | 1.04 | 1.00 |
* NRC = noise reduction coefficient
Acoustic Panel Edge Profiles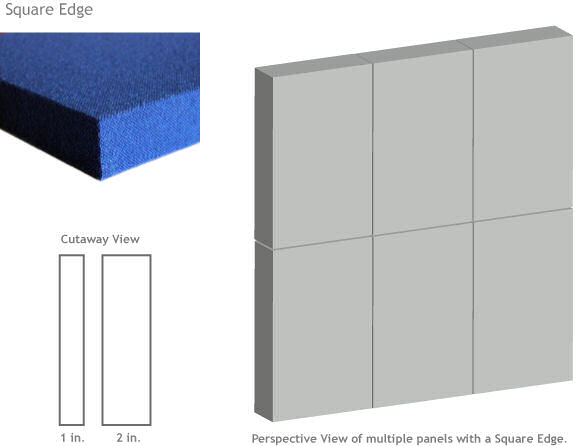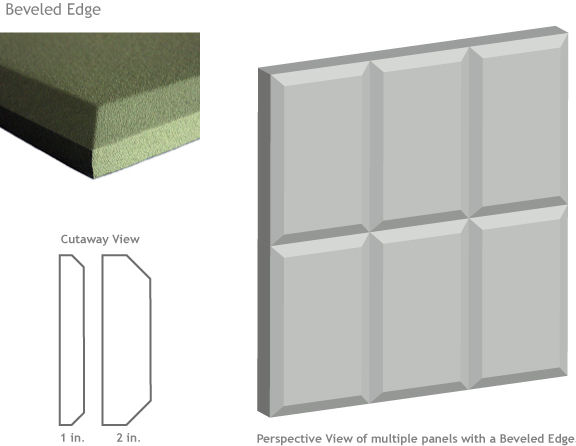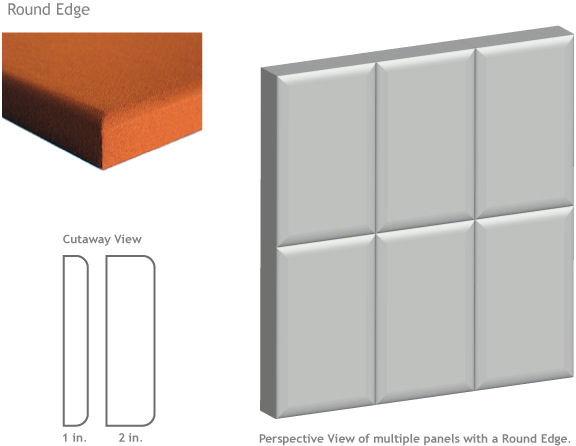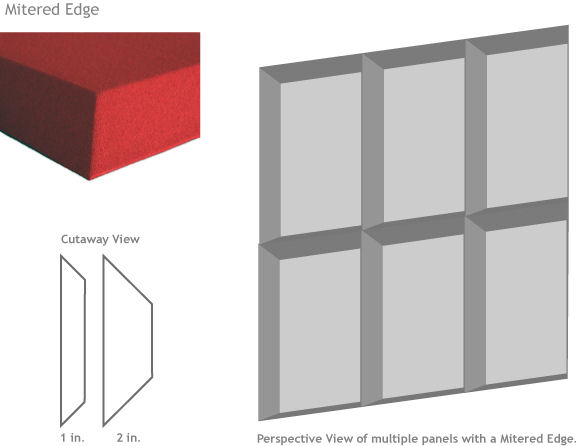 Acoustic Panel Corner Options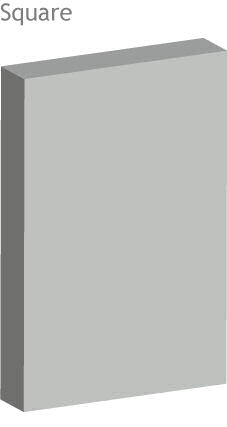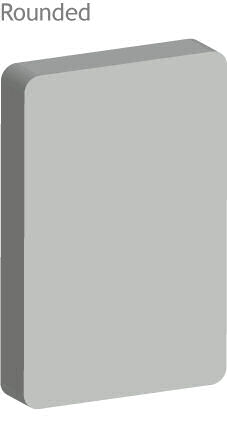 Features / Benefits
Superior Acoustic Performance — Udderly Quiet™ Acoustic Panels are our premium sound absorption product and can be used anywhere reverberation (echo) is an issue. Our acoustic panels will improve speech intelligibility, improve production and improve any listening or recording environment. Udderly Quiet™ Acoustic Panels absorb noise generated at low, mid and high frequencies.
Exceptional Quality — Udderly Quiet™ Acoustic Panels are meticulously hand-made by experienced craftsmen that take pride in the product they build. Only the highest quality materials available are used to make this highly finished professional product.
In-stock Options — We have a large variety of Udderly Quiet™ Acoustic Panels in-stock with different fabric options and in multiple dimensions. Most of our in-stock acoustic panels are shipped the same day they are ordered and arrive at your project in three business days.
Ease of Installation — Udderly Quiet™ Acoustic Panels are light weight and can be attached to a variety of surfaces. Basic hand tools and a limited amount of construction know how is all that are needed to ensure a proper installation. Udderly Quiet™ Acoustic Panels can be cut or trimmed on the job site with simple hand tools. Our Acoustic Panels can be mounted permanently with adhesive or temporarily with Hook & Loop or Z-Clips.
Endless Design Potential — Udderly Quiet™ Acoustic Panels are custom built to your specifications. Architectural interest is added by ordering our panels with square, beveled, mitered or rounded edges.
Fabric Covering Variety — Udderly Quiet™ Acoustic Panels are available with an endless variety of fabric options. Choose the fabric color and texture that best matches your existing décor. If desired, we will match your fabric of choice.
Durability — Udderly Quiet™ Acoustic Panels come with resin hardened edges. The Acoustical Glass Mineral Wool core of our acoustic panels is firm and resists impacts.
Excellent Flammability Rating — Our Udderly Quiet™ Acoustic Panels have a Class A™ flammability rating. This product passes most building code flammability requirements for exposed materials.
Versatile — Udderly Quiet™ Acoustic Panels are a great office accessory for posted messages or need to know information. Panels covered with the FR701 fabrics work with hook & loop Velcro® and are tackable.
Other Acoustic Panel Models
Udderly Quiet™ Acoustic Panel – 200 Series