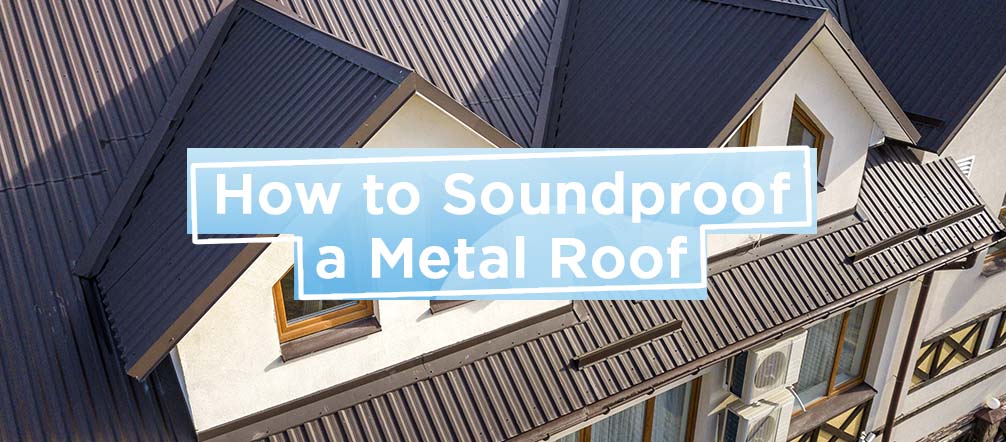 August 12, 2020
You like the look of a metal roof and the various advantages that come with one. But then you think about the amplified tapping from rain, hail and sleet. Or you picture the rattling sound of metal above you any time the wind picks up. Don't let the fear of metal roof noise prevent you from getting one for your home. And don't let an existing metal roof be the cause of your household frustrations.
Seek soundproofing options that dampen the different sounds you'd hear from above with a metal roof. Discover how to soundproof a metal roof and go back to enjoying your home for the relaxing space it is!
Benefits of Soundproofing Metal Roofs
When you're home, you want to relax, but a noisy metal roof can disrupt your daily life. If you're constantly distracted by how loud your roof is or dread storms for the thunderous sounds they make above you, you need soundproofing solutions. And when you soundproof a metal roof, you get an array of advantages. Consider these benefits of soundproofing metal roofs:
Getting temperature insulation: Soundproofing materials are good for more than blocking sound. They also help keep the temperature in your home where you want it. Maintain your home's cool temperatures in the summer and warmth in the winter with proper insulation.
Having sound protection during extreme weather: Prevent loud noises during rain, sleet or hail when you soundproof your metal roof. This is especially useful for families with small children — or anyone, really — who fear loud noises during a storm. If you live somewhere where extreme weather is common, consider sound dampening for your metal roof.
Creating a relaxing home environment: Don't let that metal roof noise stress you out. Use sound deadening solutions to cut down on the distracting, annoying noises and let yourself be at ease in your home.
Making conversations easier: You don't want to yell over the noises from above just to talk with others in your home. Sound dampening eliminates loud noises that make having conversations difficult.
Having a better night's sleep: Soundproofing cuts down on loud noises that would wake you up and disturb your sleep. If you often find yourself waking up to rattling from your roof and different metal roof sounds, get your sleep back with soundproofing.
Getting the benefits of a metal roof: Many homeowners select metal roofs for a reason. Long life expectancies, fire resistance and other pros encourage people to install a metal roof, but the noise may deter them. Enjoy the benefits of this material without worrying about the cons of noisy metal roofs.
Ways to Soundproof Metal Roofs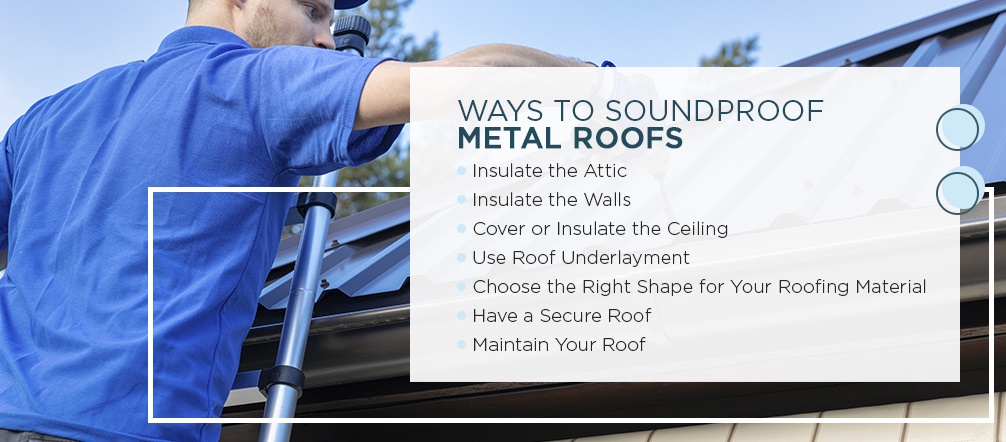 Bring those benefits to your home and cut down on the noise with ways to soundproof your metal roof. You've got plenty of solutions to choose from to dampen the sound. Consider a combination of these ways to soundproof metal roofs and pick what would be best for your home:
1. Insulate the Attic
Insulating your attic is a great step to take for metal roof sound dampening since it's the closest space to your roof. Consider Quiet Batt™ 30 Soundproofing Insulation, a thermal and sound dampening product, to get the job done. It will help maintain the temperature of your home and keep out that metal roof noise.
Quiet Batt™ features high-density cotton, and 80% of it is recycled material. It's an itch-free product that's easier to install than other insulation options. Tuck it into place between wood or metal studs or frames of your wall and ceiling, depending on how your attic is finished.
2. Insulate the Walls
Insulating beyond the attic will give you even more sound dampening benefits from outside noises. As a bonus, soundproofing the walls gives you privacy between rooms and from the outside. Use Quiet Batt™ insulation if you're constructing walls or replacing drywall.
If you have a room like a bedroom or an office that you especially want sound dampening in, use decorative acoustic panels that help absorb sound. You should also ensure that your windows and exterior doors have proper insulation and soundproofing, especially on the story right below your roof. Cracks or gaps in these openings let in sound from the outside. That means that even if you insulate your walls and attic, you'd still hear a noisy metal roof through your windows and doors.
3. Cover or Insulate the Ceiling
Other than the attic, your top floor ceiling has the closest contact to your roof. Learning how to soundproof a ceiling will help reduce the impact noise from above, from things like rain or hail hitting your roof. It also addresses airborne noise, which can include wind or different sounds outside your home. How you soundproof your ceiling will depend on what you have in your home.
Vaulted ceilings are an attractive feature in a room, but the lack of materials between you and your roof makes a louder noise. Installing drywall and creating a ceiling helps dampen the noise from above. If you want to keep your ceilings vaulted, insulate the attic and use other roof sound insulation methods instead.
For a drywall or dropped ceiling, consider using the isoTRAX ™ Soundproofing System. It combines various soundproofing strategies into one and "floats" the ceiling over vibration isolators. That means the drywall or materials for your ceiling attach to an isolating foam cushion. The cushion stops sound energy from transmitting between your roof and your home.
4. Use Roof Underlayment
This solution only works if you're installing a new metal roof, but it's a useful one. If you know about flooring underlayment, the concept of roof underlayment for soundproofing will make sense. It creates a waterproof barrier between your roof deck and the metal for your roofing. In addition to providing protection to your home against severe weather, the extra layer helps prevent some sound from coming inside.
5. Choose the Right Shape for Your Roofing Material
Again, this will only be an option if you're getting a new roof. But certain roof profiles create less noise than others. Standing seam or flat panels will sit flush to your roof deck or the underlayment and rattle less. Something like a corrugated style has gaps between it and the roof's surface, meaning it vibrates more and creates more sound.
Even if you pick a flat or standing seam, you should still expect metal roof sounds. But if you can choose a quieter material and use it in combination with soundproofing methods inside, you'll have a better chance at sound dampening your metal roof.
6. Have a Secure Roof
Whether you or professionals install or maintain your metal roof, check the fasteners. The fasteners secure the sheets of metal to your roof, but they need to be firm and in the right place to work properly. You also can't use too few or you risk having the sheets move during wind or rain, which creates loud noises.
7. Maintain Your Roof
Your roof and the fasteners expand and contract as the temperatures change throughout the year. That causes movement and could loosen the fasteners, making a louder roof. Routine maintenance is an essential part of reducing metal roof sound. Take a walk around the perimeter of your house, looking out for any loose or damaged panels. If your home is tall or the roof is pitched, get a professional to take a look at repair any damage.
Get Soundproofing Materials From Soundproof Cow
If you want the benefits of a long-lasting metal roof without suffering through the noise, look no further than Soundproof Cow! Our metal roof sound dampening products combine the highest-quality materials with effective designs. You'll get roof sound insulation and other products to make your home a peaceful place to escape rather than a source of distraction and stress.
Browse our residential DIY soundproofing solutions to find what you need to reduce your metal roof noise!