Dual soundproofing function — The mass of Quiet Barrier™ blocks sound while its flexible nature dampens sound energy, giving improved acoustic performance over competitive rigid products.
Value — Pound for pound, Quiet Barrier™ products have better noise reduction characteristics than steel and other building materials.
Low Profile — Valuable square footage is maximized. Quiet Barrier™ MD is only 1/8 in. thick and Quiet Barrier™ HD is 1/4 in. thick saving space and money.
Variety — Quiet Barrier™ soundproofing products are available in a variety of lengths and widths. Also, some Quiet Barrier™ products are available with a "peel and stick" pressure-sensitive adhesive (PSA). Custom shapes and sizes available upon request.
In-stock — We stock all advertised sizes and configurations of Quiet Barrier™ in large quantities. Most products are shipped the same day they are ordered and arrive at your project in three business days.
Proven History — Over 1.5 Million square feet of Quiet Barrier™ soundproofing products have been installed in projects nationwide.
Details
Great for the Construction Industry:
Broadcast Studios
Commercial Recording Studios
Commercial Theaters
Homes Theaters
Multi Family Dwellings
Offices
Recording Studios
Restaurants
Single Family Dwellings
Great for the Automotive Industry:
Trunk Liners in Automobiles
Floor Pan Liners in Automobiles
Great for the Marine Industry:
Cabin Carpet Underlayment
Cabin Wall Liner
Hull Liners
Which Quiet Barrier™ soundproofing product is right for me?
Quiet Barrier™ can be added to a variety of common wall / ceiling constructions to improve the sound blocking performance of the structure. Choose the right Quiet Barrier™ product based on the type of noise you are trying to prevent from entering or leaving the space. Quiet Barrier™ products perform well when trying to deter common noises with average decibel levels. These noises can be generated from voices, TV's and stereos. If noise levels are higher than usual, typically from loud stereo systems, home theater or recording studio environments, then other products used in conjunction with Quiet Barrier™ may be necessary.
If you are trying to prevent common conversations or voices from entering or leaving a space, then choose Quiet Barrier™ MD. If you are trying to prevent TV and stereo noise from entering or leaving a space, then choose Quiet Barrier™ HD.
How Quiet Barrier® works:
Quiet Barrier™ products block the transmission of noise from one area to the next. The "noise source" hits the barrier and is reflected back into the room or space of origin. See figure 1. Typically, the noise is not muffled or absorbed in any way, which means that the decibel level within the source room remains the same or is increased. The difference between the source noise and the transmitted noise is the sound transmission loss.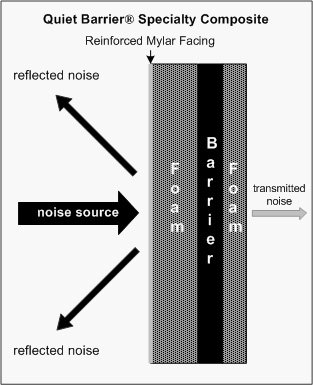 Acoustic Data
Product

Wall Assembly Description

STC*

OITC*

Quiet Barrier™ HD

2 x 4 wood stud, 16 in. on center,
receive side: 1 layer 5/8 type X gypsum,
Quiet Barrier™ HD, sound isolation clips and channel
source side: 1 layer 5/8 type X gypsum
Quiet Batt™ 30, R 13 insulation unfaced
50
35
*STC = Sound Transmission Class * OITC = Outdoor Indoor Transmission Class
Product Availability
Quiet Barrier­™ MD Soundproofing Material (30 ft. Roll)
Quiet Barrier­™ HD Soundproofing Material (20 ft. Roll)
Special Order Sizes and Thicknesses are available.
For details, call 1-866-949-9COW.