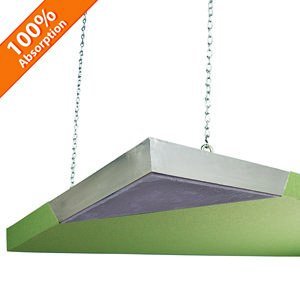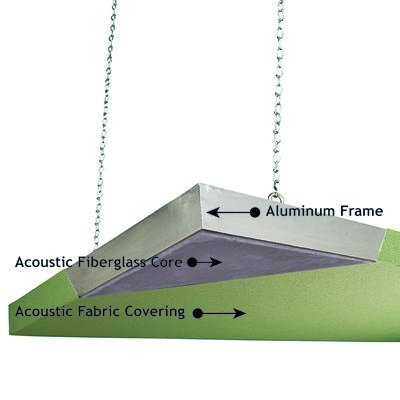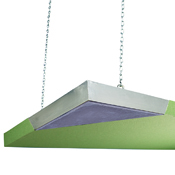 Udderly Quiet® Acoustic Cloud
New Product! This acoustic cloud hanging panel is lightweight and easy to install in any space. The acoustic cloud panel is ideal for recording studios, home theaters, classrooms, offices & more.
Call (866)949-9269 for questions or to order.
Celebrate Moomorial Day with 10% off all materials!
UDDERLY QUIET® ACOUSTIC CLOUD CEILING PANELS
You've taken steps to soundproof your space using our Udderly Quiet® acoustic wall panels. But even the best wall paneling leaves a large open space — the ceiling. For the ultimate in room treatment, add a hanging acoustic panel.
The Udderly Quiet® Acoustic Cloud is a lightweight hanging panel that can be easily installed in any room. Doing so prevents sound reverberation from the ceiling and absorbs sound reflection that can create noise in any room. Like all Soundproof Cow products, the Acoustic Cloud sound-dampening panel is durable and built for professional-quality performance.
Introducing the Acoustic Cloud
One of our newest additions to the Udderly Quiet® family of products, the Acoustic Cloud features a dense fiberglass core for reliable sound absorption across the frequency spectrum, an aluminum frame for stability and a custom fabric cover available in the color of your choice.
Hanging acoustic cloud panels can be made to order to ensure a clean fit in any space. For sizing information and pricing, contact a Soundproof Cow representative directly by phone or email.
Ideal for Home Recording Studios
Visit any professional recording studio and there's a good chance you'll see hanging acoustic panels installed in the ceiling. Home studios can benefit even more from ceiling treatments, in part because most recording is done in narrow rooms with high ceilings where reflected sounds can become trapped, leading to unwanted reverberations and poor audio quality.
Our products offer professional quality at DIY prices. Purchase a custom acoustic hanging panel and see the difference it makes in your home recordings instantly. The Acoustic Cloud is also a great choice for offices, classrooms, home theater rooms and other spaces where noise is a concern.
Call (866)949-9269 for questions or to order.
Customer Reviews
The times I talked with you on the telephone and corresponded through email you have been very helpful and efficient. I would highly recommend Soundproofcow.com to anyone!
– S. Cimino, PA
I have emailed a lot of different manufactures and I have to say your customer service is head and shoulders above all of them. I emailed your company at about 9pm my time and when I woke up the next morning you had already answered my question and then the follow up was a few hours later. I am impressed. Thanks a lot for the quick turn around!
– E. Gustafson, NV
I just wanted to send a quick thank you for your rapid response and helpfulness. I very much appreciated it. You have been responsive in every way all through the process. It has been a pleasure doing business with you and your company.
– T. Alexander, CA
I just wanted to let you know that in the end, sealing the air spaces on this door worked just fine and took care of the problem.
I really appreciate you taking so much time to share your expertise with me, and in particular recommending I try the simpler solution before investing in more expensive noise barriers. That is a big credit to you and your business.
– Mike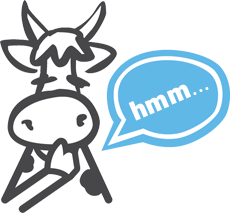 Need a Quote Quickly?
If you need a quote quickly and would rather talk to a warm body, then dial 1-866-949-9269. No pushy sales guys…promise.
Call Us: 1-866-949-9269
Contact Us
NEWSLETTER SIGNUP
Join the Herd
Get soundproofing tid bits and be the first to know about our special sales.
Subscribe Form - (Full Version)