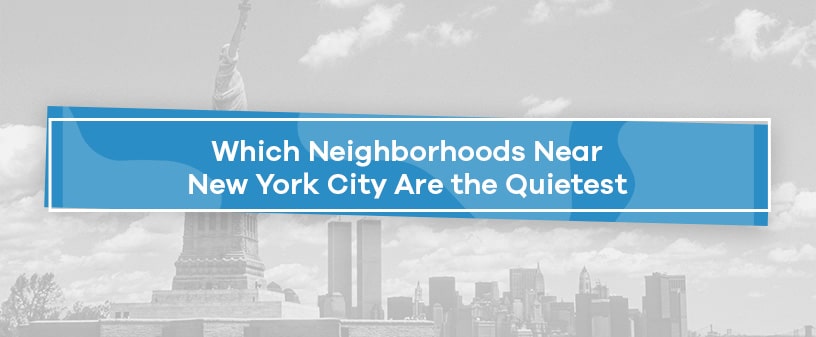 January 13, 2022
If you're on your way to New York to begin a new chapter of your life or it's time to move on to a new apartment in the city, choosing a neighborhood can be tricky. Unless you're lucky enough to move next door to a library, you'll likely experience noisy neighbors — New York City has more residents than 40 of the 50 states, so you're bound to hear some commotion along the way.
Whatever your main reason is for taking on the Big Apple, you shouldn't sacrifice your peace of mind and serenity in your own home. Whether you're a self-made local artist, an active meditator or someone who simply likes to sleep in, here are the quietest neighborhoods in New York City to think about as you're considering where to live in and near NYC.
New York City's Quietest Neighborhoods By Borough
New York is renowned for being the city that never sleeps — and for a good reason. Designated for non-emergency calls, the city's 311 hotline reported in 2014 that one in every 16 calls was related to noise. Measured by noise complaints per capita and total noise complaints, here are the neighborhoods that reported the least and most noise, ranked by borough.

1. Staten Island
Placing Staten Island on the same list as Brooklyn and Manhattan almost feels wrong because of the drastic difference in noise levels. In the same year that Brooklyn reached 73,000 noise complaints, Staten Island barely broke 8,000, making it the quietest borough in New York City.
For perspective, the four loudest streets in New York City had the same amount of noise complaints as the whole of Staten Island. In fact, not one of the 50 loudest streets in New York City is found in Staten Island. Despite its reputation for thick skin and snappy attitudes, Staten Island is reported safer than 95% of the cities in the U.S.
There are many variables to consider when evaluating noise levels, like population density and the cost of living. But as far as unintentional noise is concerned, Staten Island is by far the quietest borough in New York City. If noise is your top concern, Staten Island is a great place to live in NYC.
2. Queens
Putting Queens above Manhattan was no easy decision because while Manhattan reports more total noise complaints, Queens is home to five of the six noisiest streets in New York City. Those streets are:
8th Street
Madison Street
9th Street
Grand Concourse (Bronx)
1st Street
5th Street
From a broader perspective, Queens reports almost 18,000 fewer complaints than Brooklyn, making it the second quietest borough. Interestingly, Queens reports fewer complaints of banging and pounding than the Bronx and Manhattan and more complaints of loud talking and loud television than the Bronx and Manhattan.
In terms of neighborhoods, Bayside Hills takes the cake for the quietest place in Queens, followed by Elmhurst and Maspeth, which are two other quiet New York City neighborhoods. Woodhaven and Queens Bridge are the noisiest areas and wouldn't make excellent choices if noise is a top consideration for your apartment hunt.
3. Manhattan
Manhattan and Queens are comparable in terms of noise levels, so much so that they report less than 1,000 noise complaints different from each other. In all categories except one, Queens reports more complaints. However, Manhattan reports 5,000 more complaints due to banging and knocking than Queens, making that the deciding factor between the two boroughs in terms of which one is quieter.
Avoid the Manhattan noise by moving to the Upper East Side, which is known as one of the quieter neighborhoods in New York. This neighborhood experiences .00359 complaints per capita. Not far off, the Lenox Hill and Roosevelt Island neighborhoods experience .0043 noise complaints per capita, making it the next best neighborhood for low noise levels.
While Manhattan may be home to some of the quietest neighborhoods in New York, it's also home to the noisiest. Hamilton Heights is the noisiest neighborhood in all of New York City. This neighborhood reports a noise complaint per capita of .0486, 10 times that of the Upper East Side.
4. The Bronx
Coming in at the second loudest borough with 63,000 noise complaints in one year, the Bronx offers nothing shy of ambient noise and then some. This borough is no exception to loud parties and music — the Bronx reports just over 39,000 noise complaints due to those factors alone.
Located in the southeast corner of the borough, Throgs Neck is a popular choice for quiet residents in New York. Living here, your commute may be longer than in competing neighborhoods — but the views and scenery in some parts, such as the Throgs Neck Bridge that connects the bayside to Queens, may make up for it. Parkchester and Pelham Bay are two other quiet NYC neighborhoods in the Bronx.
Bedford Park and Fordham North should be the first to get crossed off the list, as they're reported to be the loudest neighborhoods in the Bronx.
5. Brooklyn
As one of the loudest boroughs in the city, Brooklyn offers plenty of nightlife and no shortage of social outings. But the fun times come with plenty of active noise. Brooklyn brought in over 70,000 noise complaints between 2019-2020, with a majority of those complaints being attributed to loud music and parties. Another large component of this number was nearly 20,000 complaints due to knocking or banging.
If you're considering Brooklyn as your new home, Borough Park and Brooklyn Heights are the quietest places in Brooklyn, with .00324 and .00467 noise complaints per capita, respectively. If you're brave enough to face the noise, Dumbo and Downtown Brooklyn are the loudest neighborhoods, with a reported .0369 noise complaints per capita.
Soundproof Any Home or Apartment in Any Neighborhood With Soundproof Cow
Whatever your reason is for moving to New York, noise is an unavoidable part of the lifestyle. If that's the case for you, you can reduce the overall noise level in your new apartment through soundproofing.
Soundproof Cow offers a variety of DIY soundproofing products perfect for residential living, such as acoustic panels, soundproofing materials and sound absorption materials. Contact us today for more information or check out our soundproofing resources to see how you can transform your new apartment into a quiet oasis.