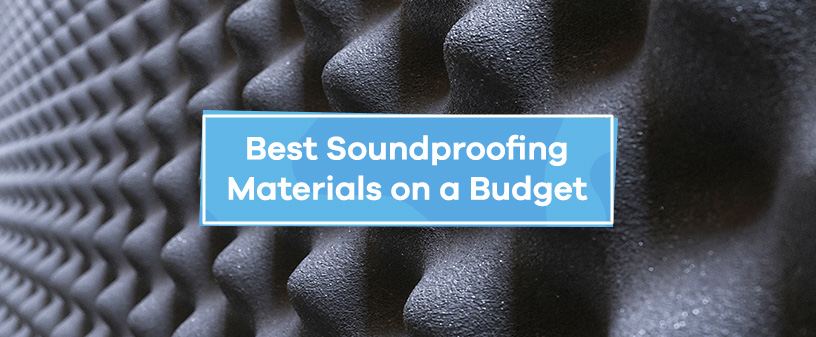 November 17, 2023
Whether you're looking for an easy way to reduce noise from neighbors above, below or beside you or you want to turn a room into an in-home studio, soundproofing is an affordable and effective way to keep unwanted sounds out. Continue reading to see how you can easily soundproof any room while staying on a budget.
Cheap Soundproofing Ideas
When it comes to reducing noise, you want materials that offer superior value and performance. Some of the best affordable soundproofing products on a budget include:
1. Mass Loaded Vinyl
Mass Loaded Vinyl is a tougher and greener alternative to lead soundproofing and consists of salt, sand and metal particles that allow it to offer effective results. By using mass-loaded vinyl between layers of drywall in the ceiling, floor and wall, you can block sound waves from passing through.
When you choose Soundproof Cow, you'll have the option to select the thickness of your soundproofing material. For example, our Quiet Barrier™ MD Soundproofing Material Sheet is 1/8th inch thick and enables users to cut it to size, making it ideal for offices, restaurants and construction sites.
2. Acoustic Sound Sealants/Green Glue
An acoustic sound sealant is an inexpensive way to soundproof, as it helps to prevent unwanted sounds from entering through cracks in cavity walls or flooring systems. Customers can also choose our Green Glue noise-proofing compound, which you can install between drywall to reduce the amount of noise transfer. This nontoxic sealant option doesn't require troweling or measuring and complies with many building regulations.
3. Flooring Underlayment
Flooring underlay is a simple way to soundproof tile, carpet, laminate, or stone flooring by minimizing vibrations and increasing density. One way to use this material is to lay down a layer and then place flooring over the top. You can also use it between joists and subflooring.
4. Hanging Baffles
A hanging baffle is a soundproofing material hanging from the ceiling that can reduce the echoing in a room. At Soundproof Cow, our hanging baffles contain acoustic cotton and foam that absorb sound energy by intercepting soundwaves before they reach a hard surface.
5. Quiet Batt® Soundproofing Insulation
Keep your room warmer while blocking noise with Quiet Batt® Soundproofing Insulation from Soundproof Cow. When a sound wave reaches the porous material of the insulation, it bounces between the fibers and pores and leaves little to no sound energy to reflect. Our acoustic insulation works well in ceilings and exterior and interior walls for effective soundproofing.
Areas to Focus on When Soundproofing Your Home
The three main focus areas during the soundproofing process include:
1. The Source of the Sound
The sound you are trying to conceal will generally come from one area.
2. Entry Point
The entry point is where sound enters your room. This space may be close to the sound source or a shared wall. It is also common for an exterior door to be an entry point for unwanted noise.
3. Reflection Point
After a noise enters your space, it will reflect at the same entry angle. For example, if noise enters a room from a connecting wall in a straight line, you will want to place soundproofing at the entry point and directly across from the point to reduce any reflections.
Find the Soundproofing Materials You Need and More at Soundproof Cow
Whether you want to soundproof one room or your entire home, finding the materials you need without exceeding your budget is easy, thanks to Soundproof Cow. Browse our selection of solutions or contact us today to learn more about our soundproofing materials today.