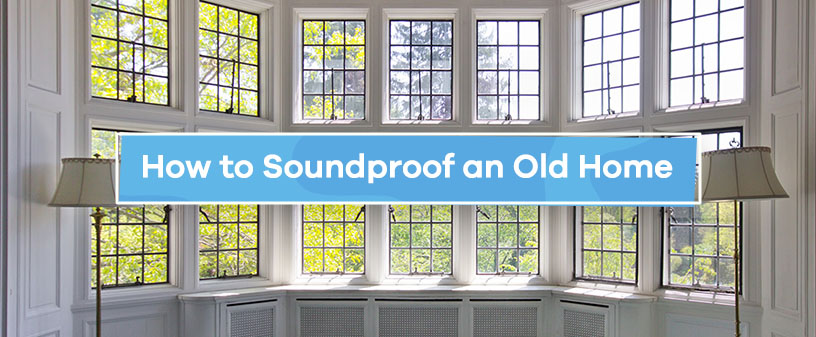 November 03, 2023
After a long week of work, you're looking forward to sleeping in. However, at 6 a.m. on the dot, you're awoken by the sound of the garbage truck making its weekly rounds. After some grumbling, you fall back asleep, only to wake up a second time from the sound of your neighbor starting their lawnmower. Then you hear the kids start to move around upstairs and the sound of water rushing through the pipes as they start their day. Just like that, your chance to sleep in is gone.
While these early mornings may be typical if you have an older home, they don't have to be. By installing soundproofing materials, you can block unwanted noise and continue sleeping soundly.
3 Common Reasons to Soundproof an Old House
For most people, their house is a safe space that allows them to relax in peace and, more importantly, quiet. However, if your home is older or lacks proper soundproofing, it can be hard to relax when there are frequent loud noises, such as:
1. Members of Your Household
Loud noises often come from inside your home. For example, your partner may like to stay up late watching TV while you prefer to go to bed early. Or, perhaps you work from home while caring for young children who like to make their presence known. Excessive noise when you're trying to sleep or focus can complicate both tasks, making it essential to soundproof your bedroom or office space.
2. Neighbors
Whether your noisy neighbors disturb your peace with their lawnmowers or loud activities, installing soundproofing is one of the easiest ways to keep your home quiet. Adding a few soundproofing items can reduce the amount of sound that enters your home and help you maintain your peace.
3. Pipes
Pipes are a common source of noise, especially in older homes. Water rushing through these tubes can cause noise to emanate from the walls. By adding soundproofing, you can reduce disturbances caused by daily functions, such as showering and watering your garden, by reducing the amount of noise or vibrations present.
3 Key Areas to Focus on When Soundproofing an Older Home
When it comes to soundproofing your home, take some time to identify which areas are causing the most noise. Some common areas in the house that can cause excessive amounts of noise and what you can do to soundproof them include:
1. Interior Rooms
If your interior rooms are noisy, you can open the walls and insert Quiet Batt Soundproofing Insulation to help reduce vibrations from one wall layer to the next. Depending on the age of your home, you can add a layer of sheetrock, which is an easier solution than complete wall removal.
2. Doors
Sounds can come through the spaces around a door, making it essential to invest in weather stripping or gaskets for a proper seal. If your doors are hollow, consider filling the space with sand or similar material to further insulate the door against noise.
3. Pipes
Pipes often cause noise due to vibrations, and you can isolate the pipes and the vibrations through acoustical lagging. This process involves wrapping problem pipes with soundproofing material and adding mass to the walls to resolve most of the noise issues.
Soundproofing Your Home is Easy With Soundproof Cow
If you're ready to soundproof your home, Soundproof Cow is here to help. Our solutions-based approach enables us to offer an impressive range of products ideal for any space in your home. Explore our catalog of soundproofing solutions or contact one of our professionals with any questions today.