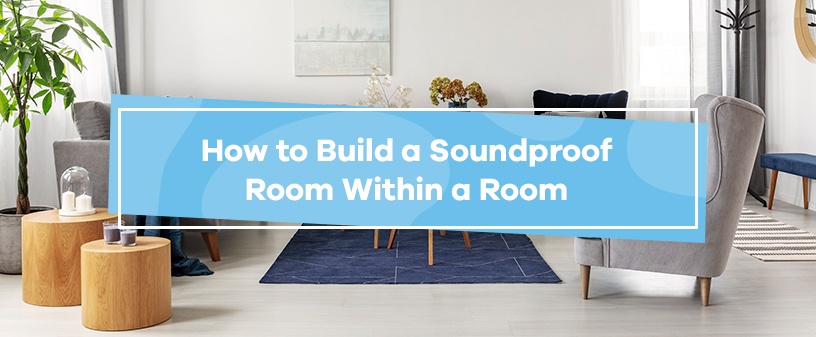 October 05, 2021
Have you ever wanted to reduce the noise coming from outside or the next room over into your bedroom, office or studio? Specific techniques and products can help you reduce the noise in a room. If you truly want a room to be soundproofed and have no disturbance from the outside world, you may need to explore more complicated methods. Building a separate, isolated room inside of the original room is one of the best ways to isolate sound and prevent it from transmitting through the walls. In this article, we'll guide you through how to build a room within a room that offers near-complete soundproofing.
Common Reasons to Soundproof a Room Within a Room
Before you begin soundproofing a room, evaluate why you would like to soundproof the room. Consider the purpose of the room. Is it going to serve as an office space? A recording studio? A study room?
The most common reasons to soundproof a room involve keeping sound from getting in and preventing sound from leaving the space. For example, in a recording studio, it is essential to keep external sounds from reaching your microphones and equally important to keep loud music from reaching others' ears — especially if you're operating in an area with close neighbors.
Common reasons to soundproof a room are enhancing privacy, improving home comfort, increasing concentration and preventing sound from escaping or entering a room.
How to Soundproof a Room Within a Room
Now that you've identified the purpose of the space that you want to soundproof, let's determine the best way to soundproof your room within a room. We're here to help you achieve high-quality, professional soundproofing results. To construct a soundproof room within an existing room, follow these steps:
1. Decouple the Walls
The first step to building a room in a room that you can use for soundproofing is to decouple the walls, which can be done in several ways. The best and most effective way is to have a double wall system which would require you to build a second wall with standard two-by-four lumber and steel studs. This wall should be built a few inches away from the original foundational wall. The deeper the wall, the better. A deeper wall creates a greater volume of air, which can help isolate low frequencies better.
You can also use the isoTRAX™ sound isolation system to decouple walls and ceilings. This kit contains everything you need to eliminate vibrations and help reduce the sound transmitted through the walls in your construction.
2. Add a Floating Ceiling
After you have built a second wall, the next step is to install a floating ceiling. This step completes the decoupling process by lowering the ceiling and further soundproofing the space.
Creating a floating ceiling requires weaving new ceiling joists in between the original joists. Position these new joists about 1-2 inches lower than the existing ceiling. Adding these joists aids in isolating the room and in blocking out certain frequencies.
3. Insulate

One of the most old-school yet effective ways to minimize noise is to use insulation. While the pink insulation you usually think of doesn't provide as much sound attenuation as other methods, it can be a great soundproofing asset when installed correctly and in conjunction with other sound absorption techniques. A common mistake that people make when installing insulation is to install too much material. If you add too much insulation, you can over-compress the space, making the air in the soundproofed room too dry.
The best way to use insulation is by opting for Quiet Batt™ Soundproofing Insulation, which offers superior soundproofing over traditional insulation. Quiet Batt™ features closely packed cotton fibers and offers a tight friction fit, which provides enough soundproofing to be used as a stand-alone sound absorption product if desired. With our insulation solution, you can ensure that your space is soundproofed while still allowing for ventilation and balanced air quality.
4. Install Drywall
One of the final steps to soundproofing a room within a room is to install drywall on the newly built decoupled walls and floating ceiling. Adding drywall aids in sound isolation by adding mass to the construction, and more massive objects carry fewer sound waves. Drywall is particularly effective in a decoupled system.
To add the most mass, go with the thickest and heaviest drywall that you can! Begin with a base layer of plywood, and then add a heavy ⅝-inch sheet of drywall over the plywood. For the ceiling, consider using up to three drywall sheets as ceilings can be the trickiest portion of the room within a room to soundproof.
5. Fill in Air Gaps
To ensure sound has no source of entry or exit, look for any holes or cracks that may be in the walls or ceilings of your room. Fill in any cracks you spot.
The best way to fill holes and gaps is to use foam gaskets or acoustical caulk, such as a sound sealant from the OSI® Pro-Series. Although these air gaps seem tiny, sealing cracks could be the difference between a completely soundproof room and a normal, un-soundproofed space.
6. Choose the Right Door
Without the right design, the door to your room could be the gap in your soundproof perimeter that allows sound to travel in and out as it pleases. A flimsy, thin door allows sound to enter and exit the space with ease. The best-soundproofed space features a solid-core door for the inner room since this door construction blocks more sound waves. Consider a solid wood door for the best effect.
To further enhance soundproofing around the door area, use a door soundproofing kit with a perimeter seal, door sweep and other tools to enhance the soundproofing around the doorway. This kit can improve insulation around the door's cracks and gaps, enhancing sound absorption.
Purchase Soundproofing Materials From Soundproof Cow
Building a soundproof room can create the perfect space for a recording studio, private office, personal movie theater or even bedroom. The numerous sonic benefits of a soundproofed room can enhance the usability and practicality of a space, especially if it is essential that no sound enters or exits a room.
With the right setup, planning and construction, a soundproofed room is achievable and worth it. By completing actions such as decoupling the walls, adding a floating ceiling, insulating, installing drywall, choosing the right door, and filling in air gaps, your room can be as close to perfectly soundproof as possible. And of course, you can always consult the experts at Soundproof Cow to get your project mooving in the right direction.
If you are ready to begin soundproofing your room, purchase your soundproofing materials from Soundproof Cow today!