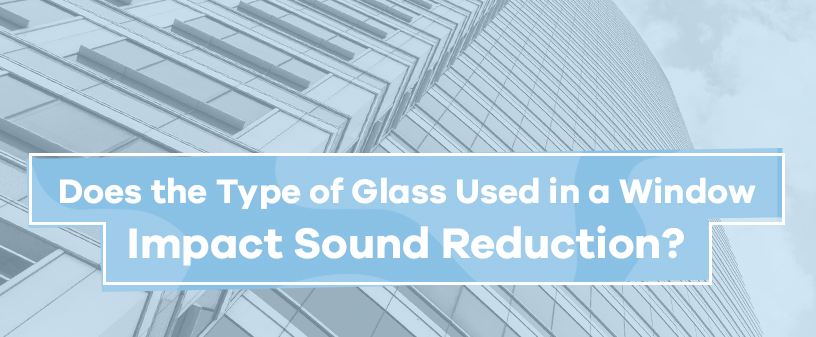 June 01, 2018
Windows do more than provide you with a glimpse of the outside world. Choosing the right glass for your windows is essential. From the level of glare you'll receive throughout the day to the sturdiness and durability of your piece, it's vital always to know the specs and details of your windowpanes before you purchase them. One especially important feature to keep in mind about your windows is the level of impact sound reduction they create.
A beautiful windowpane is nice, but a glass window with high acoustical control is even better. Because many windows lead outside, it's essential to invest in the best glass for reducing sound to control the level of noise pollution that seeps into your room throughout the day.
Laminated vs. Tempered Glass
When it comes to windows, no two glasses are the same. Take laminated glass, for instance. Manufacturers engineer laminated glass especially with soundproofing qualities in mind. If you find your home or business suffering from unwanted vibrations and sounds that enter through your windows, laminated glass will provide you with the sound deadening properties you need. This is because laminated glass consists of an extra protective layer of plastic that provides an additional barrier between the two external glass sheets.
Tempered glass, on the other hand, does not offer quite as much soundproofing control. This form of glass is crafted with durability in mind, as the strong and sturdy external layers provide a resilient glass that can withstand use and force with robust strength. However, tempered glass does not offer superior sound reduction performance.
Number of Panes and the Impact of Sound Reduction
While you might assume added layers of glass equate to higher levels of noise management, this is not always the case. Many soundproof experts believe triple pane windows do provide significantly higher degrees of soundproofing quality than double pane windows.
Often, single or double pane windows are sufficient to provide you with the noise and echo reduction qualities you need. Choosing the right fit for you depends upon the degree of noise you seek to block and the resulting type of glass you will need to get the job done right.
Ideal Type of Glass for Sound Reduction in Windows
Laminated windows will frequently provide you with the noise reduction levels you need. The best glass and windows for reducing sound are those which boast a composition that prevents sound from traveling internally and externally. Laminated windows offer a level of insulation that hinders noise's ability to transmit with ease.
Once you find the right window for your home or business, it's vital to install your products correctly. Ensure there are no empty spaces or openings where sound can travel by sealing the area surrounding your windows. Investing in the right window and installing your materials properly will provide you with better thermal and sound reduction properties so you can relax while saving money, too.
Soundproof Cow Is Your Noise Management Expert
Windows provide an opening to the external world, but you don't have to deal with the frustration of outside noises. Whether you have noisy neighbors or find yourself situated near a loud and busy street, the good news is that you don't have to put up with unwanted sounds when you desire silence instead.
At Soundproof Cow, we offer a variety of soundproofing products to help you get the most out of your noise-reduction windows. To learn more about our products, browse our varied selection of sound absorption materials online today.