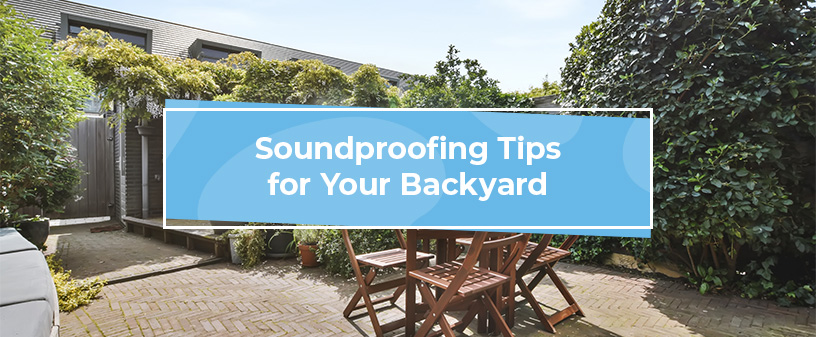 September 07, 2018
Is it really possible to have a soundproof backyard? While you can't turn your backyard into a total monastery retreat, there are certainly steps you can take to control the noise in your space for a more pleasant and relaxing experience for you, your family and your guests. Backyard soundproofing can be done by installing sound-absorbing barriers such as fences, shrubs or even water features to mask unwanted outside noise.
Types of Backyard Soundproofing Options
Learn more about the ways you can reduce noise in your backyard:
Shrubs and hedges: You may already have these controlling sounds in your backyard without even realizing it. Plants tend to be great sound absorbers and can afford you a measure of visual privacy as well. They also look nice and are great for the environment, releasing more oxygen into the air for everyone to enjoy.
Water features: Another combination of a naturally pleasing aesthetic and effective sound control, a nice water fountain or similar water feature can create some delightful white noise effects that relax the mind as they cover up surrounding harsh noises.
Fences: Ultimately, the more enclosed an area is, the easier it is to control the sound within that area. While the only way to completely enclose a backyard area is with some kind of pergola or sunroom, a good fence can do a lot for keeping your sounds from disturbing the neighbors and keeping them from disturbing you.
Benefits of Soundproofing Your Backyard
Taking steps to soundproof your backyard can be beneficial in a wide variety of ways. It helps you be a better neighbor, by allowing you to enjoy the occasional backyard barbecue or garden party without the sounds of your revelry annoying those in the homes around you. It also enables your neighbors to be better to you, by protecting your privacy and preventing you from being distracted by their noises while enjoying your backyard.
Finally, good soundproofing can deaden harsh noises so you enjoy clear communication and a tranquil environment, allowing you to appreciate the full benefits of your backyard.
Areas to Soundproof in Your Backyard
To reduce backyard noise, you need to know which areas of your backyard you should focus on. Here are three main areas where many people spend their time, along with tips on achieving more peace and quiet on your slice of the Earth.
Soundproofing Outdoor Patios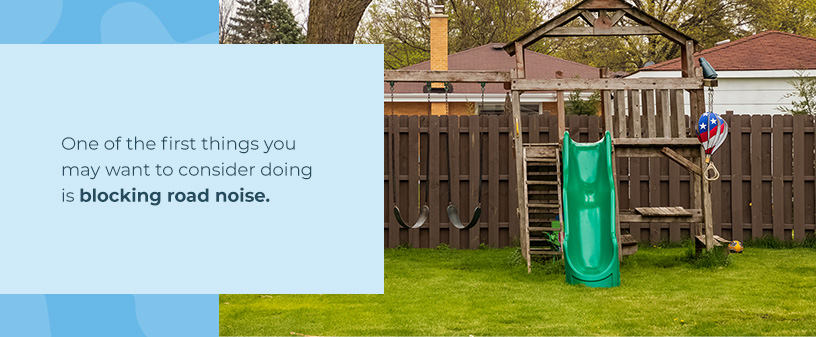 Imagine stepping onto your patio on a beautiful day, feeling the wind blowing and the sun shining. Now add to that daydream the sound of cars honking their horns and loud engines revving past your home, ruining your peaceful experience. Even if you live in a rural area, sounds from the road can find their way to your ears as you relax on your patio. But the road is impossible to soundproof, right? Think again.
To soundproof your outdoor patio — and to reduce noise in your whole backyard, for that matter — one of the first things you may want to consider doing is blocking road noise. Road noise is mostly airborne, which means that the sound waves vibrate through the air and travel to your patio. You'll need to stop those soundwaves in their tracks before they reach you to enjoy some more peace and quiet.
Here are some ways you can soundproof your outdoor patio by blocking road noise:
Plant trees: Plant trees on the bordering edge of your property and the road, staggering them to ensure as few gaps as possible are present. This will act as a natural wall between the road and your property, keeping unwanted sounds from the road from traveling to your patio. Trees are also an attractive property feature and can help you experience more privacy as you enjoy your backyard.
Use white noise: The presence of white noise can help block out unwanted sounds on your patio, making certain sounds feel less disruptive and quieter when you do hear them. Water features, background music or even putting on a sports game are great ways to add some white noise when using your patio.
Build structures: You can also build structures on your property to give unwanted sounds less of a chance of traveling toward or away from your patio. Examples include a shed, a detached garage and even a play area for the kids.
Build your patio in the right location: If you've yet to build your patio and want to make it as soundproof as possible, where you build it can have a massive impact. Try to position it so your house's shape and landscaping protect it from noises traveling in or out. You can also consider covering your patio to contain some of the noise you, your family and your guests will create when using it.
You can block noises from the road in many of the above ways as long as you have the freedom to change the landscaping of your property to some degree. Note that you may need to contact your local governing agencies to make sure you stay regulation-compliant, as some of these soundproofing methods can impact driver safety or local property laws without you even realizing it. Once you successfully block noise from the road, you'll be amazed at how much more peaceful and relaxing your patio will be.
Soundproofing Gazebos in Your Backyard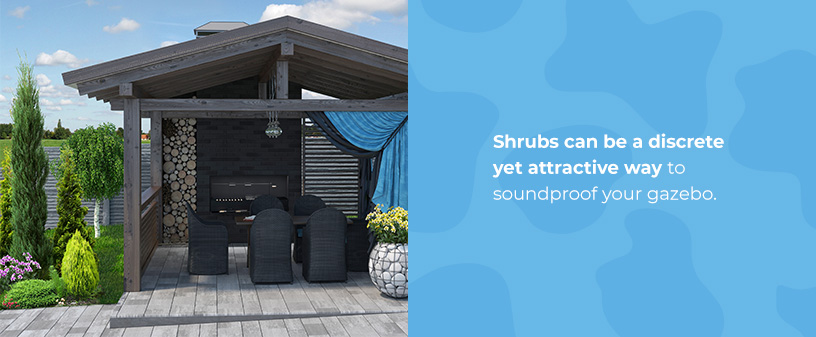 Gazebos are lovely standalone structures that provide a 360-degree view of your property while standing within one. They have a roof to provide shelter during light rain and shade during warm summer days. Gazebos also often include seating options, perfect for relaxing with a book and an ice-cold glass of lemonade on your day off. This all sounds ideal, but unwanted noises can disrupt this scenario and turn your gazebo into a place that you rarely consider visiting when you find a moment to unwind.
To get the most peace and quiet in your gazebo, you'll need to take some soundproofing precautions. Besides the soundproofing options above, which can also work when soundproofing a gazebo, here are some other suggestions:
Plant shrubs around the gazebo: Shrubs can be a discrete yet attractive way to soundproof your gazebo. Most gazebos feature construction with gaps to allow air and sound to pass through. Shrubs will help fill up some of these gaps to stop sound from traveling while preserving the ability to let pleasant air reach you while you're in your gazebo.
Use acoustic management materials: Depending on the size and location of your gazebo, you may want to consider sound-absorbing hanging baffles in your gazebo. These absorb sound waves in the air to reduce echo and reverberation. Hanging baffles can be especially helpful in larger gazebos with high ceilings.
Choose the right location: Since gazebos are free-standing structures that you can erect anywhere on your property, you should choose the location that will facilitate the best sound experience. For instance, you may want to avoid putting it close to a busy road. But a location on your property with equal distance on all sides from the nearest problem areas — with some surrounding trees and shrubs — can give you a quieter experience for the healthy solitude you're craving.
Soundproofing a Garden

Your garden may be another place in your backyard where you want to experience better soundproofing. Whether you're planting seeds, weeding or simply enjoying the fruits of your labors, gardening is a highly fulfilling pastime. But everyone wants their garden to be a place of serenity and thoughtfulness, rather than a place where noises from the road and neighbors are constantly intruding.
Here are some great ways to soundproof a garden from unwanted noise coming in:
Build a fence or wall: A fence is a good way to block sounds from your neighbors, especially if the panels of the fence join together without leaving any gaps. Using thicker and more durable wood will also increase the sound-absorbing qualities of your fence. For the most soundproofing, consider building a garden wall. Grow ivy or vining plants on the wall to help it fit your garden's aesthetic while absorbing more sounds.
Surround the garden with shrubs: Shrubs are excellent sound absorbers, and they also look great next to your garden plants. Achieve greater soundproofing and more of a hidden garden vibe by surrounding your garden area with various tall shrubs.
Build a garden shed: Putting more structures in your backyard is a good way to fill up space to stop traveling sound waves in their tracks. Such an example is a garden shed, which can absorb sound while also coming in handy for your gardening needs. Fill it with shovels, rakes, gloves, buckets and other tools you might need at any stage of your gardening process.
Contact Soundproof Cow for More Tips on Backyard Noise Reduction
At Soundproof Cow, we love a good backyard get-together. But we know those get-togethers are a lot more fun when you know you're not disturbing the neighbors and that your private party is staying private. We'd love to help you start enjoying that kind of peace and security in your backyard today. For information about our acoustic panels, our other soundproofing products, or general soundproofing tips for the backyard and beyond, contact Soundproof Cow today.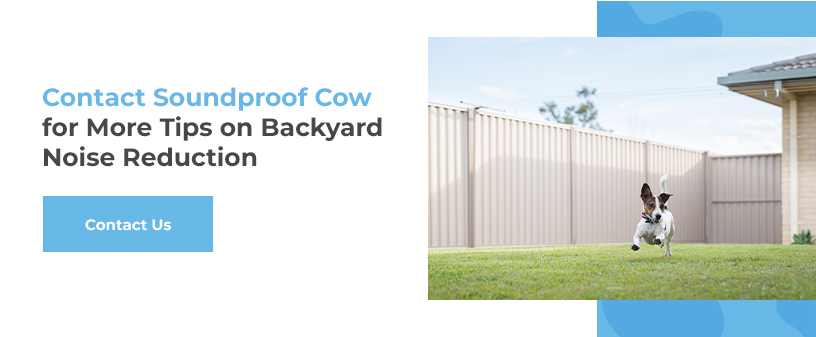 Learn More About Soundproofing Outdoor Spaces
How to Soundproof a Room from Outside Noise