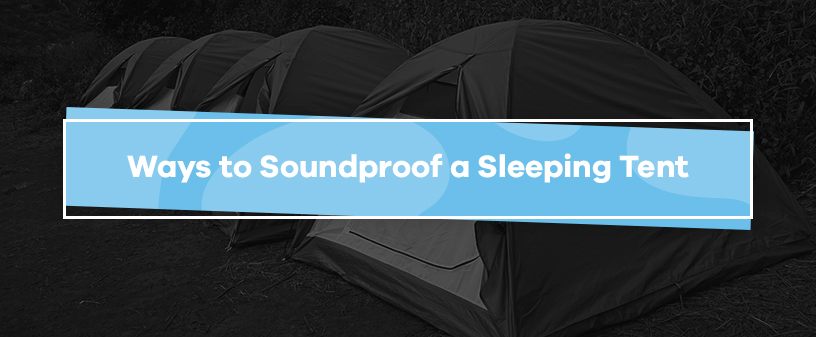 February 04, 2021
Do you like camping? Then you probably love the sound of birds chirping in the morning or the crackling of the campfire — but not the sound of your noisy campsite neighbors. For a more private camping experience, learn more about how to soundproof a tent.
Why Should You Soundproof Your Sleeping Tent?
Enjoying your camping experience is difficult when your campsite neighbors are partying all night. If you're relaxing in your tent during the day, noisy children and barbecue parties can battle for your attention. When you're stuck with sound pollution, soundproofing tools can help control noise levels, so you can enjoy your camping festivities.
You could invest in a short-term soundproofing tent, but a more long-term solution is investing in soundproofing tools that can stay with you through many tents. Plus, if your camping party has multiple tents, you can all use soundproofing tools to limit outside noise.
Benefits of Soundproofing Tents
Soundproofing your sleeping tent comes with many benefits, like:
Noise reduction: The prominent goal of soundproofing is to reduce sound pollution. Soundproofing tents is slightly different from rooms because rooms have four walls and a ceiling. While you can't completely soundproof your tent, you can greatly reduce the amount of noise that travels in or out.
Better sleep: When you're trying to fall asleep, soundproofing makes it so campsite neighbors are less likely to disrupt you. Some soundproofing solutions even double as a sun blocker, so sunshine won't wake you up in the morning.
Tent insulation: Many soundproofing solutions act as an insulation barrier. Your tent will stay cooler during the summer and warmer during the colder months.
Soundproofing your tent doesn't have to be expensive. If you are a frequent camper or are camping with kids, you may find it beneficial to invest more in your camping experience. Occasional campers benefit from proper soundproofing tools, too, and from simpler solutions as well.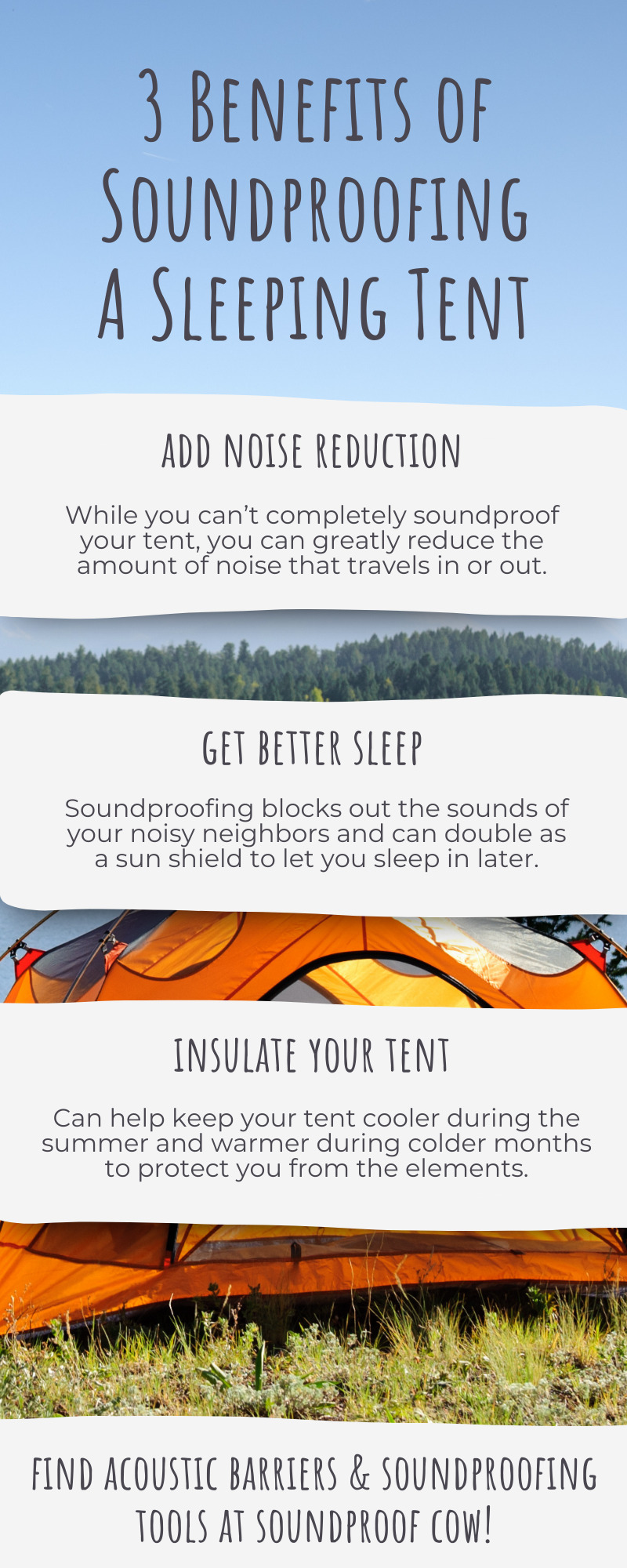 6 Ways to Soundproof a Tent
The main goal of soundproofing is to block, dampen, absorb, or deflect sound waves to reduce sound pollution. When camping, soundproofing can absorb airborne sounds like talking, and impact sounds like the wind blowing on your tent's walls. Some ways you can soundproof your sleeping tent include:
1. Add an Acoustic Barrier

At Soundproof Cow, our sound technicians design many soundproofing tools for a variety of uses. Just because your tent is temporary doesn't mean it can't be soundproofed! An acoustic barrier is made of composite layers of vinyl, foam or fiberglass, with a barrier that deflects sound waves.
For your tent, we recommend temporary barriers. Our temporary barriers are made of fiberglass quilts with or without barrier material, depending on the type of temporary barrier you purchase. The acoustic barrier comes with hanging rings so you can easily hang your acoustic barrier in your tent. And, it can be easily stored away as you assemble and disassemble your tent.
You'll need to choose the right size of temporary barrier that complements your tent size. Our temporary acoustic barrier comes in three sizes:
2 feet by 4 feet
4 feet by 4 feet
4 feet by 8 feet
The acoustic barrier is around 1 inch to 2 inches thick, so it won't take up much space in your tent once hung. To hang, all you'll need is a clip or piece of durable rope to tie through the hanging rings. Hang the acoustic barrier along the walls of your tent. You can hang one facing the direction of the noisiest campsite, or you can hang one on many of your tent's walls. Either way is effective.
2. Hang Noise Reducing Curtains
An alternative to an acoustic barrier is noise-reducing curtains. You can use noise-reducing curtains by draping them on your tent's wall. Or, if your tent is big enough, you can hang them.
Noise-reducing curtains dampen and absorb sound waves, preventing outside noises from entering your tent and keeping inside noises in. An added benefit to noise-reducing curtains and acoustic barriers is they keep sunlight out of your tent, giving you a few extra hours of sleep in the morning.
3. Place Thick Carpets
Sound waves travel in multiple directions. When sounds enter your tent, they can bounce around, almost like a bouncy ball in an empty room. Using a carpet in your tent adds mass, which helps control the amount of sound traveling in your tent. Carpets, especially fluffy ones, have fibers that trap sound waves. The sound waves' energy bounces around in these fibers until they run out of energy.
Having a fluffy carpet in your tent — especially when paired with noise-reducing curtains — can elevate your camping experience and make it feel more like glamping. It can also make camping more comfortable with added padding and insulation.
4. Buy a Soundproof Tent
Some companies sell insulated tents that do a slightly better job at soundproofing than other, non-insulated tents. Insulated tents aren't completely soundproof, but they act as a good starting point for layering other soundproofing tools. They're considerably more expensive than other tents, though. Depending on your goals, you may prefer saving some money and investing in proper soundproofing tools.
5. Use Earplugs
When all else fails, you can fall back on a reliable soundproofing option — earplugs. You can find earplugs at many convenience stores, and single-use earplugs are very budget-friendly. Use earplugs when you're trying to sleep or prefer not to listen to outside noise.
Buy Acoustic Barriers and Other Soundproofing Tools at Soundproof Cow
If you enjoy camping but not noisy campsite neighbors, Soundproof Cow can help. Read more about our temporary acoustic barrier by visiting our product page. Have any questions? We'd love to answer them! Contact us online, or speak to one of our sound technicians directly by calling us at 1-866-949-9269.

Learn More About Soundproofing Outdoor Spaces
Soundproofing Tips for the Backyard
How to Soundproof a Room from Outside Noise