Engineered for Performance — Vibra Block® was specifically created to be a high performance vibration damping material to be used on all varieties of steel, including galvanized, stainless, cold rolled, painted, and plated steels. Vibra Block® stops rattling steel enclosures and equipment.
Ease of Installation — Vibra Block® Sound Damping Material is easy to install with a peel and place application. Simply trim the pieces to size, peel and place and hand roll to ensure good adhesion. No messy spray-on paints or adhesives are needed to install is product.
Value — A little bit of Vibra Block® Sound Damping Material goes a long way. Other damping materials require more product to do the same job as Vibra Block®. Covering only 60% of a surface with Vibra Block® achieves the same deadening results as spraying an entire surface with traditional, tacky material deadeners.
Light Weight and Low Profile — Vibra Block® was engineered to provide maximum performance with minimum added weight and thickness. Vibra Block® is perfect for applications with tight surroundings.
In-stock — We stock Vibra Block® Sound Dampening Material in large quantities. Most products are shipped the same day they are ordered and arrive at your project in one to three business days, depending on your location. Custom shapes and sizes available upon request.
Hear the Difference
Hear how Vibra Block® dampens sound and vibration in our sound test video!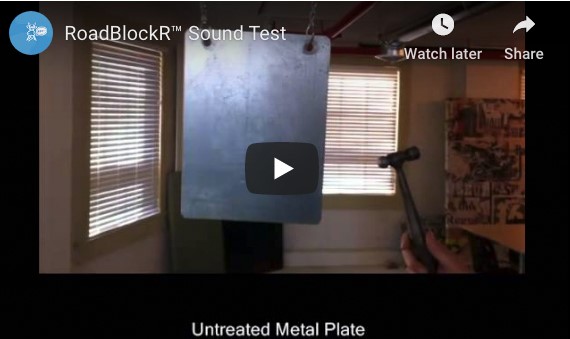 Details
GREAT FOR THE CONSTRUCTION INDUSTRY:
HVAC Cabinets and Ducting
Equipment Enclosures
Computer Cabinets
Generator Enclosures
Compressor Enclosures
Any sheet metal application
GREAT FOR THE AUTOMOTIVE INDUSTRY:
Cabin Compartment Walls, Doors and Floors
Hoods
Trunk Compartments and Doors
GREAT FOR THE HEAVY EQUIPMENT INDUSTRY:
Steel Compartments
Hood and Trunk Hatches
Cabin Floors
GREAT FOR THE MARINE INDUSTRY:
AC Enclosures
Pump Enclosures
Steel Hatch Covers
Product Availability
Why is Sound Deadening Important?
Effectively controlling vibration will result in a decrease in airborne noise propagation making the surrounding environment quieter. Most structural noise is caused by moving parts impacting or rubbing against one another. This vibration is structural borne and travels through the steel as energy. When this vibrational energy has no where else to go it becomes airborne. Even moving air can cause steel to vibrate and make noise, as it does in metal HVAC ducts. This sound is usually heard as an annoying "whirr" or rattling. Vibra Block® deadens the steel and stops the "whirring" and rattling noises. Vibra Block® actually makes steel sound more like thick rubber when it is struck.