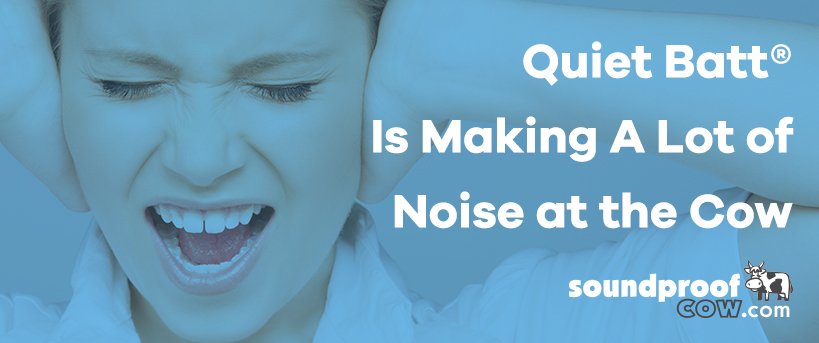 March 17, 2016
When it comes to the Cow, innovation is one of its many synonyms. We pride ourselves in providing you with high standards at low costs but even better, DIY functionality.
If you haven't already met it, we'd like to introduce you to one of our most favorable products with character traits just like that: high quality, low costs and easy to handle.
Quiet Batt®. This environmentally friendly product will soon be your friend too for its many applications.
As long as your walls are open, it can resolve the majority of your acoustic interferences.
Noise complaints from indoors, outdoors, upstairs, downstairs, room to room can be muted with the installation of this insulation product.
But what makes it so special? Why is it a best seller and the number one recommended product at Soundproof Cow?
The walls using Quiet Batt® are talking, and this is what they have to say:
We've already discussed that Quiet Batt® is eco-friendly; what legitimizes it as such? 80% recycled material that is itch-free, chemical and formaldehyde free and is safe for the whole family to handle – including the furry ones!
It doesn't just save your ears from sound, but your wallet from savings. Because of its tight friction fit, even as an acoustic product, Quiet Batt® outperforms standard fiberglass, cellulose and foam insulations. This leads to a house that is intuitive to temperature; warmer in the winter, cooler in the summer.
It works. Unfortunately, that should go without saying. However, this product's superior manufacturing absorbs sound from within the most minute cavities, therefore, reducing the transference of sound from one space to the next. Moreover, Quiet Batt® has the highest Noise Reduction Coefficient (NRC) of obtainable of 1.00.
Remember Rock Master Scott & The Dynamic Three's single, The Roof is on Fire? The Cow cares about your safety and with Quiet Batt® we can rewrite those recklesslyrics. This product has a Class A™ flammability rating allowing it to pass most building code flammability requirements for exposed materials.
You can use it. And you and you and you. Who is You? Those in the construction field. Contractors. Moreover, those sitting at home. Taking into consideration all the benefits explored above and the tools and materials required for installation, you can use it; you can do it. Also, in stock at the Cow, means it's in your hands that much faster.
Tell them you heard it from the herd.
Tags