September 21, 2022
You'll discover many unique advantages of Quiet Batt™ Soundproofing Insulation when you use it for your commercial space or residence. Here are a few of the ways your quality of life can increase due to this high-quality soundproof insulation.
Reduce noises and vibrations: Quiet Batt™ Soundproofing Insulation is a multi-purpose, sound-deadening insulator that can reduce sounds from street traffic, airplanes and construction. Now, instead of waking up in the morning to the sounds of jackhammers and excavators, you can sleep in peace as the Quiet Batt™ absorbs those noises. It can also help reduce the sounds coming from other areas of your home, like loud music or band practice, and vibrational noises from running children or vacuum cleaners.
Increase your building's energy efficiency:  Quiet Batt™ can also reduce and prevent heat transfer. Fit rooms with this insulation to help them stay cooler in the summer and warmer in the winter. Insulating your rooms in this way can lead to significant energy savings. This benefit makes Quiet Batt™ far more valuable than standard pink Fiberglas insulation. When you use Quiet Batt™ in your walls and ceilings, you'll experience more comfortable temperatures and noise levels within your home or business.
Enjoy easy installation: This insulation is a breeze to install, especially with our Quiet Batt™ Installation Supports. Whether you're starting a new construction project, renovation project or making less invasive acoustical upgrades to your home, you'll find Quiet Batt™ to be easy to use and install. Even folks without much insulating experience can have success installing this product in their building.
Invest in the environment: Quiet Batt™ Soundproofing Insulation is an eco-friendly option for sound insulation. Made from 80% recycled cotton, Quiet Batt™ is safe to handle and is better for the environment. You can install it without gloves and not experience itching or irritation. Gone are the days of masking up and wearing long sleeves and jeans when handling insulation. Quiet Batt™ Sound Insulation makes installation comfortable and safe for the environment and the people you care about.
When it comes to sound-deadening insulation, you are unlikely to find a higher value anywhere else.
Shop Quiet Batt™ Sound Insulation
Where Can You Use Soundproofing Insulation Materials?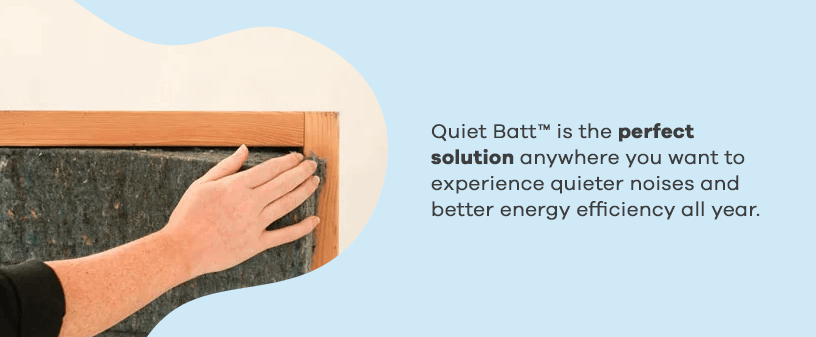 Quiet Batt™ is the perfect solution anywhere you want to experience quieter noises and better energy efficiency all year. Besides using it in your home, here are a few other possibilities to get your ideas flowing.
Home theaters: The best home theaters achieve outstanding sound quality and treat viewers to an immersive experience without disturbing neighbors or other people in the house. Build your home theater around Quiet Batt™ Soundproofing Insulation to achieve this.
Broadcast studios: If you're broadcasting live audio, ensure you're giving your listeners a high-quality, professional experience. Quiet Batt™ will help keep unwanted noises out of your broadcast studio.
Recording studios: Like broadcast studios, recording studios demand special acoustic treatment to keep the quality in and the distracting noises out. You also want to limit reverberations or echoes within your space. Quiet Batt™ is the first step in creating a recording studio.
Cafeterias and restaurants: School, public and professional cafeterias and restaurants can grow very noisy in a matter of moments. Help reduce this cacophony by installing Quiet Batt™ Soundproofing Insulation within the walls and ceilings of these spaces. People will enjoy their food more and want to stay longer if the sound levels are under control.
Churches: Churches and places of worship rely on sound quality. Whether it be achieving acoustics to accentuate live music or reducing outside noises from causing distractions, Quiet Batt™ will help enhance the congregation's experience.
Offices: Employees need a workspace where they can focus and concentrate, especially if people are conducting virtual or in-person meetings. Use Quiet Batt™ as part of a comprehensive acoustical treatment to create a workspace that's more conducive to productivity.