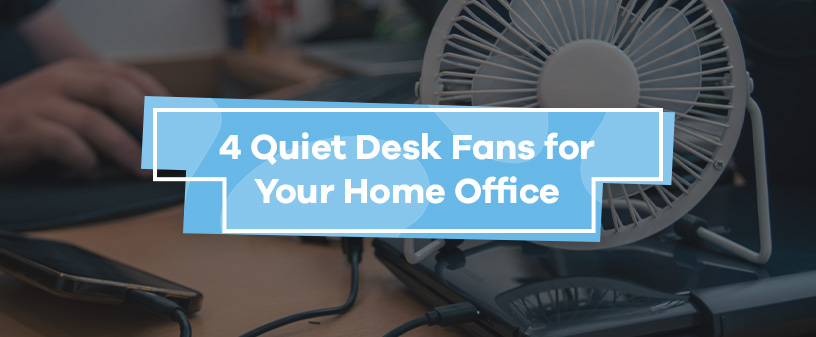 June 17, 2022
Feeling hot and uncomfortable can tank your productivity. Today, we'll go over some of the best office-friendly quiet desk fans.
Factors We Considered
These are the factors we've considered when choosing which low-noise fans are the best to use at the office:
Size
Adjustability
Speed options
Appearance
1. Best Overall — Honeywell HT-900 TurboForce Air Circulator Fan
At 11 inches tall and 11 inches wide, the Honeywell HT-900 TurboForce is not too big or too small. It rotates 90 degrees and features three settings for speed. It has a chunky design, and its black finish and wavy grille will look nice on your desk.
2. Quietest Desk Fan — Rowenta VU2631 Turbo Silence Table Fan
This fan offers whisper-quiet 38 dB(A) operation at each of its five speeds — which you can control with a remote. Although it's a little tall at 21.25 inches, the metallic design and slender wires give it a classic look that will play well at the office.
3. Best Budget Pick — Aluan Desk Fan
This tiny and affordable six-inch fan will fit well on your desk, and it'll plug right into any USB 3.0 port. With two distinct speeds and three accent color options, the Aluan Desk Fan is the perfect low-budget pick.
4. Best Features — Dyson Air Multiplier AM06 Table Fan
The Dyson Air Multiplier AM06 Table Fan has all the features you could ask for in a table fan. This 10-inch bladeless ring fan oscillates and includes 10 speeds. You can adjust its speed using a magnetic remote that sticks to the fan. It also has a timer you can set at intervals ranging from 15 minutes to nine hours.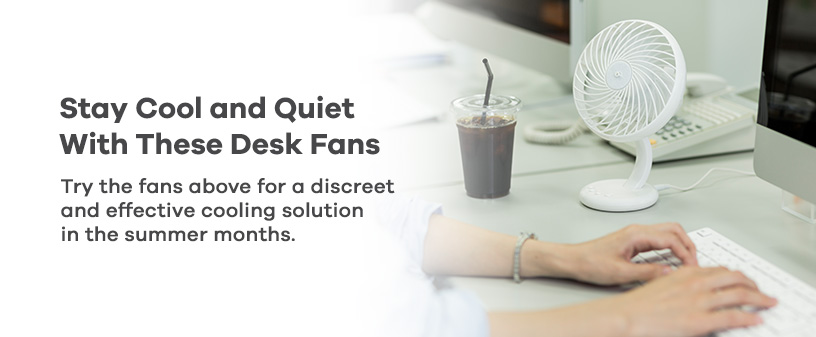 Stay Cool and Quiet With These Desk Fans
Try the fans above for a discreet and effective cooling solution in the summer months. You can also check out some tips for reducing noise at the office from our blog!