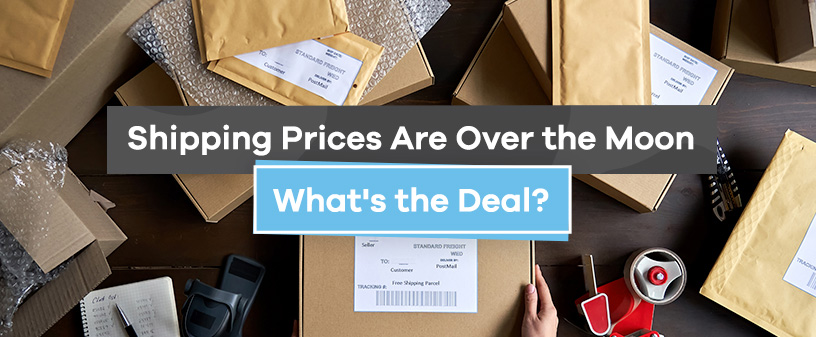 March 03, 2022
The last couple of years have challenged everyone in unique ways. Recently, shipping issues have affected everyone across the globe, including customers.
You may have noticed that shipping prices are higher than usual these days, which can be stressful for hardworking folks. The Wall Street Journal reports that, as of December of 2021, shipping prices had risen 23% from 2020's rates.
These high shipping rates are consistent across the market. A few underlying issues have strained virtually every business in the nation and beyond.
At Soundproof Cow, we care about our customers and value transparency in all of our rates. Today, we're hoping to help you understand why shipping prices have recently increased and when you can expect them to come back down.
Keep It Moo-ving — Shipping Halts Cause Trouble
After the pandemic virtually shut down the world's economy, the nations that first experienced and responded to the virus were able to reopen sooner. That meant China became the first major economy to bounce back after the coronavirus struck.
While China's opening for business was a good sign for the rest of the world, the country didn't have all the resources it needed to operate on a global scale.
The Container Crisis
Transporting goods en masse requires shipping containers, and most containers were in the United States and Europe, countries that were still shut down. That meant that a spot on a shipping container was costly. Moreover, the cost to produce new shipping containers rose from the early 2020 rate of $1,800 per cost equivalent unit (CEU) to $3,500 CEU.
During this time, China was the world's only outlet for goods like the desks and chairs we bought for our home offices. The shortage of containers meant shipments were slow, and the cost to get an item on a container grew.
Adding to the mess, virus spikes in port cities worldwide caused ports to close down for days at a time, slowing shipments and causing demand to rise even higher.
In short, there haven't been enough shipping containers to keep deliveries moving, producing new containers is expensive and illness gummed up the supply chain even further. The result is unprecedented shipping prices.
Is There an End in Sight?
These high shipping rates are unlikely to last forever, but some estimate the current state will last until at least 2023. Shipments are still backed up at ports across the globe, which means demand and shipping prices are still high. A future spike in case numbers could slow shipping down even more. For now, we all must be patient and get through this together.
We'll Never Milk You for Extra Cash
The Soundproof Cow team wants you to know that we are doing everything we can to keep prices as low as possible. The high shipping prices you see result from global circumstances outside of our control, and they disrupt our business as much as they affect you.
We're doing the best we can given the current economic climate, but — just like you — we're looking forward to a time in the future when things are back to normal.
We encourage you to reach out to us online for more information on our shipping policies and rates.