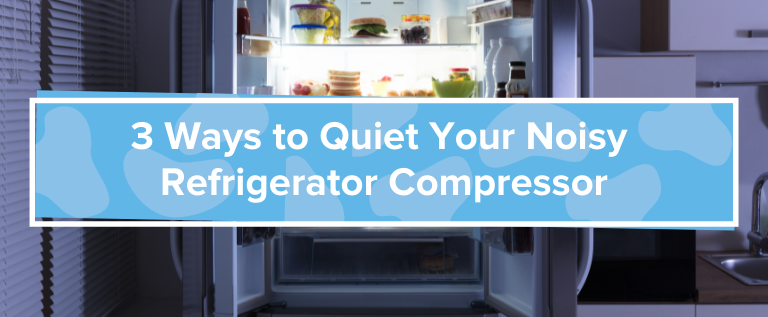 October 28, 2021
Refrigerators run around the clock to keep food and beverages cold. This appliance lives in the heart of your home, so there's a chance you'll hear the compressor kick on throughout the day. This can get annoying when you're trying to work, enjoy time with family or go to bed early. However, there are a few tricks that may fix the situation.
Why Is My Fridge Making Noise?
Your refrigerator's compressor is responsible for circulating the flow of refrigerant. The attachment increases pressure around the liquid refrigerant so that it can reach all parts of the system. A refrigerator's compressor will start up when inside temperatures rise above selected settings.
Compressors make noise because assemblies consist of a motor and pump. If your refrigerator suddenly gets loud, the appliance may be experiencing an issue with a condenser fan or evaporator motor. It is best to hire a professional to inspect your refrigerator, as a repair could be in order.
How to Quiet A Noisy Refrigerator Compressor
Once you know your refrigerator is in operating condition, here's how to quiet a noisy refrigerator compressor:
1. Level the Refrigerator
One of the most common sources of refrigerator noise is uneven legs. In addition to soundproofing treatments, adjusting the base of the refrigerator will help with loud sounds. Ensuring bottom surfaces are lifted from the floor will result in fewer vibrations throughout the kitchen. You can also put a mat under your fridge to prevent noise.
2. Soundproof the Area Around the Refrigerator
Placing acoustic treatments on walls around a refrigerator can reduce its noisiness in large and small spaces. Whether your refrigerator fits inside an alcove or is positioned against countertops, soundproofing products like Echo Absorber™ Acoustic Cotton materials can make a huge difference.
Echo Absorber™ Acoustic Cotton from Soundproof Cow can be cut to size for diverse applications. These solutions absorb low, middle and high-pitch frequencies, giving you peace of mind, and you can remove the 80% recycled cotton materials as needed. Echo Absorber™ products are ideal for refrigerators since they resist the growth of mold, mildew and fungi.
Shop Echo Absorber Acoustic Cotton
3. Hang a Temporary Sound Barrier
Trying to watch a movie or head into the home office? Temporary sound barriers give you the flexibility to soundproof rooms based on circumstance. When a noisy refrigerator compressor causes problems for your routine, Soundproof Cow's Quiet Barrier™ Acoustic Quilts do the trick. Place the blankets in front of doorways or along the floor to reduce the sound of the compressor from one room to another.
Our sound barriers are available in various dimensions, including 2 feet by 4 feet and 4 feet by 8 feet. These acoustic solutions work great for rental apartments where you're unable to change the insulation or flooring throughout the building.
Shop Quiet Barrier acoustic quilts
Use Soundproof Cow Products for a Noisy Fridge Compressor
Soundproof Cow wants to be your go-to source for residential and commercial acoustic solutions. We shoot for 100% customer satisfaction from the moment you place your order to delivery. Purchase our "udderly" fantastic soundproofing products for your home or contact us for help with your selections today!
Learn More About Soundproofing Home Appliances