May 18, 2022
---
Table of Contents:
Laundry Room Doors
Laundry Room Walls
Laundry Room Flooring
---
The constant rumbling, buzzing and ringing from washing machines and dryers is enough to drive you crazy between meals, during evening hours and while you're trying to catch some sleep. You have the power to eliminate unwanted noise between cycles with soundproofing techniques you can complete yourself.
Follow these tips from Soundproof Cow, and you'll finally be able to watch TV, spend time with family and focus without constant distractions.
View this post on Instagram
Soundproofing the Laundry Room
The key to laundry room soundproofing is to look at the source of the problem. Laundry rooms are often unfinished and share a common wall with rooms you spend most of your time in. Use your eyes and ears to determine how sound is moving about the house, and make corrections using products from Soundproof Cow. Here are some ways you can create a soundproof laundry room:
1. Reinforce Laundry Room Doors
When was the last time you looked at your laundry room door? If you notice light shining between the sides of the door and the wall, sound can easily escape. One of the best solutions for an uneven door is to update its outer seal.
Soundproof Cow provides customers with our Quiet Door™ Perimeter Seal for a tight fit around crevices and corners. Our door seals are perfect for wood and metal doors and stand as an upgrade for improving acoustic performance. Keep sound and vibrations out with a silicone seal that stays strong even with changing temperatures.
Your Perimeter Seal will reduce noise transfer from the laundry room by getting rid of noticeable air gaps. You can further update your soundproof laundry room door with a Quiet Door™ Sweep for spaces between the bottom surface of the door and the floor.
2. Finish Laundry Room Walls With Insulation
Some residential laundry rooms are located in the basement, just below the bedrooms. It's common to have washing machines and dryers in unfinished rooms with piping, electrical wires and ducts running across the ceilings and walls.
For sound dampening for washers and dryers, we recommend our Quiet Batt™ 3-inch insulation. Easily fasten this multi-purpose barrier within interior and exterior walls as well as the ceiling for optimum dampening. Made of recycled cotton, Quiet Batt™ layers are environmentally friendly and get installed between wood and metal studs, limiting thermal energy transmission.
3. Upgrade Laundry Room Flooring
At Soundproof Cow, we understand every home layout is slightly different from the next. Due to the weight of washing machines and dryers, these pieces of equipment usually sit low to the ground for ease of use. This results in annoying vibrations that can be heard from connecting rooms.
Luckily, our online store is home to sound-absorbing floor underlayment compatible with stone, laminate, hardwood, tile and more. Place an order for Impact Barrier Flooring Underlayment created with 90% recycled rubber. Place this product just below flooring finishes to soundproof laundry rooms of any size and shape.
Soundproof Cow underlayment adds just half an inch of height to your floor and is available in waterproof options in case of a washing machine overflow. You can order underlayment in multiple thicknesses to block out noisy washers and dryers.
4. Use a Soundproof Quilt on Your Door
Temporary soundproofing barriers such as quilts can help you out when you only need to soundproof an area temporarily. This might fit your needs if you only need your laundry room soundproofed until your child starts sleeping through the night or if you work from home and have an important meeting where you need silence.
These Quiet Barrier™ Acoustic Quilts from Soundproof Cow come in various sizes to fit your needs. Just hang them up or lay them down, and you're good to go! Note — these products are no longer available in California.
5. Hang an Art Acoustic Panel
Function might take precedence over aesthetics in your laundry room, and understandably so. However, if you have some extra space in your laundry room, consider a customizable soundproof Art Acoustic Panel from Soundproof Cow. These panels have several benefits, including:
Washable skins
Customizable High Definition images from your camera roll
Interchangeable Images
UV protected dyes
Adding art to your laundry room may seem especially beneficial if your laundry room also serves as an entrance to your home.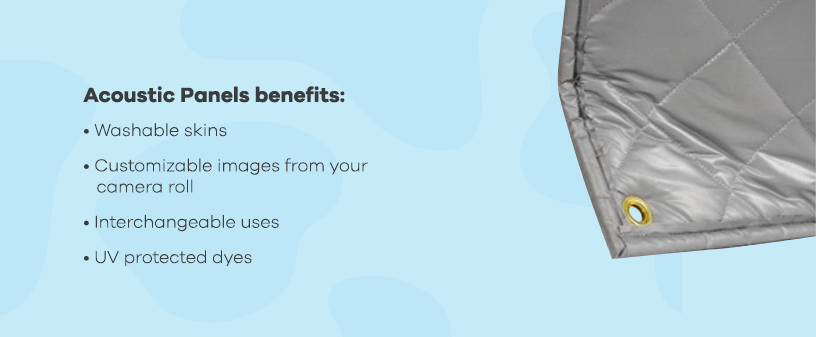 6. Lay Down a Carpet
Maybe not the most revolutionary soundproofing strategy, but carpets are still effective. It might be the simplest way to make your laundry room quiet. You can lay down an area rug that covers most of the room or choose to carpet the entire floor. Have fun picking out a rug or carpet that fits the aesthetic of your home and place it underneath your laundry machines to absorb excess sound.
Carpet already has some soundproof properties on its own, but there are some ways to spruce it up, too. If you already have carpeting in your laundry room and find it's not enough, try using the underlayment mentioned above.
7. Hang up Curtains or Blinds
Soundproofing your windows is another way to make your laundry room seem quieter. Retain the decorative elements of your home with curtains or blinds in your laundry room. Curtains dampen the noise pollution in your home, while blinds can absorb sounds.
If your laundry room has a window or a door with a window, consider hanging up curtains or blinds to help with noise reduction. The curtains you use should be heavy-duty so as to dampen the noise coming from the appliances.
8. Add Acoustic Foam to Walls
Acoustic foam is a cost-effective way to soundproof your laundry room. It is easy and quick to install and particularly popular in residential settings. You won't need to hire a professional sound technician to help you with installation. In a laundry room, acoustic foam can decrease interruptive noises caused by the washing machines and dryers.
Soundproof Your Laundry Room With Products From Soundproof Cow
Soundproof Cow is your leading source for acoustic panels, sound absorption materials and foam. We strive to bring our customers innovative products for sound reduction treatments across your residential or commercial space. For assistance with any of our soundproofing products, fill out a contact form online at your earliest convenience!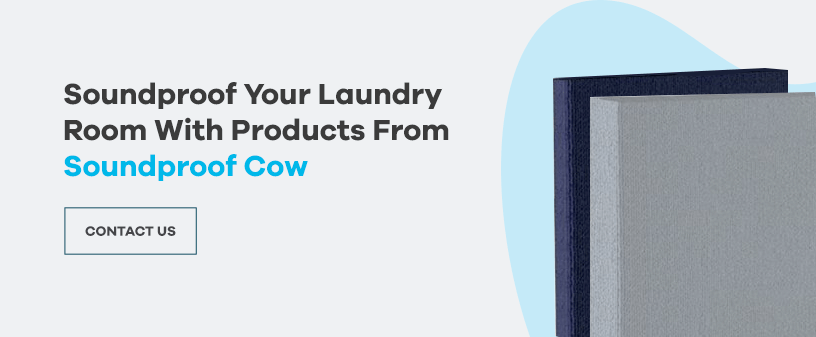 Learn More About Soundproofing Home Appliances
Soundproofing for Noisy Refrigerator