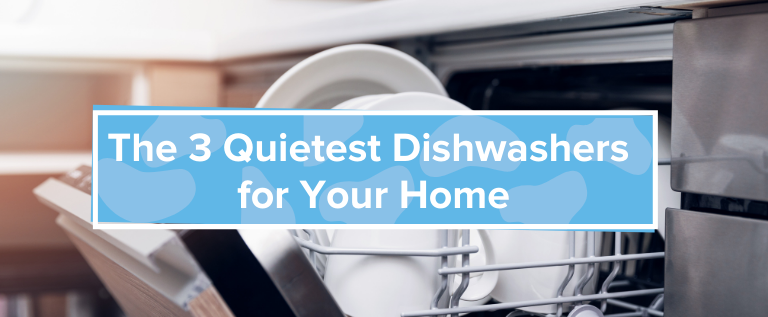 October 28, 2021
Having a dishwasher is a luxury, but these appliances can get noisy during higher wash cycles. If you want to upgrade your current dishwasher, choosing a quiet option can help you enjoy shows in the living room, eat dinner in peace and talk without raising your voice.
Here are some of the quietest dishwashers currently on the market:
1. Bosch 800 Series SHPM88Z75N Dishwasher
Known for producing long-lasting dishwashers for full-size families, Bosch designed the 800 Series SHPM88Z75N dishwasher to be efficient, spacious and, most importantly, quiet. Homeowners can enjoy a durable machine operating at decibel levels of just 42 dBA. The 800 Series dishwasher notifies you when the cycle is complete with infra-light sensors for a silent approach to doing the dishes.
Bosch 800 Series dishwashers give you six different wash cycles, a convenient third rack and 16 place settings. You'll love the quiet SHPM88Z75N dishwasher, as the stainless steel design enhances any kitchen setup.
2. LG LDP6797ST Dishwasher
The LG LDP6797ST makes our quietest dishwasher list since the appliance runs at an impressive 44 dBA during its loudest cycle. Homeowners gravitate to this LG model because it showcases the brand's QuadWash™ System, featuring adjustable racks that wash twice the normal amount of dishes with a four-arm cleaning method.
Aside from being a quieter dishwasher than other brands, the LG LDP6797ST ensures your plates, cups and silverware have a satisfying sparkle once the cycle concludes, even without pre-rinsing.
3. Samsung DW80R9950UT Dishwasher
Your search for a quiet dishwasher may just stop at the Samsung DW80R9950UT. Another reputable name in home technology, Samsung knocked this dishwasher design out of the park with one of the best decibel ratings on the market. The DW80R9950UT runs at a decibel level of 39 dBA, making it the quietest dishwasher on our list.
Consumers rave about the Samsung DW80R9950UT dishwasher for its seven wash cycles, quick heavy-duty cleaning times and Wi-Fi connectivity. Also, its outer surface is fingerprint-resistant.
Make Your Dishwasher Even Quieter
Soundproof Cow makes affordable sound-absorbing solutions for professional and DIY projects. If you want to make the area around your dishwasher installation quieter, we offer various products for the job. Check out some of our bestselling selections for kitchens:
Quiet Board™ Acoustic Panels: Create a barrier between the front panel of your dishwasher and interior racks. Soundproof Cow's Quiet Board™ Acoustic Panels are waterproof and soak up sounds from machines. The cylinder-shaped beads that make up each sheet absorb most frequencies, and the products are resistant to bacteria and fungi.
Echo Absorber™ Acoustic Cotton: Sound bounces around your kitchen when the dishwasher is running. Try using Echo Absorber™ Acoustic Cotton to cover surfaces directly next to the appliance. Our solutions are Class A flame-resistant and made of 80% recycled materials.
Purchase Dishwasher Soundproofing Solutions From Soundproof Cow
Soundproof Cow is your source for sound reduction and acoustic treatment products. We'll help you discover new ways to make your kitchen quieter, starting with your current dishwasher. Browse our versatile products online, or contact us today with any questions you may have.
Learn More About Soundproofing Home Appliances
Soundproofing for Noisy Refrigerator