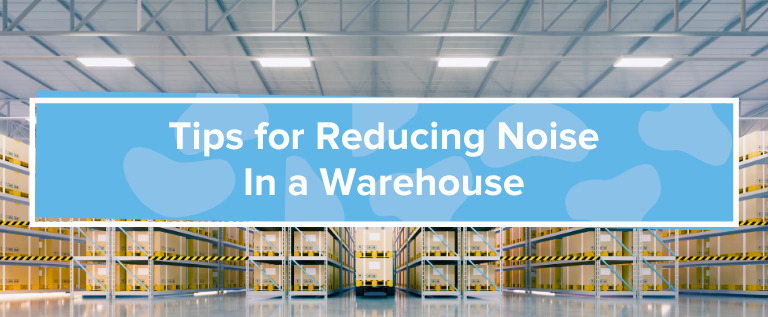 May 14, 2021
Warehouses are homes for utility vehicles, machines and loading docks. Your employees are constantly on the move to meet distribution deadlines, and all that movement can result in noise echoing throughout open spaces. Reducing warehouse noise helps to keep your workers safe from injury — and Soundproof Cow can help.
Why It's Important to Control Warehouse Noise
Some warehouses are open overnight. If a warehouse sits near businesses or a residential area, it's possible that others will hear the sounds of trucks and loading doors. Warehouse noise reduction is crucial for keeping the neighbors happy.
Keeping noise levels down is also essential to ensuring your team can focus on the job at hand. Loud noises in a warehouse can cause distractions while reporting inventory numbers or operating forklifts.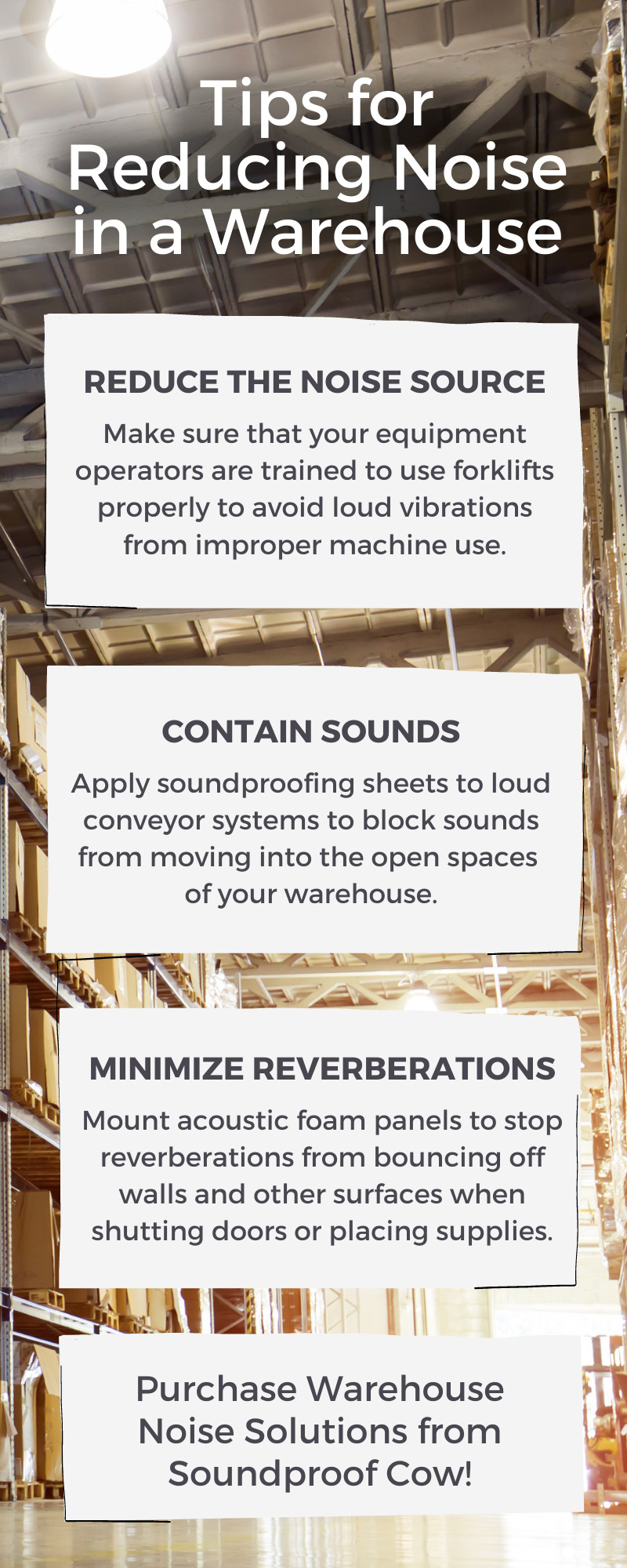 How to Minimize Warehouse Noise
Controlling noise levels in a warehouse calls for decision-makers to identify the source of the problem. Start by observing operations to see what is sending vibrations across metal walls and ceilings. If you're dealing with annoying sounds, check out these warehouse noise reduction tips below.
1. Reduce the Source of the Noise
Are your equipment operators using company machines correctly? Reducing warehouse noise is achievable when you prioritize employee training. Always assure that your employees know how to use forklift controls to prevent pallets from slamming. In some cases, a few simple adjustments can stop loud vibrations from moving about your facility.
2. Contain Sounds
Some machines are vital to your operations. If you're dealing with loud conveyor systems, containing the noise will help you maintain a productive work environment.
Quiet Barrier™ Soundproofing Sheets offer a solution for coating metal surfaces subject to vibrations. Cut sections to fit the exact contours of your conveyor installations for noticeable results. These lightweight sheets are only 1/4-inch thick, and you can use them to block sounds from moving into the open spaces of your warehouse.
3. Minimize Indoor Reverberations
Your warehouse workers may hear a slapback after placing supplies, shutting doors and powering on equipment. Mounting acoustic foam panels in your facility might be just what you need to stop reverberations from bouncing off walls and other surfaces.
Soundproof Cow carries numerous foam panel solutions for your applications. We recommend fastening Reinforced Aluminum Facing Acoustic Panels in rugged work environments. The polyurethane foam is flexible to suit the dimensions of warehouse walls, and our products support up to 65% noise absorption to keep your neighbors content. These panels are easy to install, with many featuring peel-and-stick backings for the ultimate convenience.
Purchase Warehouse Noise Solutions From Soundproof Cow
Soundproof Cow is your source for warehouse soundproofing solutions at affordable prices. We can provide you with long-lasting products to eliminate distractions in the workplace for fewer accidents and maximum uptime. Purchase any of our Quiet Barrier™ or acoustic foam panel products to take your noise reduction efforts to the next level.
Contact us today for more information about what our merchandise can do for you!