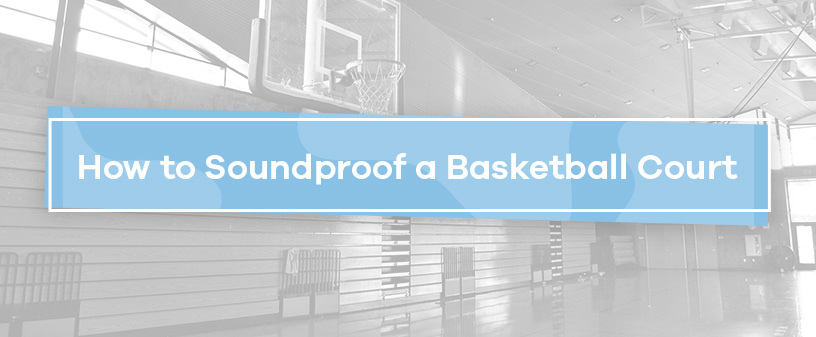 April 27, 2021
Basketball is a widely loved sport, played by 450 million people across more than 213 countries. If you've ever been to a basketball game, then you know how loud the court can get — buzzers, running players, stomping feet and an excited crowd can reach 100 to 120 decibels.
Sound travels in energy-filled waves. Whenever a player pivots or a referee blows their whistle, impact and airborne soundwaves travel across the basketball court. These noises bounce off the floors, ceilings and walls, causing noise pollution. Too much noise can take away from the game, distracting players and becoming too loud for the crowd to handle.
Keep reading to learn more about how you can soundproof your basketball court using DIY soundproofing tools like acoustic basketball court panels, soundproofing insulation, flooring underlayment and hanging baffles.
Reasons You May Want to Soundproof a Basketball Court
When soundproofing your basketball court, you want to control two types of noises.
Impact noises: Soundwaves caused by a physical impact are impact noises. Examples of these on and around your basketball court are the sound of a crowd stomping their feet on the bleachers or players' sneakers hitting the ground.
Airborne noises: Comparatively, airborne noises are soundwaves that travel through the air. Examples of airborne noises are crowds cheering or buzzers sounding.
When left uncontrolled, these noises can cause excess sound that is uncomfortable in large amounts. Luckily, there are ways you can manage excess soundwaves to make playing and watching basketball games more enjoyable.
Consider these reasons you may want to soundproof a basketball court.

1. Controls Echoes
Basketball courts are large, open rooms with smooth, reflective surfaces. If you stand at one end of an empty court and yell, you'll hear an echo — that is, the soundwaves bouncing back to you, reflecting off the opposite wall.
Soundproofing methods like acoustic panels have absorption properties that absorb excess soundwaves to prevent echoes. That way, when crowd members, players or coaches yell in excitement during your basketball game, your court won't fill with echoes of their voices.
2. Improves Acoustics
Acoustics refers to sound control in a space. Soundwaves travel in ripples, almost like water. They bounce around the room until they eventually run out of energy, either by themselves or via a soundproofing tool. Soundproofing tools help manage sporadic soundwaves, so the right amount of sound reaches your perception.
3. Reduces Noise Leakage
Noise leakage refers to the sound people can hear outside the court. Soundwaves can escape your arena through walls, floors and doors, especially impact noises. Noise leakage can bother surrounding people, resulting in complaints. Maintain peace and focus on the excitement of your basketball game by soundproofing your basketball court.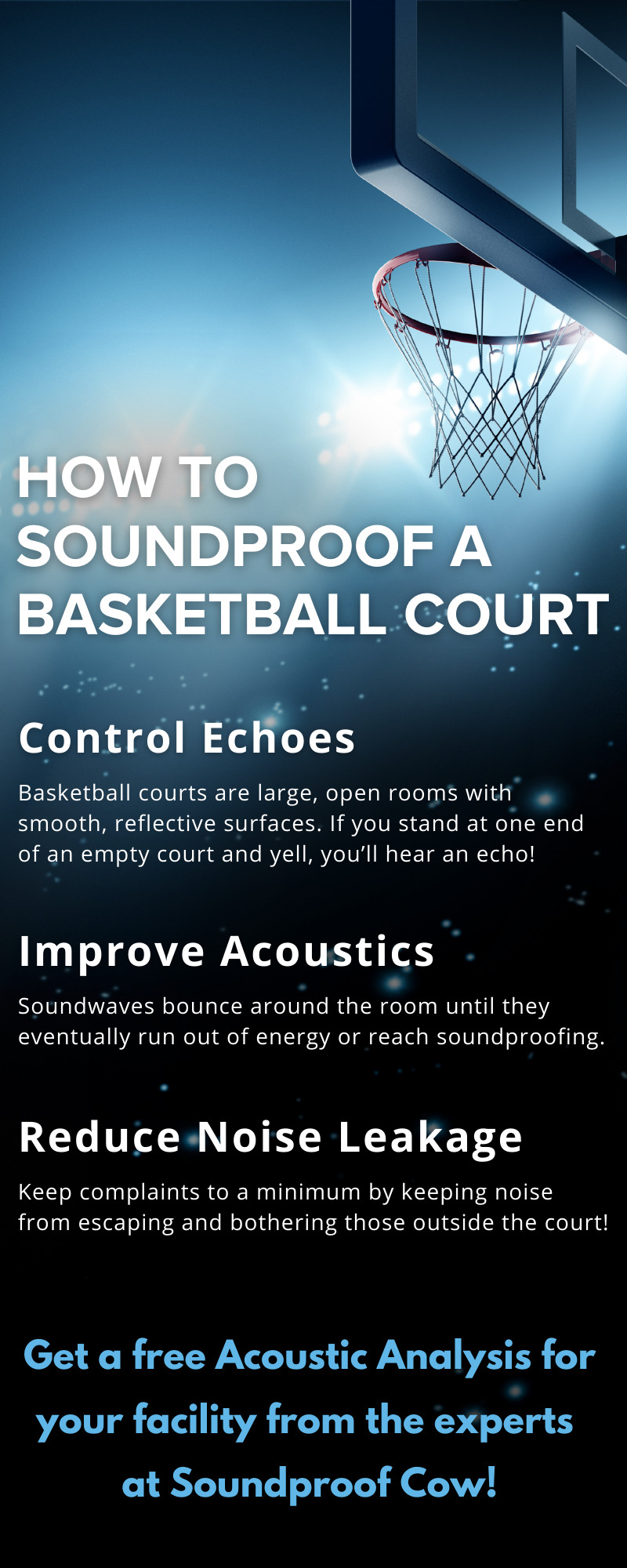 Ways to Soundproof a Basketball Court
Here are some ways you can soundproof your basketball court.
1. Acoustic Panels
Acoustic panels consist of compressed mineral wool or foam, packed with sound-absorbing pores that deaden and dampen sound. Hang acoustic panels on your walls, where soundwaves frequently travel and reflect.
When soundwaves reach the acoustic panel, the panel's pores vibrate, creating friction that transforms sound energy into kinetic energy. Kinetic energy dissipates quickly, resulting in the loss of sound.
Soundproof Cow offers two types of acoustic panels for basketball courts.
Art acoustic panels: Acoustic panels don't have to look like soundproofing equipment. Art acoustic panels are made-to-order, fabric-wrapped panels with a printed image or pattern. Consider printing your team's logo or photos of the players, proudly hanging them on the wall for everyone to see.
Fabric-wrapped acoustic panels: Similar to art acoustic panels, fabric-wrapped acoustic panels are acoustic panels wrapped in soundproofing fabric. These are typically a reliable choice for many basketball courts.
2. Soundproofing Insulation
High-quality insulation is another excellent soundproofing solution that adds to your wall's defenses. Soundproofing insulation is an internal tool that fits snugly into a wall's wood and metal studs. The tight fit creates a friction seal, which decreases sound transfer and absorbs excess soundwaves.
Our top soundproofing insulation recommendation is Quiet Batt™ Soundproofing Insulation. This insulation consists of 80% recycled, non-irritating cotton fibers, environmentally friendly and safe to touch.  Once applied, your crowd won't notice any apparent soundproofing treatment, but they will enjoy better acoustics.
3. Flooring Underlayment
Flooring underlayment goes under your floors to create a "floating floor." It's suitable for most floor types, including under-court flooring. The flooring underlayment itself consists of recycled rubber, which is naturally excellent at absorbing impact sounds.
The Impact Barrier QT Flooring Underlayment is beneficial for noise reduction in basketball courts. It undergoes extensive, rigorous tests in various assemblies and comes with a high Impact Insulation Class (IIC) rating. An IIC rating is a guide to how well a floor assembly soundproofs impact noises. The Impact Barrier QT Flooring Underlayment rates up to IIC-25 — higher than fiberglass, polyethylene, nylon matrix and cork alternatives.
Installing a flooring underlayment will allow your under-court flooring to absorb impact sounds, like players' footsteps. Your crowd and players won't notice a difference, except for dramatically improved acoustics.
4. Hanging Baffles
Hanging baffles are essential for rooms with tall ceilings, like those in indoor basketball courts. These noise-absorbing panels suspend from the ceiling, capturing any upward-traveling soundwaves in their fiberglass, foam or cotton core.
The core absorbs sound, preventing any echoes or reverberation. Reverberation is slightly different than echoes. While echoes reflect sound into the room, reverberation amplifies the sound. Too much reverberation can make it hard to hear. Preventing echoes and reverberation clears any excess soundwaves from your basketball court, creating smoother and more tolerable sounds.
Soundproof Your Commercial or Home Basketball Court With Soundproof Cow
Soundproof Cow is a leader in the DIY soundproofing material industry. We provide high quality soundproofing materials that resolve your acoustic treatment needs.
Basketball courts are significant culprits of sound pollution. They're large, open rooms meant to give players plenty of space to enjoy their sport and crowds enough room to gather and cheer on their favorite team. Because of this open space, basketball courts are naturally going to generate a lot of noise — unless you use soundproofing techniques.
Browse Soundproof Cow's soundproofing materials online. We offer many solutions, including acoustic panels, flooring underlayments, hanging baffles and soundproofing insulations. If you have any questions, let us know! Contact us online or speak to us directly at 866-949-9269.