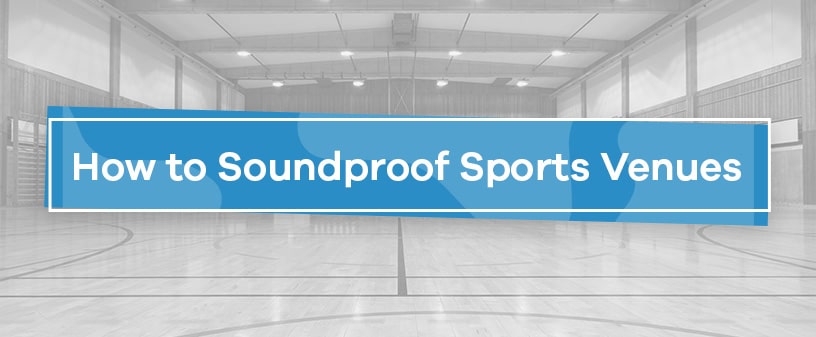 A lot goes into creating a great experience at a sports arena, and some of the factors are more noticeable than others. Soundproofing is a factor that makes a major difference every time people gather at a stadium, even if it's not always the first thing guests notice.
Why Is It Important to Soundproof Sports Facilities?
Consider how sports venues are used. Spectators pack into the arena en masse, and getting loud and rowdy is all part of the fun. But keeping sound levels within reason will ensure the best experience for everyone in attendance.
The same applies to other events a sports arena will host. A well-treated stadium is a great place to see a concert. Controlling the sound to limit echoes and reverberations helps performers sound their best. As for guest speakers or stand-up comedians, acoustic treatment allows the entire audience to hear every word from anywhere in the arena.
Key Principles and Considerations
When soundproofing a sports facility, you have to consider your goals and the obstacles you need to overcome to accomplish them.
Indoor sports arenas almost always have two sets of parallel walls, plus hard floor and ceiling surfaces. Sound reflects off of hard parallel surfaces to create echoes and reverberations, which send noise levels sky-high during a game and make it hard to hear speakers during other events.
The primary goal is to give soundwaves somewhere to go so they don't reflect as much, and when they do, they reflect toward areas you want them to go.

How to Treat an Arena for Better Sound Quality
Controlling stadium noise is possible with a few well-placed soundproofing tools. Here are some of the most useful materials for stadium acoustics and how they can be used to their full potential:
Get Quality Soundproofing Equipment Today
Soundproofing a sports arena is possible with the right tactics. Materials like acoustic panels and hanging baffles limit the amount of noise reflecting off of the walls and ceiling, while insulation and flooring underlayment can enhance the effects from the inside.
At Soundproof Cow, we have years of experience controlling sound energy in all kinds of settings, including sports arenas. Contact us online today to learn more about achieving the best sound quality in an athletic facility!
Soundproof Other Spaces