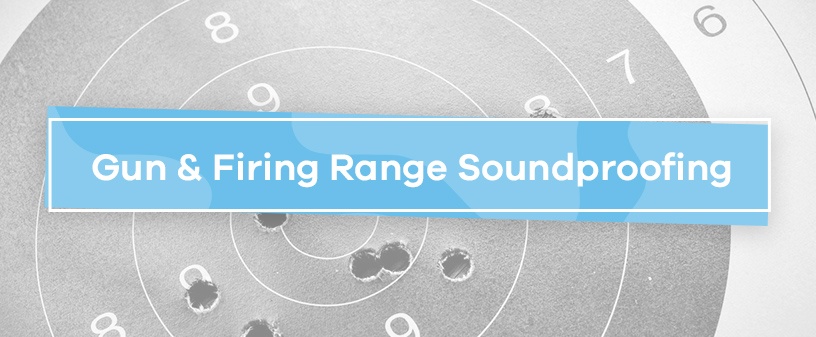 For any patron who visits a gun range, ear protection is a must. Gunshots at a firing range can lead to hearing damage because of the high decibel levels. Even with hearing protection, loud gunfire can be startling to patrons.
What if a gun range could reduce the high decibel levels produced at the facility? Fortunately, both indoor and outdoor gun ranges can make their facilities quieter by using soundproofing products. Soundproofing your gun range can make the environment more pleasant for your patrons and employees and keep your neighbors happy.
Gun Range Soundproofing Products
Gun Range Sound Absorption Products
Why Do You Need Gun Range Soundproofing?
Gun ranges have bare walls and hard floors. While built for safety, these hard, reflective surfaces create excessive echoes and noise reverberation. These result in a significant impact on patrons and employees from gunshot sounds.
A gunshot registers in the high decibel levels. Not just from the big guns, either — even handguns can be loud to newcomers and regulars alike. Indoors, this decibel level is even higher. Although your members wear ear protection, the sounds of gunshots can still cause hearing damage. For your employees or regular members, the risk of hearing loss is even higher.
Another common problem with inadequate gun range soundproofing is sound leaking out of the building, causing complaints. The gunshot sounds at a nearby gun range can bother occupants of nearby businesses and homes.
Gun range owners and associations come to Soundproof Cow because they want to offer a more protective environment for their employees and members. They also want to reduce the sound that leaks out of the building to keep neighboring businesses and residents happy. At Soundproof Cow, we have the gun range soundproofing materials needed to treat the range area and outer walls, greatly reducing the noise of gunshots.
People new to gun ranges often don't realize how loud the sound of gunfire can be. Some can be quite shaken when they hear multiple gunshot reports up close. Proper indoor firing range soundproofing can help you prevent startling new potential customers and keep them coming back.
Benefits of Gun Range Soundproofing
What are the benefits of gun range soundproofing?
Improve safety: Improve the safety of your gun range by decreasing the noise of gunshots; you further protect your members and employees from hearing loss.
Diminish sound: Reduce echo and reverberation, resulting in overall improved sound quality.
Keep the neighbors happy: Stop the sounds of gunshots from leaking out of the building and bothering occupants of nearby businesses or homes, which means ending complaints from neighbors.
Make newcomers more comfortable: Help prevent any new potential customers from being startled, overwhelmed or uncomfortable the first time they come to your indoor gun range and hear loud gunshot reports.
Create a more pleasant enviornment: By soundproofing your gun range, you can create a generally more pleasant environment for all your members to hone their shooting range skills.
Soundproofing your gun range will make your employees, visitors and neighbors happier by reducing the decibel levels emitted by your facility.
How to Build a Soundproof Shooting Range
How do you soundproof a gun range? The process varies based on whether you are soundproofing an indoor or an outdoor gun range.
Soundproofing an Indoor Shooting Range
Do you have an indoor gun range you want to soundproof? Maybe you want to soundproof a basement gun range or a gun range in a building that also includes classes and a store. Whatever your soundproofing needs, we can help you at Soundproof Cow.
Indoor gun ranges are usually long tunnels with targets at the end. For an indoor gun range, the focus of soundproofing tends to be on creating an enviornment that better protects patrons and employees within the facility.
While it's a good idea to soundproof as much of your gun range as you possibly can, including walls, floors and ceilings, it is often not feasible to cover your entire establishment with soundproofing material. Therefore, you should start by soundproofing the areas closest to the point of the gun report. When adding soundproofing, work your way out from the starting point.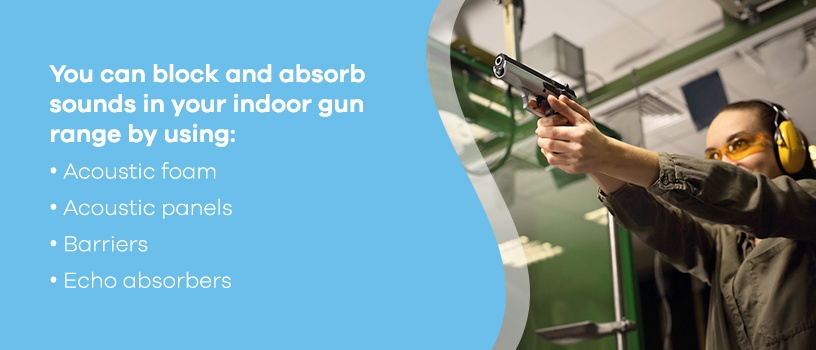 You can block and absorb sounds in your indoor gun range by using:
Acoustic foam
Acoustic panels
Barriers
Echo absorbers
You may also want to get feedback from your customers on the level of noise control. If they love how your soundproofing is working — great! However, they may also be able to clue you in about areas of your facility that would benefit from additional soundproofing efforts.
Soundproofing an Outdoor Shooting Range
For an outdoor gun range, the focus of soundproofing tends to be on containing the sound to prevent excessive noise from bothering nearby establishments and residents.
Use exterior sound blankets that can absorb sound and withstand exposure to the elements. These soundproofing products can be several feet tall to provide ample gun range noise reduction. You'll need a wall system or fencing to hang these sound barriers.
Whether you are soundproofing an indoor gun range or an outdoor gun range, you should still advise visitors to wear hearing protection.
Products to Soundproof Your Gun Range
What products should you use to soundproof your gun range?
Quiet Barrier™
The best way to approach indoor firing range soundproofing is to use Quiet Barrier™ Class A Specialty Composite products from Soundproof Cow. We've engineered this soundproofing barrier for minimizing loud and harsh sounds like engines, machinery and even explosions. The four-layer composite includes multiple layers of foam and soundproof barriers to maximize isolation and deadening of both airborne and impact sound.
Quiet Barrier™ Specialty Composite comes with easy peel-and-stick backing, so it's no problem to install it wherever you need it.
IsoTrax™
The IsoTrax™ Soundproofing System combines several soundproofing strategies into one simple package. This product's design enables quick installation inside a ceiling or wall. It comes with five sound isolation rails and 18 sound-deadening pads.
What benefits can you expect when you install IsoTrax™?
Noise reduction
Versatile
Affordable
Easy installation
Reduce transmitted sound and vibrational noise with IsoTrax™.
Fire-Rated Acoustic Foam
This sound-deadening material has built-in fire protection. Our fire-rated acoustic foam can withstand constant high temperatures to provide your facility with an additional layer of protection, along with reducing echoes and low-frequency vibrations.
Acoustic Panels
You can mount our shooting range acoustic panels to ceilings or walls to meet your soundproofing needs. These panels absorb sound and can enhance the environment of your gun range. Acoustic panels improve speech intelligibility and listening quality, so your visitors will not only enjoy more hearing protection, but they will also be able to hold conversations with their friends and your employees.
Echo Absorber
Reduce the echoes at your gun range with echo absorber. This product will dampen sounds of low to high frequencies — an ideal soundproofing addition to a firing range.
What benefits can you expect when you install echo absorber?
Lightweight material
Long-term durability and performance
Fits oddly shaped spaces
Environmentally friendly
Your choice of temporary or permanent installation
To reduce echoing at the gun range, be sure to install echo absorber.
Hanging Baffles

Hanging baffles are great for large spaces where sound waves have a lot of room to bounce around and for areas with limited wall space. These noise-absorbing panels can improve your indoor shooting range acoustics when you hang them on the wall or suspend them from the ceiling.
What benefits can you expect when you install hanging baffles?
Increased safety
Reduced stress
Durability
Improved ability to have conversations
Easy installation
Versatility
Cost-effectiveness
We offer several hanging baffles for you to choose from at Soundproof Cow.
Purchase Soundproofing Products From Soundproof Cow
At Soundproof Cow, we provide soundproofing products that exceed our customers' expectations. Contact us today to begin your soundproofing project or start with a free acoustic analysis.
Soundproof Other Spaces

I just wanted to let you know that in the end, sealing the air spaces on this door worked just fine and took care of the problem.
I really appreciate you taking so much time to share your expertise with me, and in particular recommending I try the simpler solution before investing in more expensive noise barriers. That is a big credit to you and your business.
- Mike