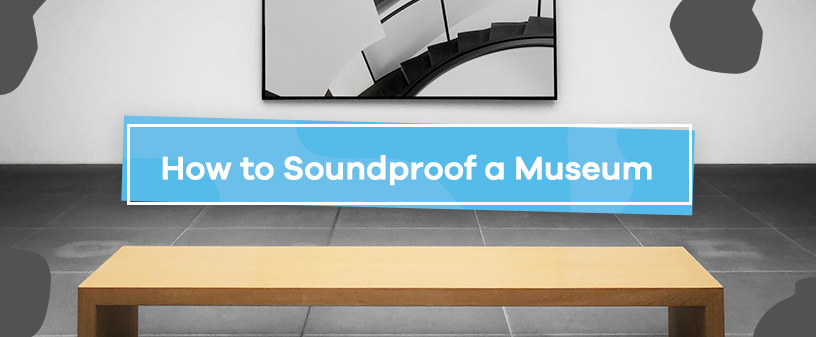 Museums are wonderful places for people to enjoy art, learn about history and appreciate the human experience on a deeper level. But it can be hard for someone to enjoy the displays if distracting noises are coming from every direction. Museums may be excellent places to spend an afternoon, but they can also be notorious for less-than-great acoustics.
The good news is that techniques and products exist for museum soundproofing. If you're a museum owner looking to improve your museum sound, then you've come to the right place. With the right acoustic materials for museums, you can improve your space's acoustics to give your visitors the best experience possible.
Benefits of Soundproofing Museums
As you may have already guessed, soundproofing your museum provides several benefits. Here are some of them:
Areas of a Museum to Soundproof
To experience the benefits above, you'll have to make the right soundproofing choices. You need to put the right products and materials in the correct places to experience the best sound-dampening results possible.
Here are four areas you should soundproof in your museum and the acoustic materials you need to make it happen:
Walls
The walls are a crucial area to soundproof. Noises from outside your museum or from other rooms within your space can pass through walls, leading to disruptions throughout your exhibits. The goal is to stop these sounds from passing through in both directions. Here are some products to help you accomplish this:

Ceiling
Many museums have high ceilings that contribute to echo and reverb. Others have several stories that can lead to sound traveling between floors, including impact and airborne noises. Here are products you can use on ceilings to aid in your museum soundproofing endeavors:
Floors
Floors can contribute to the buildup of noise in your museum. Many museums use hard material floorings that look pretty to the eye but can be less than ideal for the ear. But even carpeted flooring can benefit from soundproofing to reduce vibrations that can travel into the rooms below. Here are two types of flooring underlayment you can use to achieve your desired results:
Doors
Soundproof your museum's doors to keep unwanted noises out of individual rooms. Here are some products to help with this:
Soundproof Cow Can Help Improve Your Museum Acoustics
Museums may seem tricky to soundproof, but Soundproof Cow is here to make it easy. Our products can help you achieve better acoustics for your exhibits while limiting unwanted sounds from traveling too far. When you need to tame unruly sounds in your museum, Soundproof Cow products are the way to go.
Participate in an acoustic analysis today to learn more about how you can soundproof the spaces within your museum. Contact us online for more information about how we can help!

Soundproof Other Spaces