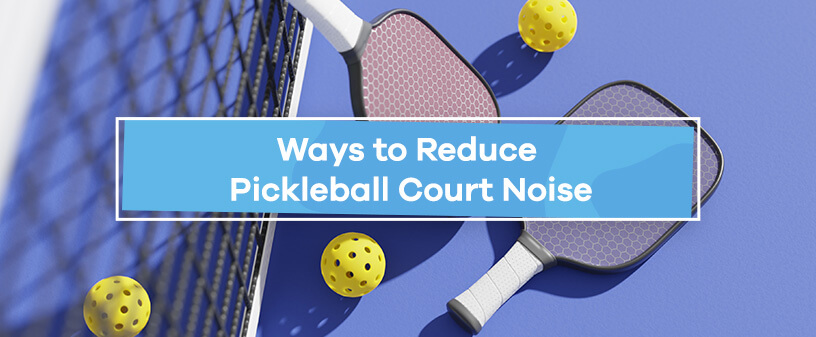 September 20, 2023
Pickleball is taking the world by storm — everyone from college students to retirees love picking up a paddle and joining the fun. Entering a league or playing for the thrill of it is sure to provide an exciting time, but it's no secret the ball hitting the court is noisy.
There are a few known pickleball noise solutions you can consider to manage unwanted sound. No matter if you're playing on an indoor or outdoor court, this is your guide to pickleball noise reduction methods.
Common Pickleball Noises
Pickleball balls are created using plastics and polymer materials. The game may be similar to tennis in its rules, but the harder pickleball ball can definitely be heard by people surrounding your court. Each time the ball hits the ground or a paddle, there is an audible popping noise others could find annoying if it echoes.
In doubles matches, there's a good chance players will shout to communicate with their partners or even celebrate after earning points. This poses an issue if your court is open in the early morning or after dark.
Types of Pickleball Noise You're Dealing With
When focusing on pickleball sound mitigation, it's helpful to know what types of noise are at play:
Impact noise: This describes the sound heard after one object makes contact with a surface. Energy transfers between the ball and the ground as well as the paddles.
Airborne noise: Think of airborne noise as sound traveling as vibrations to your ears. In pickleball, you'll likely encounter airborne noise when a player grunts or yells.
Best Indoor and Outdoor Pickleball Noise Solutions
If you enjoy indoor or outdoor pickleball, consider these tips for noise mitigation.
Cover Walls With Acoustic Panels
Pickleball court noise could be a problem when people in neighboring rooms are trying to host other activities, like yoga or spin classes.
A quick solution is to apply acoustic panels to shared walls. Find perforated wood, fabric-wrapped and art acoustic panels that will do the trick.
Use Hanging Baffles
Reduce the sound of pickleball balls echoing with hanging baffles. These devices are excellent for pickleball noise mitigation in areas with high ceilings.
Suspend reliable sound absorption products from the ceiling with strong chains. The solutions do not interfere with gameplay, and they control unwanted echoes that happen after serving and returning the ball.
Hang Soundproof Blankets and Quilts
Outdoor pickleball courts are usually grouped together in public spaces. One way to minimize the transfer of sound from one court to another is to fasten soundproof blankets and quilts along perimeters. Temporary sound barriers give you the flexibility to move the products as needed. Tie soundproof blankets and quilts to fencing. This helps players focus and others enjoy their experience in parks and recreation centers.
Choose Soundproof Cow for Pickleball Noise Reduction Products
Soundproof Cow takes a solutions-based approach to sound reduction and acoustic projects. We offer impressive sound management products ideal for the do-it-yourself enthusiast and professional teams.
When you need to silence a pickleball court, "mooove" to our catalog for soundproofing and sound absorption solutions that make all the difference. If you have questions, contact our professionals for help.