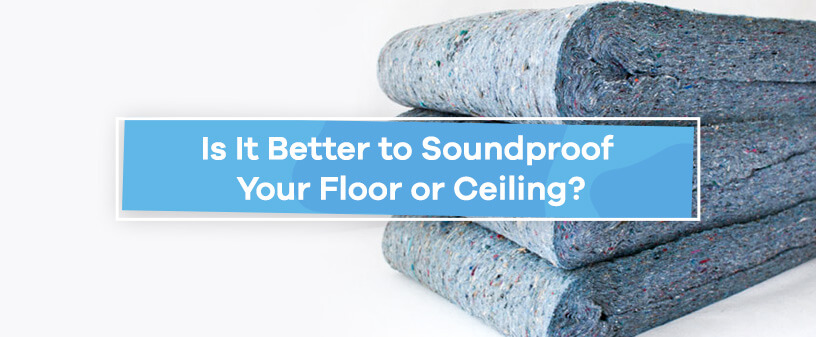 September 15, 2023
Whether you're in a residential or commercial space, noise from neighbors or your hobbies can get out of hand. Not everyone has time to experiment with soundproofing or sound-dampening projects, so it's good to know what's worth spending your money on.
Is it better to soundproof your floor or ceiling? The answer depends.
Your Goal for Soundproofing
Anytime you're soundproofing a room, evaluate your goal. Are you trying to stop noise from leaving your space or prevent outside noise from coming in?
If people below can hear your footsteps or there is an echo when you're talking, soundproof the floor. When upstairs neighbors are too loud, you can feel vibrations from people moving, or the sound of pets running around gets old, soundproof your ceiling.
Soundproofing a Floor
There are a few ways you can soundproof a floor.
1. Acoustic Underlayment
Acoustic underlayment materials are designed to sit under tile, laminate, stone, hardwood flooring and carpet. From softening footsteps to stopping accidental drops and waking your downstairs neighbors, acoustic underlayment solutions give you the flexibility to treat surfaces with products in multiple thicknesses.
2. Door Sweeps and Seals
There's a chance the sound you hear through the floor is traveling from underneath doors — this is especially possible in apartment buildings or business centers.
Positioning door sweeps and seals at entry points can reduce noise from moving from point A to point B. These devices fill the gap between the floor and the bottom of your door without getting in the way of opening and closing.
3. Soundproof Quilts
A soundproof quilt acts like a blanket you can position to stop noise from breaking into your space. These are versatile accessories you can use as needed to dampen noise coming from below.
Maybe you're trying to sleep and decide to put a soundproofing quilt across the floor of your room to silence the downstairs neighbor or you're assembling new furniture and want to keep sound from moving downward.
Whatever your application, a soundproofing quilt is great on existing floors.
Soundproofing a Ceiling
Soundproofing a ceiling calls for a different approach compared to treating floors.
1. Acoustic Foam Panels
Acoustic foam panels are your secret weapon in the fight against noisy upstairs neighbors. These accessories are available in a variety of shapes and sizes. Place multiple acoustic foam panels across your ceiling to cancel out unwanted noise from others walking around or talking.
2. Acoustic Insulation Materials
When you're serious about soundproofing a ceiling, many do-it-yourself enthusiasts and professionals get results with acoustic insulation like Quiet Batt® 30. Insulation fits between ceilings and the floors above in multistory structures for sound absorption and temperature control benefits.
3. Hanging Sound Baffles
Sound baffles control sound in your space rather than letting it bounce around and cause disruptions. These panels are usually made from acoustic cotton or foam to intercept vibrations before they go back toward the source.
Hanging sound baffles are effective in large open rooms where soundwaves have space to move. You can make your residential or commercial space smaller from a sound standpoint to better control noise distribution — something your neighbors will appreciate.
Choose Soundproof Cow for Acoustic Products
Soundproof Cow has decades of experience in the soundproofing and acoustic treatment space. It's our goal to help you manage your complex noise problems with user-friendly solutions. We'll help you find the permanent or temporary soundproofing materials and sound absorption offerings you need for peace of mind.
Start your project by purchasing acoustic products from Soundproof Cow today! Or, ask us questions by submitting a contact form.