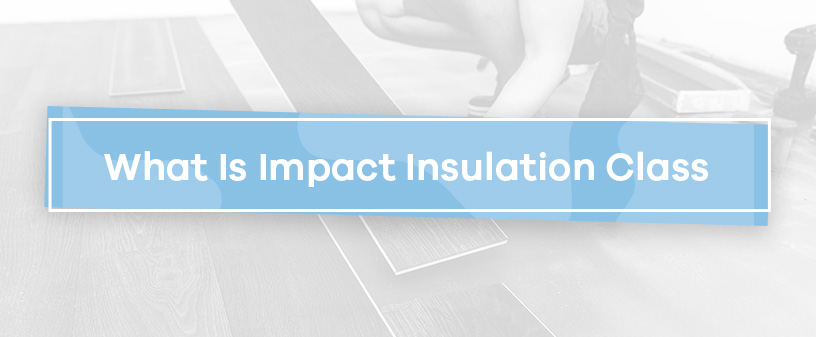 April 23, 2021
How tired are you of hearing your upstairs neighbors? Or, are you receiving endless noise complaints from the people below you? You may want to think about your floor's Impact Insulation Class (IIC) rating.
IIC rating is a way for sound technicians to quantify how well your floor blocks impact noises. There are two types of noises — airborne, which travel through the air, and impact, which travel through solid materials. Impact noises are most relevant in flooring, which you're almost always walking on or physically interacting with.
Continue reading to learn more about what an IIC sound rating is, along with tips on how to improve it, like adding a flooring underlayment to your floor's assembly.
What Are Soundwaves?
Sound is a vibration that travels in energy-filled waves. There are trillions of dancing molecules suspended in the air around you, and even more densely packed molecules within solids. As soundwaves travel through these molecules, they gradually exert energy until they eventually dissipate. Soundwaves travel similarly to water ripples, moving in all directions and traveling through or reflecting off surfaces.
Airborne vs. Impact Noises
Soundwaves generate noise. In the soundproofing world, the goal is to hear sound and avoid noise. Noise is any unwanted sound, like your upstairs neighbor working out or their TV blaring.
There are two types of noises to consider.
Airborne noises: Any soundwaves transmitted through the air are airborne noises. Examples of airborne noises are someone's voice and echoes.
Impact noises: Comparatively, any soundwaves that travel through solid materials are impact noises. Common examples of impact noise are the sound of footsteps or furniture moving.
What Is IIC Sound Rating?
IIC is an acoustic rating that rates how well a floor assembly blocks impact vibrations. The higher the IIC rating, the better the assembly is at blocking impact noises.
How to Calculate IIC Rating
An IIC rating calculates the floor assembly's noise-blocking ability. The floor assembly includes everything that makes your floor — the joists, subfloor, underlayment and floor covering.
You can't test it at home by yourself, but you can buy products that have undergone testing, which we'll list later in this post. The process behind testing the IIC rating is fascinating. Professionals use a tapping machine with steel-faced hammers, then strike the floor to generate an impact noise. Next, they calculate the amount of impact sound lost during the process and plot it onto a graph. Finally, the professional will reference those calculations and plot points to identify an accurate IIC rating.

What Is a Good IIC Rating?
The International Building Code requires many public structures to have an IIC rating of at least 50. Whether you're in a residential or commercial space, strive for this number to achieve the most comfortable environment. Some assemblies, especially those with flooring underlayments, can reach an IIC rating in the 80s.
The Importance of Impact Insulation Class
Have you ever lived in a multi-story house or on the bottom floor of an apartment complex? If so, you know how bothersome it can be to hear your upstairs neighbors throughout the day. A high-scoring IIC floor rating is crucial because it limits the level of impact noises that reach lower levels, resulting in a more comfortable and tolerable lifestyle.
How to Improve Your Floor's IIC
The best way to improve your floor's IIC rating is by tackling different aspects of your floor's assembly, including your floor's joists and flooring underlayment.
Joist floorings offer more impact noise support than concrete flooring. By surface floor type, approximate IIC ratings for joist floorings are as follows.
Tiles: 40 IIC
Vinyl flooring: 47 IIC
Hardwood flooring: 47 IIC
Plywood: 55 to 58 IIC
Concrete: 56 to 65 IIC
Carpet and underlay: 75 to 85 IIC
No matter the type of flooring you have, the best way to improve your floor assembly's IIC rating is by adding a flooring underlayment. A floor underlayment is a rubberized layer of fabric you place between the subfloor and surface layer. Rubber is a dense material that is naturally excellent at absorbing impact noises, making it a reliable option to use when trying to improve your floor's IIC.
Our top recommendation for a reliable flooring underlayment is the Impact Barrier QT Flooring Underlayment. We've tested it in hundreds of field and laboratory settings, resulting in a sound reduction rating of up to 25 IIC higher than fiberglass, polyethylene, nylon matrix and cork alternatives.
How Do You Install IIC Insulation?
The Impact Barrier QT Flooring Underlayment suits almost any floor types, including:
Tile
Stone
Laminate
Hardwood
Vinyl
Carpet
Most flooring underlayments are easily installable without the need for elaborate adhesives or expensive tools. To install, carefully measure the flooring underlayment and place it under your floor's surface. For floating floors, use soundproofing tape around the butt joints and seams to secure the underlayment into place.
Before buying or installing flooring underlayment, do your research on what thickness you need. The Impact Barrier QT Flooring Underlayment is available in various thicknesses depending on your existing assembly. Most commonly, you can find 1/8″, 1/4″ and 3/8″.
Specific installation processes primarily depend on your flooring underlayment and assembly type. Learn more about floor installation by contacting a trusted sound technician, like those at Soundproof Cow.
Have Any Questions? Contact Soundproof Cow to Learn More About Flooring Underlayments
Soundproof Cow has assembled a passionate team of soundproof technicians. We care about two things — developing the most effective soundproofing tools for our clients, and working one-on-one with our clients to deliver satisfactory results.
Your IIC rating plays a crucial role in how well your flooring absorbs and blocks unwanted sounds. At Soundproof Cow, we have a few flooring underlayment options, including the Impact Barrier QT Flooring Underlayment and the PROFLEX™ 90. We recommend both these highly effective solutions. We also offer various installation products, including soundproofing tape and other adhesives.
If you're not sure where to start on your flooring underlayment project, that's OK! The herd at Soundproof Cow is here and ready to help. Learn more about how we can help you by contacting us online, or by giving us a call at 866-949-9269. We'll point you to the right products and give you reliable tips on how to quickly and proficiently install them into your floor's assembly.