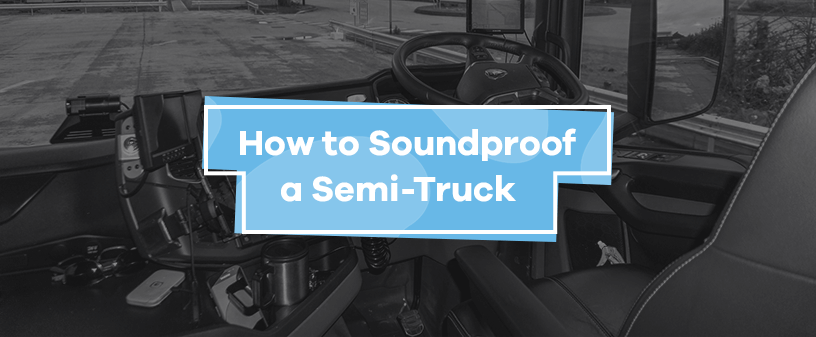 October 23, 2020
More than 3.5 million Americans drive trucks for a living, making it one of the country's most popular occupations. Many of these drivers are full-time semi-truck operators who live, work and sleep in their rig most of the year. While this is a great way to keep costs low and help you travel with some of the comforts of home, it can also be a distracting environment for sleep or after-work relaxation.
Truck stops and rest areas are notoriously busy places, no matter the time of day or night. When there is a lot of sound coming from inside or outside of your truck, catching a mid-afternoon nap, getting a restful night's sleep and staying focused while driving can be challenging. Feeling rested is an essential part of a truck driver's job, which requires long hours, constant attention and deep focus while on the road.
If you're one of the many people who live, work and sleep in a semi-truck for the majority of the year, use this guide to find out how to use soundproofing to create a more comfortable space.
---
Table of Contents:
Sources of Noise in a Semi-Truck
Tips for Soundproofing Driver's Cockpit and Sleeper Cab
Soundproof Truck Cab Doors
Soundproof Truck Cab Floors
Soundproof Truck Walls and Roof
Tips for Creating a Quieter Semi-Truck
---
Sources of Noise in a Semi-Truck
From barking dogs to heavy rain to howling winds, noise can come from all sorts of places while driving your truck and when you're parked for the night. These sounds aren't just bothersome — they are also a risk to you and others on the road. Driving with distractions present can be dangerous, and often, those distractions are unintentional and come from the environment around you.
Common causes of semi-truck noise include:
The quieter your truck is, the easier it will be to detect any uncommon or worrisome sounds. By using semi-truck soundproofing to reduce and eliminate noise pollution in your rig, you're doing your part to create a safer and more peaceful ride.
Tips for Soundproofing the Driver's Cockpit and Sleeper Cab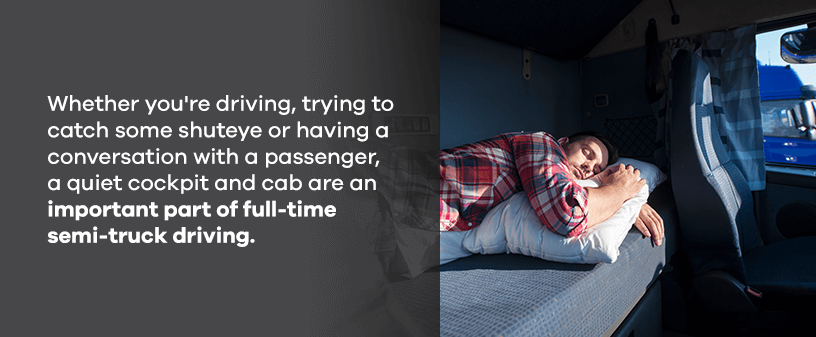 Whether you're driving, trying to catch some shuteye or having a conversation with a passenger, a quiet cockpit and cab are an important part of full-time semi-truck driving. Some noise — like items rattling around in your cupholder and console — are easy fixes you can do once pulled over. Other sounds — like construction and other drivers —  are beyond your control. Fortunately, there are several soundproofing materials and methods you can use to minimize or even eliminate those sounds.
Before you begin soundproofing, take inventory of the noises you hear. Identify problem areas around your rig. For many drivers, the cab doors, floors, walls and ceilings are frequently to blame for noisy conditions. Once you've identified where most of the sound is coming from, you can choose the soundproofing method that works best for your space and budget. Here is what you need to know about soundproofing a semi-truck:
How to Soundproof Truck Cab Doors
If your truck's doors are thin, unsealed or leave a small gap between the door and the frame or window, outdoor noises can easily filter inside. Mass loaded vinyl barriers, sound deadening sheets, sound coatings and sound sealants can help:
For door windows, look into replacing the current glass panels with thicker, more sound-resistant ones. When you're not driving, you can also use noise-reducing curtains, which will block out unwanted noise and light at night. In many cases, you'll only need one or two of these methods to eliminate the excess noise coming from your semi-truck doors effectively, but feel free to mix and match these methods to create an even quieter environment.
How to Soundproof Truck Cab Floors
A lot of semi-truck noise comes from your tires rolling against the road while in motion, but sound can also seep into your sleeper cab while you're parked if there are tiny cracks present or if you don't have any sort of flooring between you and the bottom of the truck. While rugs and carpets can certainly help muffle these sounds, layering sound deadening mats and underlayments on the floor is the best way to manage it: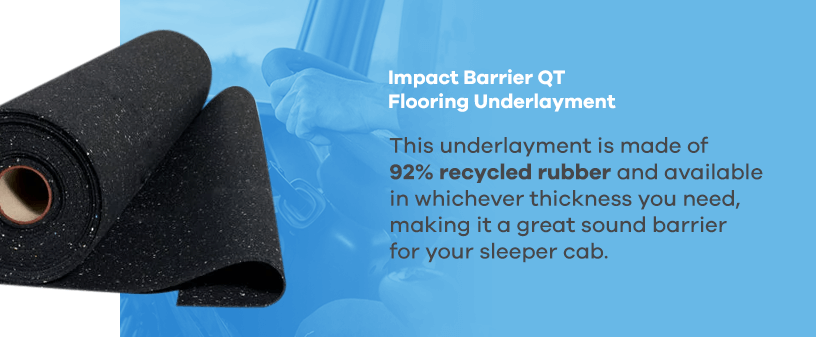 No matter the type of flooring you've got in your sleeper cab and cockpit, a layer of underlayment will do wonders for reducing vibrations and sounds that threaten to distract you on the road and interrupt your downtime. When applying sound deadeners to your floor, concentrate on those areas where the sound is most noticeable, like the floorboards beneath the driver and passenger seats.
How to Soundproof Truck Walls and Roof
Small cracks in your walls and roof — even those too small to see — can create a lot of noise inside your truck. Thin and worn walls and ceilings can also contribute to a noisy sleeper cab, especially during heavy rain or strong winds. The best way to combat these problems is through barriers, panels and truck sound deadening insulation:
In addition to these methods, MLV and a coat of Silent Running can also help eliminate noise that comes from your walls and roof.
Additional Tips for Creating a Quieter Semi-Truck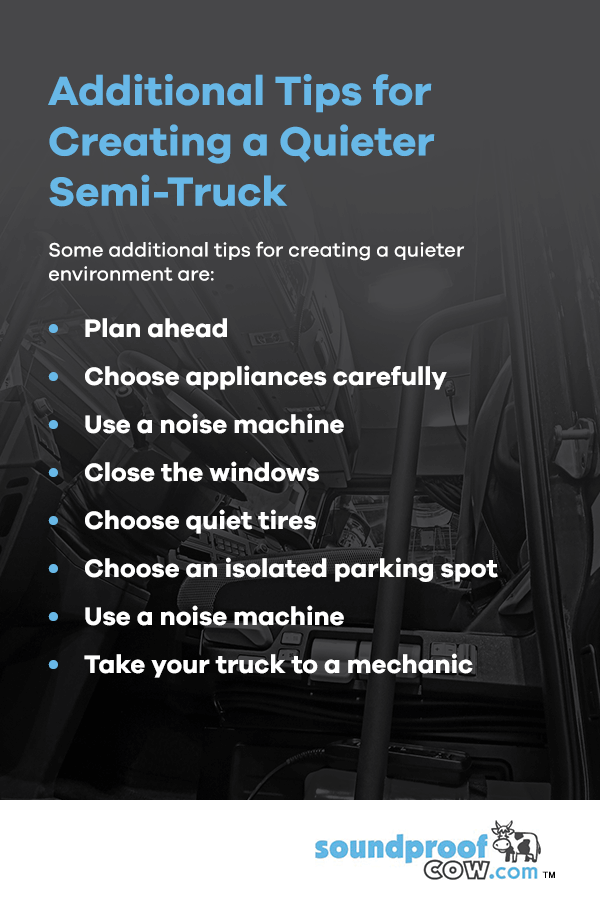 As you can see, there are several noise-reducing options available to help you transform your semi-truck into a quieter, more comfortable place. Some additional tips for creating a quieter environment are:
With the help of these tips — and a soundproofed cockpit and sleeper cabin — you are well on your way to a more comfortable ride, free of excess noise pollution.
Soundproof Cow Can Help You Soundproof Your Rig
While truck driving has its rewards, long hours on the road and being away from home is tough work — that's why semi-truck drivers deserve a quiet, relaxing space and a restful night's sleep! Soundproof Cow has the soundproofing materials and tools you need to make your semi-truck feel like your home away from home, including acoustic panels, insulation, barriers, dampening and deadening systems, flooring underlayments and sound adsorption foam.
Need help deciding which soundproofing is best for your ride or have a question about installation? We're here to help! Give us a call at 1-866-949-9269 and tell us about a little bit about your truck and sound concerns. You can also fill out our soundproofing questionnaire form to help us learn more about your needs.
Visit us online to learn more soundproofing tips and shop our inventory of soundproofing and sound absorbing supplies today!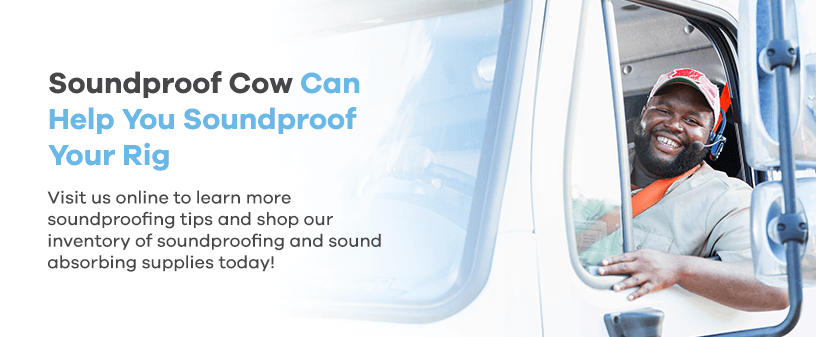 Learn More About Soundproofing for Equipment
Construction Equipment Soundproofing