September 21, 2022
Acoustic Cotton Features and Benefits
One of our most cost-effective sound insulation materials, Echo Absorber™ panels and baffles effectively dampen low, middle and high-frequency sounds as well as — or better than — other higher priced man-made materials. Cotton sound insulation is lightweight and offers superior acoustic properties, particularly in areas where loud echoing is common.
Acoustic cotton is an excellent choice if you are looking for a building code-friendly acoustic soundproofing material that can be installed permanently or temporarily in a variety of oddly shaped spaces. Our product is made of flexible natural fibers that are fungi-, mold-, and mildew-resistant as well as Class A™ flame-resistant, ensuring they will meet even the strictest building code requirements while delivering long-term performance and durability.
Echo Absorber™ acoustic cotton panels are an environmentally friendly choice, too. Our product is made from a minimum of 80% recycled materials, cutting down on waste. As well, it's completely VOC-free and contains no fiberglass, formaldehyde or other potentially harmful substances. This makes it a great choice not only for industrial applications but also for environments such as office buildings, classrooms and other spaces where long periods of exposure are common.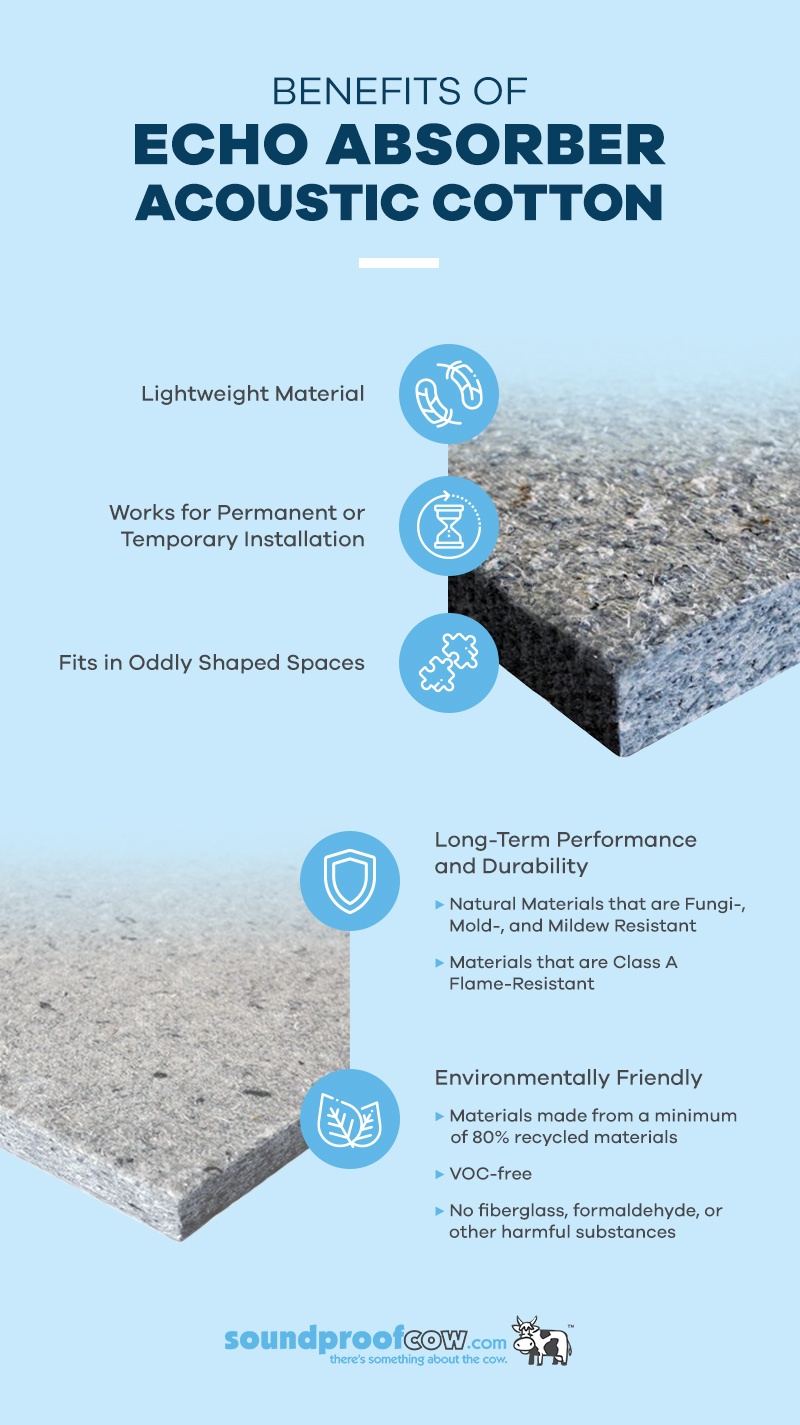 Applications
Echo Absorber™ cotton acoustic paneling is perfect for call centers, offices, conference rooms, gymnasiums, theaters, studios, computer rooms and auditoriums, as well as manufacturing, industrial and warehouse facilities. Its high density means it excels at stopping ambient echoes and reverberation, though it can also be installed inside wall paneling to prevent sound transfer.
For heavy-duty applications where maximum sound deadening is required, our 2" thick panels deliver an average noise reduction coefficient of 1.00. A 1" thick version is also available for less-demanding applications. Visit individual product pages to view detailed specifications.
Echo Absorber™ cotton paneling is easy to cut to size and install in any application, making it a great choice for both DIY and professional projects. Be sure to purchase a tube of our PL® premium construction adhesive when you place your order!
Acoustic Cotton Panels Help Reduce Reverberation
What's more annoying than an echo? The answer is easy — reverberation.
The principle of reverberation is simple to understand. As sound bounces off surfaces, a single echo multiples. These echoes cause a constant cacophony of sound, which most people consider noisy.
Take the case of a busy call center. Without soundproof materials like cotton sound absorption panels, every representative's conversation contributes to the room's noise level. If all the phones ring and everyone talks at once, no one can concentrate. The noise level would wax and wane throughout the day, affecting productivity levels and customer privacy.
Natural cotton fiber soundproofing absorbs ambient sounds immediately to help reduce the problem of reverberation. When sound waves meet the cotton fibers, the waves stop and no longer reflect around the room. In other words, no echo is produced. Without an echo, there aren't any annoying, loud reverberations — just manageable noise levels.
Questions? Contact Soundproof Cow Today
Whether you're dealing with a noisy environment in general or you want to tamp down reverberation, trust Soundproof Cow to help. Our team of sound experts can work with you to determine which of our products will be the right solution for your commercial or residential application, such as natural cotton fiber soundproofing panels or hanging acoustic foam baffles. Plus, we even offer a free acoustic analysis for all our customers.
How does the acoustic analysis work? Simply tell us more about your noise problem. The more details you can offer, the better! Our acoustic analysis considers all possible sound sources, as well as how the size of your room (and the materials in it) contribute to your noise issue. Your input allows us to make recommendations based on our years of expertise.
Ready to reduce nagging noise at your home or business location? The Echo Absorber™ line of cotton acoustic panels and baffles is just one of the many soundproofing materials we offer our customers. To learn more about any of our products, or for assistance choosing the best material for your needs, contact our office and speak with one of our experts directly.