September 21, 2022
What Are Sound-Absorbing Partitions?
A soundproof partition is a portable, sound-absorbing wall, usually made from fabrics like cotton or polyester. When sound-absorbing materials like polyester soak up noise, the sound waves turn into small amounts of heat energy instead of bouncing back into the room. They reduce the impact of sound and make it much less noticeable. We custom-make our Udderly Quiet™ Acoustic Partitions with noise-absorbing fiberglass on the inside, and personality-fitting fabric colors, textures, images or artwork of your choosing on the outside.
Although noise partitions will not completely soundproof a space, they will dampen sound and provide privacy so you can complete tasks, instead of watching a co-worker juggle paperclips. Our soundproof room dividers are available in four-foot-by five-foot dimensions, but we encourage you to order custom sizes to meet your needs.
Overall, soundproof partitions are an excellent option if you need to reduce echo, increase privacy, reduce background noise or "build" a temporary soundproof room within a room. They require minimal assembly and these portable soundproof walls are light enough for one or two people to move them around a room.
What Are the Benefits of Acoustic Room Dividers?
Soundproof partitions can instantly transform a space and make it more comfortable, a lot less noisy and more visually appealing and organized. You can make an office, restaurant or any room look more clean and modern, all while reducing noise distractions and improving privacy. Here are the benefits of noise partitions, and reasons to consider adding them to your business, workplace or home: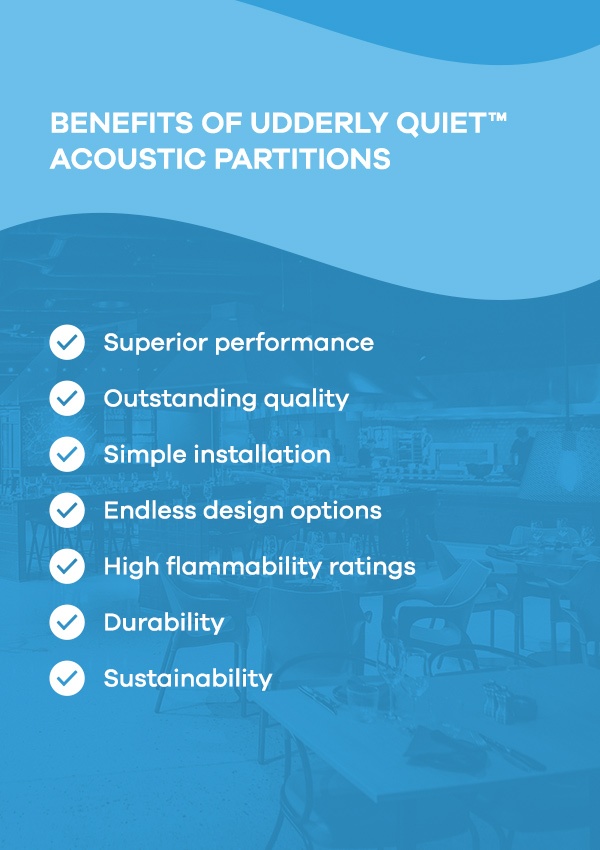 Where Can You Use Soundproof Room Dividers?
Although we talked a lot about using acoustic partitions in the office, you can use them anywhere you need to control noise and improve privacy. If you need a custom size, give us a call, and we'll build a custom acoustic partition to suit your unique situation. With that said, here are a few places to use the soundproofing power of acoustic partitions:

Acoustic Partitions Available at Soundproof Cow
At Soundproof Cow, we offer high-quality Udderly Quiet™ Acoustic Partitions to help you find an easy soundproofing solution while hardly mooving a finger. We can custom-design our partitions to meet your exact specifications. You'll have complete flexibility to design the quiet space you need.
Our Udderly Quiet™ Acoustic Partitions feature an acoustic fiberglass core, a recycled fabric covering and a sturdy aluminum frame. You can choose the size of your partition and the color of the fabric by browsing our fabric options gallery. Don't see the color or design you want? No problem — just reach out to us at the Cow. We recommend contacting our team to discuss your needs first anyway, due to the custom nature of our acoustic partitions.
No matter the design you choose, you can expect the following benefits when you order an Udderly Quiet™ Acoustic Partition:
Are you ready to get a handle on background noise without disrupting your space? Our affordable and attractive soundproof room dividers are a lifesaver when larger renovations are out of reach. Achieve a quiet, calm environment in commercial or residential buildings with Udderly Quiet™ products from one of the best companies in the business.
Contact Soundproof Cow Today
Doing business with online companies can be a gamble. You need to trust their products are up to par and perform as intended. Take a look at our online reputation, and you'll find review after review where our materials exceeded expectations. Give your employees the privacy they need without the isolation or expense of individual offices. You can use our partitions as temporary or permanent solutions.
We have the resources and experience to help you plan any size project. While homeowners are welcome to order directly from Soundproofcow.com, we regularly consult with engineers and architects working on property renovations of all sizes. Never be afraid your job is too big or too small to receive personal attention.
As part of our regular services, we offer customer's a free acoustic analysis to identify the best sound solution for their needs. While our materials may cost more than standard building supplies from a big-box store, we have designed them specifically for acoustic applications. The use of acoustic tapes, seals and other installation products ensure your materials' peak performance.
We back all our items with a 100% customer satisfaction guarantee that ensures you never risk your investment. Get in touch whenever there is a problem, and we will work diligently until we solve it.
Improve the quality of your property today with noise-control and acoustic-boosting products, like our soundproof partitions. Call 1-866-949-9269 to schedule a free acoustic analysis today.

Learn More About Understanding Sound
What is Reverberation of Sound
Impact Noise vs Airborne Noise
How to Determine the STC Rating of a Wall
What are the Characteristics of a Sound Wave