January 12, 2023
If you own a home or business, you know how important it is to have peace and quiet. Depending on the age, building materials and condition of your residential or commercial space, you might be able to hear footsteps, drops and machinery from any room. Controlling vibrations in rooms is a manageable task, but you'll need the right supplies and approach for the job.
What Is Impact Noise and Vibration?
Anytime someone walks across a wooden floor, you'll hear something called impact noise. This term describes the process in which an object strikes a surface and vibrations pass through conductive materials. Impact or transmission noise is troublesome for property owners, as someone moving upstairs may send vibrational forces through subfloors, walls and ceilings.
The best way to manage impact noise is to absorb vibrations that generate when two surfaces collide. Homes with wooden studs tend to have problems with impact noise because wood is highly conductive. Getting rid of vibration in rooms starts with taking a closer look at what lies below hardwood, tile, laminate and stone floors.
Vibration Control Systems for the Home
The goal behind vibration control systems is to interrupt the transmission of vibrations going through an object. You might use materials such as rubber or polyurethane foam to stop impact noise from interfering with specific rooms in the house. You can learn how to control vibrations in rooms by checking out the methods below: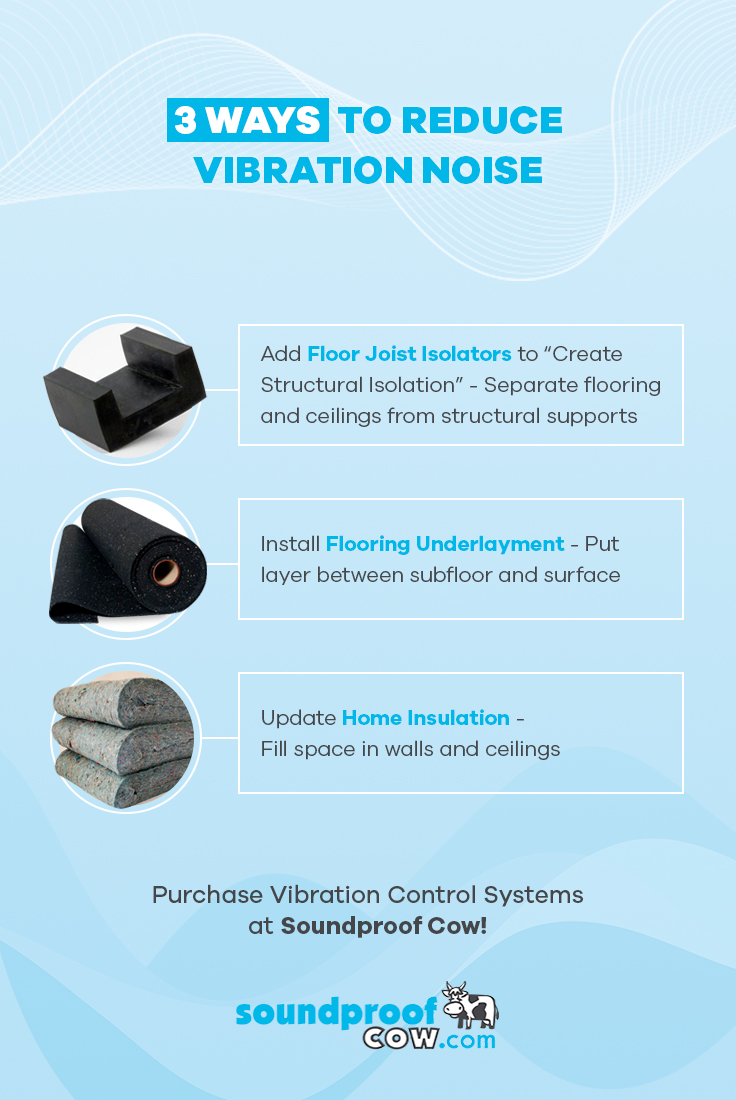 1. Incorporate Floor Joist Isolators to Stop Vibrations Through the Floor
Wooden subfloor connections are similar to metal springs. Strike the surface of the material, and vibrations spread throughout the entire system. Floor joist isolators from Soundproof Cow are made with thermoplastic materials. You can snap these devices over exposed floor joists to isolate structural noise transmission.
You can install our U-shape products without the use of tools. When you're done, they'll separate your building's flooring surfaces from structural supports.
2. Install Flooring Underlayment to Reduce Floor Vibrations
Flooring underlayment is a proactive way to handle indoor vibration. If you plan to redo your residential or commercial floors, underlayment solutions add additional layers between subfloors and the surfaces you walk on. Controlling vibration in rooms is straightforward, as flooring underlayments are installed before carpet, hardwood and laminate materials.
Our impact barrier QT flooring underlayment is compatible with floating, glued and grouted flooring systems. Put this product in laundry rooms, home gyms and hallways with materials adding less than 0.5-inches to your room's flooring height. Discover flooring underlayment made with 80% recycled rubber only at Soundproof Cow.
3. Update Home Insulation
We've focused on treating floors, but what about ceilings and walls? Soundproof Cow's Quiet Batt™ 30 soundproofing insulation fills the empty space between wood and metal beams throughout your building. Controlling vibrations in rooms is simple with this 3-inch thick solution featuring a Class A flammability rating.
You can soundproof and reduce vibrations through the entire floor thanks to cotton fibers that are effective against airborne sounds and impacts. Quiet Batt™ soundproofing insulation is the icing on the cake for your next soundproofing project, pairing well with flooring underlayment.
Purchase Vibration Control Systems for Your Floor, Ceilings, and Walls at Soundproof Cow
Learning how to control vibrations in rooms is easy when you trust the professionals at Soundproof Cow. We provide sound reduction solutions for your residential and commercial needs. Explore our soundproofing materials today and fill out a contact form if you have any questions about our offerings!