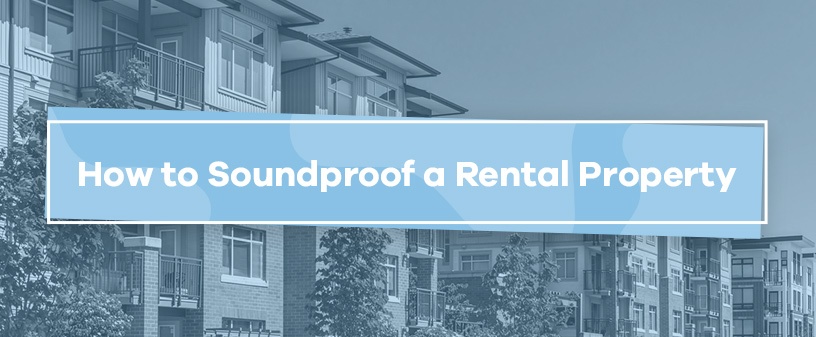 May 17, 2019
You've found the perfect apartment, and you love it. The only problem is the constant noise pollution you have to deal with. Whether it's the bar next door keeping you up with loud music until 3 a.m., the couple upstairs constantly fighting or construction waking you up too early in the morning, excess sound can ruin a great apartment.
But what can you do? After all, you don't own the place, and leaving in the hopes of finding affordable soundproof apartments for rent is not usually a viable solution. Here are four soundproofing tips you can try as a renter to keep your apartment's noise issues at a minimum.
Ways to Soundproof Your Apartment Rental
1. Locate the Source of the Sound
While it may seem like the offending noise is coming from everywhere, it probably isn't. You may be unfortunate enough to be dealing with intolerable noise from multiple sources, but if there is only one area that's causing a problem, there may be a simple solution that doesn't require overhauling the entire apartment. For example, if the problem is coming from street noise, simply sealing the windows and walls facing the street with weatherstripping and an acoustic sealant may solve all your problems.
2. Talk to Your Neighbors and Landlord
If the problem is loud apartment neighbors, it's possible they don't realize how loud they're being. Most people consider it reasonable to, for example, turn down their music or TV after 10 PM. Try asking them politely if they wouldn't mind adjusting the volume, or ask your landlord to do it if you're not comfortable. It could be that you won't need soundproofing at all.
3. Try a Sound Machine
There are many varieties of white noise machines you can find on the market today. There are even white noise apps for your phone. These white noise machines and apps can transmit an even, pleasant layer of sound that masks all the harsh noises and makes it much easier to enjoy your surroundings.
4. Soundproof With Non-Invasive Soundproofing Products
If you need real, professional soundproofing products but want to minimize the amount you modify a home that you do not own, that's okay. You don't need to know how to soundproof a wall in a rental to enjoy relief.
Soundproof Cow has plenty of soundproofing products that are non-invasive, allowing you to effectively soundproof a room in a rental apartment without tearing the place apart.
For example, if you're dealing with loud neighbors from above, you might want to try our hanging acoustic baffles. This is a simple square product with an aluminum frame around acoustic glass mineral wool, covered in an attractive fabric. All you have to do is hang them from the ceiling, and they start blocking sound right away, without any involved construction.
If sound is entering through your doors, try adding door seals or sweeps to block noise transmission. We offer several door seal kits that are easy to install.
Or, if you're dealing with an excess of low-frequency sound inside your apartment, like, for example, an enthusiastic music-playing teen, consider something like our bass wedge studio foam. This is a uniquely shaped foam piece that is great at absorbing vibrations and keeping bass noises from disturbing the entire apartment. Just drop one wherever it is needed.
For more great soundproofing products and ideas for your apartment, contact Soundproof Cow today.
Learn More About Apartment Soundproofing
How to Soundproof an Apartment