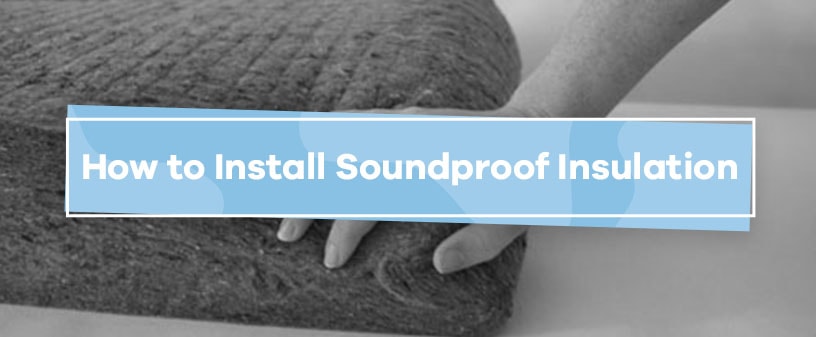 October 19, 2018
Our Quiet Batt™ 30 Soundproofing Insulation is the perfect soundproofing barrier to block unwanted sounds in a home, studio, office or many other areas. But how do you install it? Can you just hammer it in? Is it safe to handle? Is there a preferred installation method? You may balk at the idea of installing soundproof insulation without professional help, but one of the benefits of Soundproof Cow soundproofing insulation is that installation is quite simple.
Installing Acoustic Insulation
There are a number of methods for how to install soundproof insulation from Soundproof Cow, including the use of Soundproofing Adhesive, but we recommend our own Quiet Batt™ Insulation Supports. These supports provide an extremely simple way to setup your soundproof insulation between stud wall assemblies and floor joints. If you are looking for a fast, inexpensive way of installing your soundproofing insulation you can do yourself, this is it.
How Insulation Supports Work
To use these insulation supports, which come in 24-inch or 16-inch sizes depending on your needs, is very simple. They provide a friction fit between 24 or 16 inches on center floor joists or studs, so all you have to do is snap them into place and push in the soundproofing insulation.
One of the great things about our Quiet Batt 30 Soundproofing Insulation is that it is made from up to 80 percent recycled cotton, which means it is extremely safe for you to handle. You are free to grab it and push it in with your bare hands without worrying about any itching, redness or other ill effects on your skin.
We sell our Insulation Supports 100 to a case. Order yours now, for fast shipping and reciept.
Learn More About Soundproofing Insulation and Installation Methods With Soundproof Cow
We think that in most cases, our Quiet Batt Insulation Supports will prove to be the best way to install your Quiet Batt Soundproofing Insulation, but if you're not sure, please feel free to get in touch and ask us. We love to talk to our customers and help them figure out the best ways to use our products.
If you want to discuss how our Insulation Supports work, what the other installation options you might want to consider could be, or even if you want us to walk you through the installation process, we're more than happy to help. To get started, contact us right now to place your order or to learn more.