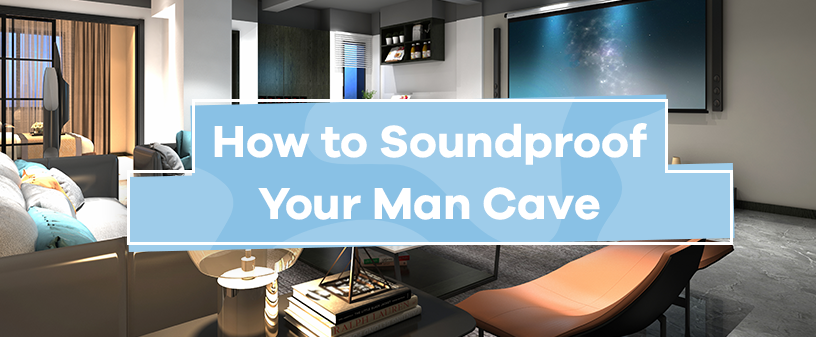 February 21, 2020
Every man deserves a man cave. Shouldn't you be able to enjoy some alone time without listening to your dog barking at the cars driving by or your son's stereo blasting that noise he calls "music" from his bedroom? Maybe you want to listen to your music or your TV show without disruption.
Or maybe your man cave is your space to kick back with some buddies and watch the big game. Of course, you and your buddies can get a little rowdy, and you don't want the noise disturbing the other members of your household or your neighbors.
Whether your goal is to prevent noise from getting out or getting in, you'll probably want to soundproof your man cave.
How to Create a Sound Isolation Man Cave
Soundproofing your man cave doesn't have to be a daunting task. In fact, the process of adding sound insulation in your man cave can be broken down into these general steps:
Decide if you want to soundproof existing or new construction: Have you already built your man cave or are you starting from scratch?
Select your materials: Are you soundproofing the door? What about the walls, ceiling and floor? You'll need to select the right materials for each surface.
Install the materials: Time to head into your man cave and get to work. Visualize that peaceful end result to keep you motivated.
Monitor levels of sound: If needed, make adjustments to get the results you want.
Of course, what really enables your man cave to be soundproof is the products you choose.
Man Cave Soundproofing Products
At Soundproof Cow, we offer our customers high-quality soundproofing products they can rely on. When it comes to soundproofing your man cave, here are a few products you'll want to consider.
1.Soundproofing Barriers
One of our most popular soundproofing options is a soundproofing barrier:
2. Door Seals and Sweeps
When it comes to your man cave, you want to prevent sound from transferring through doors. That's what makes our door seals and sweeps, such as the Quiet DoorTM Perimeter Seal, the products for you:
Quiet DoorTM Perimeter Seal: Keep the noise out with Quiet DoorTM Perimeter Seal. This seal will form a snug fit around the perimeter of your wood or metal door.
3. Flooring Underlayments
Maybe your man cave is above the garage and you don't want to be disrupted by the garage door opening or cars starting. Or maybe your man cave is on the second floor and you don't want to disturb the family members who may be in a room below you.
This is where our flooring underlayments such as the PROFLEXTM 90 can help:
PROFLEXTM 90: Use this soundproofing product under hardwood, stone or tile. Just peel and place PROFLEXTM 90 exactly where you want it and enjoy a soundproof floor.
If our products can soundproof a cafeteria, they can certainly soundproof your man cave.
Purchase Soundproofing Products From Soundproof Cow
Finding the right products to soundproof your man cave doesn't have to be complicated. At Soundproof Cow, our customers come first, and we want to make sure you get the products you need to get the job done right. Whether you're looking to soundproof a room, a door or an entire building, we have the materials you need.
When you order soundproofing products from us, you can trust that you'll receive high-quality, dependable products and exceptional customer service. No matter what your dreams are for soundproofing your man cave, we have the tools to help.
To learn more, contact us today.