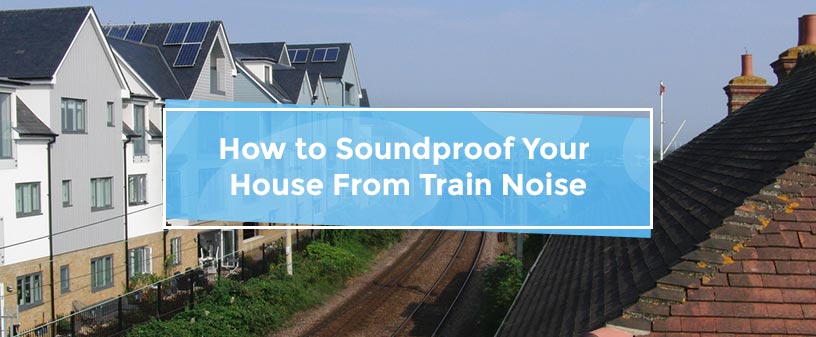 February 07, 2020
Getting that terrific rental price on your apartment or steal of a deal on the purchase of your new home seemed like a great idea, even after you found out that you were near the train tracks. After all, trains only come around every once in a while and how bad could train noises be?
Unfortunately, train noise and sleep, concentration and relaxation just do not go together. You don't have to give up your great new place, though! We've assembled these tips for how to block train noise, so you can have the best of both worlds.
How to Reduce Train Noise
The rattling of the train on the tracks is one thing, but that 100-decibel train whistle gets impossible to deal with before long. Trying to figure out how to drown out train noise just replaces one loud sound with another. What you really need to know is how to soundproof a house from train noise. Here are some ideas: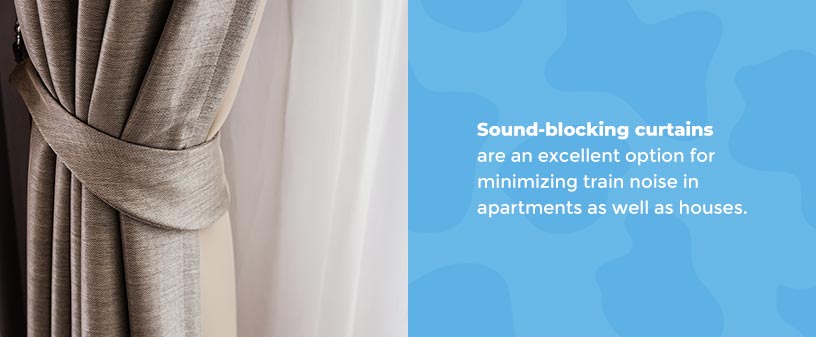 How to Reduce Train Noise in an Apartment
Renting an apartment presents some unique soundproofing challenges, as you'll likely have less leeway when making changes than if you owned the property.
While you may be able to get your landlord to approve some minor updates, for the most part, you'll need to focus on temporary changes. For example, sound-blocking curtains are an excellent option for minimizing train noise in apartments as well as houses. You can also try easy-to-install soundproofing like acoustic panels.
These dense, heavy panels are easy to hang and help keep noise from entering or exiting your apartment. Our fabric-wrapped Udderly Quiet™ Acoustic Panels and perforated wooden EccoTone™ Acoustic Wood Panels let you achieve your soundproofing goals in style. If you want a more personal touch, upload an image for us to print on our Art Acoustic Panels.
Tips for Living Near Train Tracks
When you live near a railroad crossing, You have several options to reduce train noise. The Federal Railroad Administration offers a way to submit your area for consideration to become a Quiet Zone. However, this process can take quite a while, and in the meantime, the trains will still be coming!
If you aren't sure about soundproofing — or if you're just waiting for your materials to arrive — you can also try more minimal methods for reducing train noise, like:
Earplugs: Wearing earplugs can combat the train noise and help you sleep through the night.
White noise: A white noise machine or app will provide a constant low-level background noise that can help you sleep through occasional train whistles.
Soft surfaces: While hard surfaces reflect and amplify sound, soft surfaces absorb it. Thick carpets or area rugs, heavy curtains and lots of pillows will keep your home feeling cozy and luxurious while dampening sounds from outside.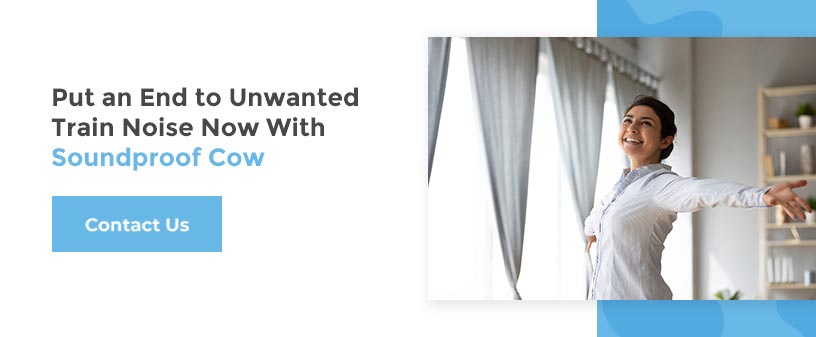 Put an End to Unwanted Train Noise Now With Soundproof Cow
Train noise can be absolutely maddening, but it doesn't have to be. Before you endure one more sleepless night, call Soundproof Cow and let us help you take care of business. Our friendly and knowledgeable team will be happy to tell you more about our soundproofing solutions and once and for all, you can get some much-needed rest. To get started, click one of the above links to order a soundproofing product or give us a call at 866-949-9269.
Tags