Description
The 250 Series Acoustic Baffle is another ceiling hung product. However, it has an internal Aluminum frame for extra stability.
Perfect for: Open Floor Plans or a Large Expanse of Space. Common applications for these Acoustic Baffles include; Open Plan Offices and Restaurants, Meeting and Dining Halls, Sports Complexes and Gymnasiums.
Tech Specs
Here is some Technical Info you probably don't want to read but should know.
Size Availability: Up to 4 ft. x 8 ft.
Thickness: 1 7/16 inch and 2 7/16 inch
Tolerance: +/- 1/4 inch
Core: 6 lb. and 18 lb Acoustical Glass Mineral Wool
Covering: Acoustic Fabric
Edge Detail: Aluminum Frame
Edge Profile: Square
Mounting: Eye Hooks (included) and Chain or Wire
General Application: Ceiling Hung
Mounting Surfaces: All Surfaces including Drywall, Brick & Concrete
Flammability: Class A™ – Does not exceed 25 Flame Spread, 50 Smoke Developed when tested in accordance with ASTM E84, UL 723 and NFPA 255.
Indoor Air Quality: Certified as a low emitting product by the GREENGUARD Environmental Institute to both the GREENGUARD Certification Program and the more stringent GREENGUARD Children and Schools standard.
Green Information:
Our Acoustical Glass Mineral Wool is made with 50% Recycled Post-Consumer materials. In other words, the same bottles you recycle every week!
The other 50% of the Acoustical Glass Mineral Wool is made from one of the most abundant renewable resources on the planet- sand.
The Binder used in the Acoustical Glass Mineral Wool reduces embodied energy by 70%, which means there is 70% less binder agent needed when compared to other glass wools and acoustic fiberglass products.
All of our Acoustic Fabrics are 100% Recycled Polyester.
Acoustic Data
| thickness | covering | density | 125 | 250 | 500 | 1000 | 2000 | 4000 | NRC* |
| --- | --- | --- | --- | --- | --- | --- | --- | --- | --- |
| 1 inch | fabric | 6 lbs | .14 | .29 | .74 | 1.01 | 1.10 | 1.30 | .80 |
| 2 inch | fabric | 6 lbs | .51 | .96 | .98 | 1.01 | .95 | .98 | 1.00 |
* NRC = noise reduction coefficient
Acoustic Baffle Edge Profiles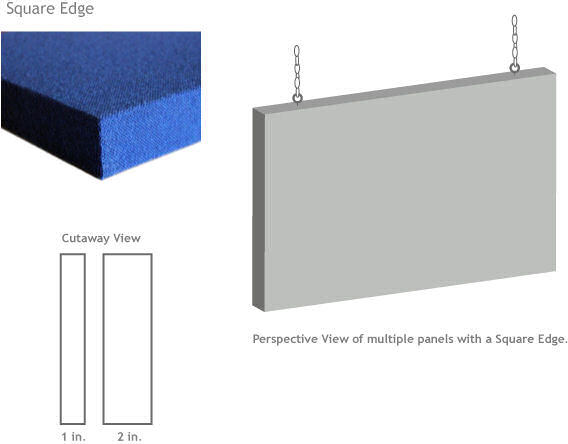 Acoustic Baffle Corner Options
Other Ceiling Hung Acoustic Products
Udderly Quiet™ Acoustic Baffle – 250 Series