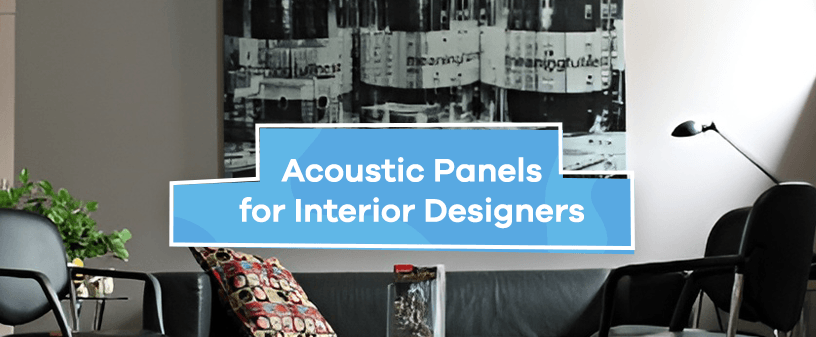 September 15, 2023
As an interior designer, you probably have a laundry list of considerations for your commercial or residential space. Budget, lighting, flooring, furnishings and color schemes are all key aspects to think about as you create a cohesive, comfortable and visually pleasing space.
Proper sound absorption is another essential factor to account for. Excess noise can disrupt everyday activities in residential or commercial buildings decreasing productivity.
Thanks to interior acoustic panels, there's no need for building occupants and visitors to have a cow over noisy neighbors, loud music or other sound disturbances. Discover how acoustic panels work and how you can use them to design your interior space.
How Acoustic Panels Work
When sound waves come into contact with a hard surface — such as a floor, window or wall — they bounce off and reflect back into the room. This causes prolonged reverberation times and echoing. As you can imagine, this leads to noisy, chaotic spaces and poor acoustic performance. People may struggle to talk, hear each other and concentrate on important tasks.
Acoustic panels are large pieces of material that muffle airborne sound waves. They restrict echo and reverberation in a room. Interior acoustic panels absorb the sound waves instead of reflecting them. When sound waves hit an acoustic panel, they become trapped inside the porous material, decreasing the sound reflected back into the space.
Acoustic panels' construction aims to dampen sound reflections while enhancing acoustic quality. They prevent noise from bouncing off hard surfaces.
You can integrate acoustic panels into virtually any interior. However, they're particularly effective in spaces requiring substantial noise reduction, like offices, classrooms, lecture halls and recording studios.
Why Acoustic Panels Are a Great Option to Improve Interior Design
Once you invest in the right soundproofing solution, blocking out external noise is smooooth sailing. Here are some benefits of incorporating acoustic panels into your interior design plans.
1. A More Welcoming Environment
Walking into a noisy and echoey bar, restaurant or office can be off-putting, stressful and unpleasant. Customers and visitors should feel welcomed and relaxed when entering a venue, but excess noise levels can quickly put a damper on their entire experience.
Acoustic panels help absorb noise so everyone can hear and communicate clearly. This makes for a more pleasant, comfortable environment. As a result, customers are more likely to stay longer and return to the establishment in the future.
2. Increased Productivity
Noise from chattering colleagues, construction, office machines and other sources can increase stress and reduce productivity. A well-soundproofed interior makes it easier for people to converse, talk on the phone, work and complete other tasks, increasing overall productivity.
3. More Privacy
In spaces like offices, conference rooms, hotels and residential buildings, you probably don't want others overhearing confidential information. Interior acoustic panels boost privacy by reducing echoes that carry conversations.
4. Enhanced Safety
In workshops and other spaces with noisy equipment, reducing sound levels makes it simpler for people to communicate and limits accident-causing distractions. Acoustic panels also make it easier to hear fire alarms and critical announcements, allowing everyone in the building to better prepare for emergencies.
Types of Acoustic Panels to Enhance Your Interior Design
At Soundproof Cow, we have a moo-ltitude of acoustic panel designs to choose from. Offering numerous materials, colors, sizes and other customization opportunities, our products allow you to soundproof your interior space in style. Explore some of our options below.
1. Fabric-Wrapped Acoustic Panels
Expertly combining aesthetics and acoustic performance, fabric-wrapped acoustic panels are just what you need to level your space up.
Rather than letting sound bounce, acoustic fabric fibers absorb sound by allowing it to pass through the material, similar to a sponge. Sound doesn't reflect back into the air, providing a quieter and more peaceful space. Acoustic fabrics are breathable and can effectively maintain their shape.
Perfect for restaurants, offices, classrooms, auditoriums, recording studios and other environments, these panels are great for blocking out external sounds and stifling noise transfer. Acoustic fabrics can be made from natural materials, such as cotton, or manufactured materials like nylon and polyester. They can also mix natural and synthetic fibers.
Our Udderly Quiet™ Acoustic Panels are highly customizable to your space. You can choose from an array of fabric wrap configurations, finishes and colors. If you already have a fabric in mind, let us know and we'll use it to wrap the panels. All Udderly Quiet™ Acoustic Panels can pass rigorous exposed material building code requirements and have a Class A flammability rating.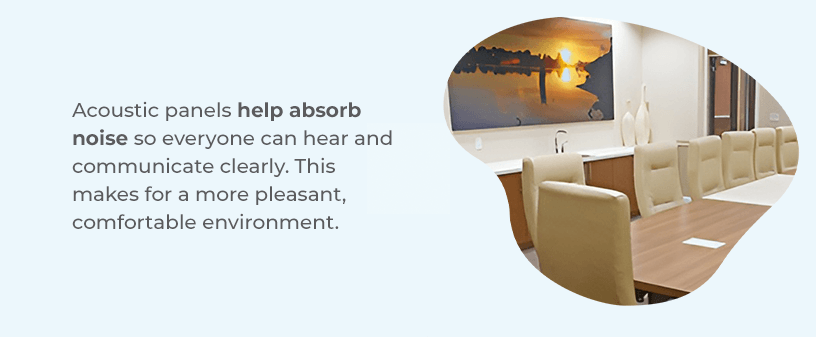 2. Art Acoustic Panels
Like our fabric-wrapped panels, our art acoustic panels give you a chance to unleash your creative side. With Soundproof Cow's art acoustic panels, you can strike the perfect balance between soundproofing and style. We construct these solutions from a soft, dense, sound-absorbent material. They're quick and simple to hang up and blend seamlessly into any interior.
You can submit your image of choice and desired dimensions. Our team can then create a fabric-wrapped acoustic panel based on these specifications. We are not limited to black and white spots, you can choose any photo or color scheme to match your interior design concept.
These custom acoustic panels add a bright pop of color to any space. They can retain their vibrance and resist fading for up to 25 years, letting you "milk" their appearance for as long as possible. Whether you're soundproofing a restaurant, coffee shop, library or museum, art acoustic panels let you flex your creative muscles while providing occupants with some much-needed peace.
3. Perforated Acoustic Wood Panels
Perforated acoustic wood panels are designed to reduce sound reverberation within a space. They prevent noise from musicians, speakers and other sound sources from disturbing adjoining rooms in the same building.
Master woodworkers construct our perforated wood panels with tiny dents to centralize and absorb sound waves. You can also suspend these panels from ceilings to further minimize echos and noise levels.
Our versatile, sustainably produced EccoTone™ acoustic wood panels have a Class A Flammability rating. They come in a range of patterns, finishes, veneers and sizes. You can also submit your ideal project pattern to our design team and we'll bring it to life. EccoTone™ wood panels can decrease reverberation and improve sound quality in various spaces, including:
Auditoriums
Banquet halls
Churches
Conference rooms
Home theaters
Museums
Offices
Recording studios
Restaurants
Schools
Join the Herd and Request a Quote From Soundproof Cow Today
With durable and attractive wall acoustic panel designs from Soundproof Cow, building occupants and visitors won't need to have beef with their neighbors or complain about excess outside noise. Our solutions make interior design sound absorption a breeze.
So, what are you waiting for? Moooove on over to our quote form and request pricing for our acoustic panels today!