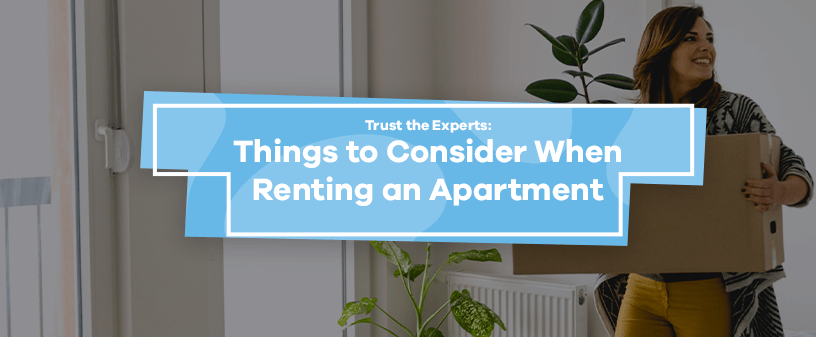 January 25, 2022
Apartment shopping can be extremely stressful. You have a list of must-haves and deal-breakers, plus a budget you have to keep to. You also never know when some other prospective renter is going to swoop in and rent that apartment right out from under you. Still, there are some things to consider before renting so you don't end up stuck with a lease you'd like to break two days after it's signed.
Some of the most important things to consider are what factors might cause you to end up in a noisy apartment. If you're someone who likes their quiet, this is one of the most important things to consider before renting, and yet, in the light of day, when the landlord is showing you the place, it can be hard to know if you have a noisy apartment on your hands or not. Here are some possible cues that noise might be an issue when apartment shopping.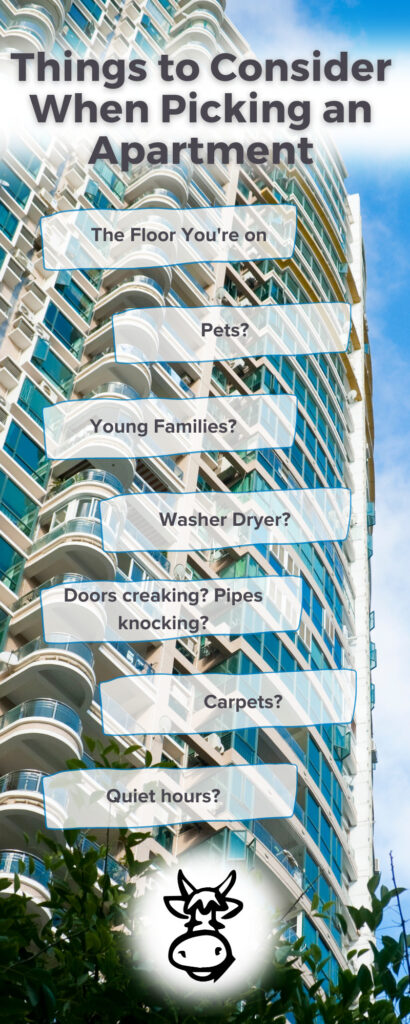 1. What Floor Are You On?
The higher up you are, the better chance you have of being away from the biggest sources of noise. Honking cars, construction and the like all take place at ground level. And if your neighbors are having a party, you'll probably be much happier if they are your downstairs neighbors (better yet, two or three floors down), rather than having their music and 20 pairs of visiting feet beating down on your ceiling.
2. Does the Building Allow Pets?
Owning pets is great. If people in your building own pets, good for them — if those pets are fish, salamanders, or even cats. But, if you're considering moving into a building full of dogs and birds, be prepared for the possibility of sleepless nights.
3. Are There Young Families in the Building?
You don't have to be a parent to know that young children cry — a lot. They can be pretty loud, too. You may want to ask the landlord if the building caters to young families unless you want to cope with a couple of years of infant sleep schedules and teething.
4. Do the Doors Creak? Do the Pipes Knock?
This can be a tricky one, as these sounds might not be present while you're checking out the apartment. Feel free to swing a few of the doors back and forth to check for creaking, and keep your ears open for those clanking pipes or air ducts.
5. Is the Floor Fully Carpeted?
If your floor isn't carpeted, your upstairs neighbor's floor probably isn't either, which means more noise when they're clomping around up there.
6. Does the Apartment Have Quiet Hours?
Many apartments practice "quiet hours," which is a time when all tenants must be careful to avoid making noises after a certain hour. For example, quiet hours in an apartment building could last from 10 p.m. to 8 a.m. During this period, you will be unable to blast your music or TV, use your washer or dryer or do anything else that could disturb your neighbors.
Quiet hours give you a chunk of time where you know you can have peace and quiet, but they also restrict the amount of noise you can make. It's also important to note that even if an apartment building lacks quiet hours, the township or city where the apartment is located may have its own rules for making noise after a certain time. Ask the landlord or contact a local government office to learn more.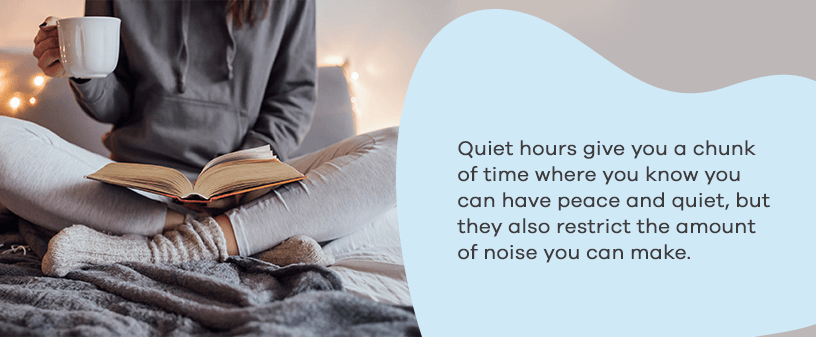 7. What Amenities Does the Apartment Have?
You must be aware of all the amenities the apartment contains before signing a lease. In some instances, the right features can make dealing with occasional auditory disturbances worth it. For instance, an apartment may have a dishwasher and a balcony with an incredible view. These amenities could make living by a noisy train track worth it to you — especially if you're a fan of trains.
On the other hand, some amenities are actually noisemakers and can cause disturbances. This is even truer if the same features are in your neighbors' apartments, too. Things like washing machines, dryers and garbage disposals can all make quite a bit of noise. Good or bad, amenities will play an important role in picking the right apartment.
8. Where Are the Washer and Dryer Located?
The location of washers and dryers can heavily influence the noise level in apartment buildings. If your washer and dryer are on the other side of your bedroom wall, you may find yourself unable to sleep or take a nap on laundry day. If your neighbor's washer and dryer are on the other side of your bedroom or living room, you could regularly experience noisy disturbances. Be sure to locate these appliances and see if the landlord knows the location of the other tenants'.
9. What Is the Ceiling Height?
Often, quiet apartments have high ceilings, especially in units with floors above them. Higher ceilings put a greater distance between you and the tenants above you. When learning how to choose an apartment, remember to look up — the ceiling height and construction have a lot to do with noise levels. Ask your landlord for more information and listen for tenants on the floor above you during your visit.
Noisy Apartment Solutions
So, let's say you thought you've considered everything, but the apartment is still louder than you would have hoped. Fortunately, apartment soundproofing is an option. Apartment soundproofing materials from Soundproof Cow can cut down on noise, increase your level of privacy and give you more pleasant acoustics in your apartment. Here are some products that can help:
Acoustic panels: Acoustic panels from Soundproof Cow are an excellent option for absorbing unwanted sound and increasing sound quality in a space. They easily hang on any wall, and with several design options to choose from, you can make them fit your apartment's design scheme perfectly.
Soundproofing insulation: Soundproof Cow's Quiet Batt™ Soundproofing Insulation is the best option for experiencing major noise reduction in any space. It fits between wall studs with ease and provides acoustical and energy-saving benefits. And it's made with densely packed cotton fibers, so you can install it without worrying about skin or lung irritation like you would with regular pink construction insulation.
Soundproof foam: Whether you're working from your apartment or trying to make a home music studio, soundproof foam from Soundproof Cow is essential. With its various shapes and sizes, you'll surely find an option that fits your space and suits your needs. Soundproof foam is perfect for absorbing unwanted sound frequencies and reducing echo, making your apartment a quieter place for you and your neighbors alike.
Get Your Soundproofing Products From Soundproof Cow
If you did your due diligence and still got burned by a noisy apartment, all is not lost. Don't give up, especially if the apartment has a lot of other great features that caused you to rent it in the first place. Put up some quality soundproofing and enjoy your apartment's benefits in the low-noise environment you had hoped for.
Soundproof Cow has the soundproofing products you need. Contact us today for more information!